You're Invited! A Microsoft Dynamics AX and Azure IoT Suite Wedding Invitation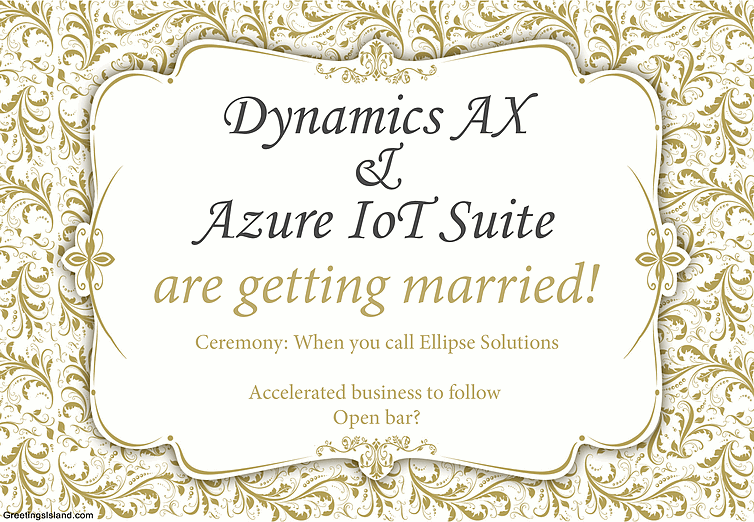 Today we will discuss the exciting times we live in as the devoted children of the new industrial revolution. Ellipse Solutions is extremely enthusiastic to apply the mosaic of new technologies introduced by Microsoft in the recent years focusing on Azure IoT Suite and, most importantly, emphasizing Dynamics AX ERP as the centerpiece of these solutions. While the concept of connected devices is not new, the myriad of new methodologies and software tools based on cloud computing present limitless opportunities. In our world of commercial ERP products, it is especially applicable to the Industrial Internet of Things.
Industry 4.0
First Industrial Revolution occurred in the late 18th – early 19th century and was mostly defined by the switch from manual labor to machines.
Second Industrial Revolution started largely in the middle of the 19th century when the industries grew to the use of larger automated factories, improved transportation (such as steam powered railroads and large ships), and overall greater influence of machine tools and eventually electricity leading to the concept of mass production.
Third Industrial Revolution is generally referred to as the Digital revolution.  It began in the latter part of the 20th century and mostly represented the move from mechanical to digital technology. It was defined in terms of industrial computerization.
This brings us to this charming Wednesday in May, 2016.  The term Industry 4.0 (commonly referred to as the Fourth Industrial Revolution) was initially mentioned about 5 years ago. It generally relies on the concept of the Internet of Things, or the ability of embedded technologies (read, machines) to communicate with each other and with business applications (read, ERP), provide real time information leading to predictive analytics and proactive decision making.
Cloud computing is quickly enabling new opportunities in the world of industrial automation. With introduction of Azure IoT Suite last year, Microsoft has pulled together a variety of services to enable enterprise level solutions. Although some of these technologies are not necessarily completely new, Azure IoT cloud tools provide options to connect devices augmenting your new or existing processes through automation and analytics.
Demo Prep
In this blog we would like to share one of the pilot projects we have recently demonstrated at the Microsoft Envision conference in New Orleans. This is just a simple monitoring application, however it is intended as a sample solution so all of you can turn on your imagination antennas and try to apply similar models to your industry, your shop floor, your field service technician, or any remote devices out there.
To set the state of our use case, this solution deployed the following components:
Microsoft Dynamics AX (our demonstration utilized NEW Dynamics AX in the cloud, however some of these options could have been exposed in Dynamics AX 2012 and even prior versions).
Raspberry Pi, a tiny, single-board computer. For this specific exercise it simply represents any remote device out in the field. In this situation, it includes a heat sensor to measure real-time device temperature.
Monitoring Web Application, a sample browser-based app which can be rendered on any device (mobile or stationary) as the main interface for the users to monitor and react to telemetry measurements as long as you are plugged in to the world (and while we are here, let's say a collective thank you to Al Gore for inventing the internet).
Power BI, Microsoft's cloud base interactive data visualization set of tools.
Hair Dryer, a turbo style beauty product designed … to generate hot or cold air for our exercise.
Flexing IoT Muscles
According to the ARC Advisory Group reliability studies show that, on average, 82% of assets have a random failure pattern and require constant monitoring. In our small demonstration, the Raspberry Pi embodies a manufacturing device in the production facility, a remote controller at the construction site, or any other piece of machinery we would endeavor to monitor, quantify and act upon.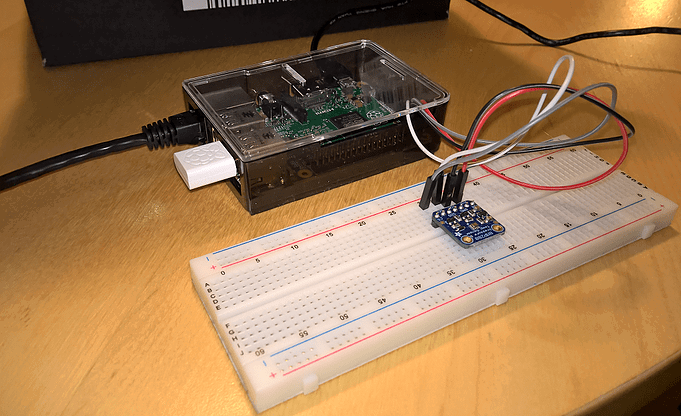 Not only we are tracking the location of the device on the map, we are also gauging the temperature. The application alerts are setup to notify the user community (be it your maintenance supervisor, a construction superintendent, or a distribution facility manager) whenever the temperature reaches high or low limits (in our example, the lower limit of 32 or the upper limit of 100 degrees Fahrenheit). The alerts can be distributed via emails, text messages, pop-up messages, etc. Turn ON the hair dryer and the graph immediately reflects the rising temperature and records an alert immediately upon reaching the critical levels.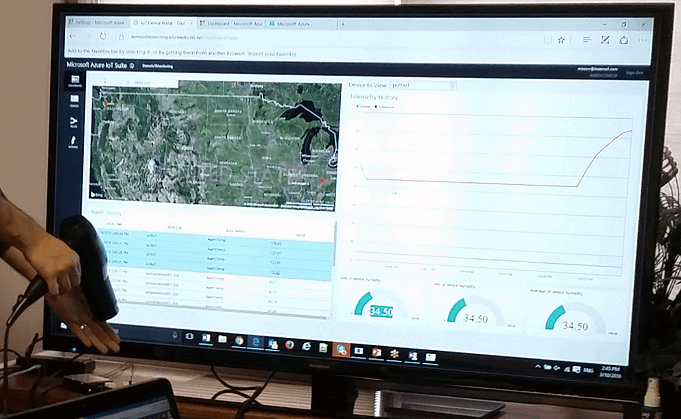 However, it would be no fun if we did not embed this information inside of Dynamics AX.  All of this data is not only available for display on our new model Dynamics AX IoT Monitoring menu, but it is now a part of our automation vision with regards to machine maintenance, speed of production execution, product quality, etc. We work a lot in the plastics industry (see AXforPlastics.com), and this is vital evidence to manage the quality control variables on the extrusion or injection molding machines.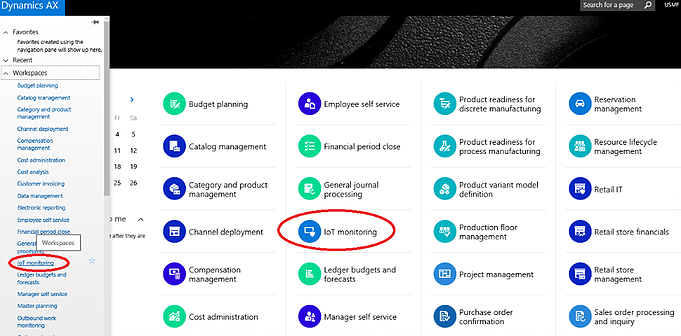 Moreover, the real time analytics are immediately available, both online and within Dynamics AX. As a quick example, we are computing min, max, average, or any conceivable stat from our temperature sensor. Furthermore, and this is a real kicker, we are now able to link the collected real time production or quality data (such as Temperature in our example, Report as Finished, or Consumption) to dollars and cents. Imagine your cost analytics, including predictive analysis related to your sales and revenue, driving factors for your MRP, Purchasing and Production scheduling, etc. In fact, by scrolling to the right on our Dynamics AX IoT Monitoring form, we have the Power BI data in a pie chart, bar chart or any graphical view you can picture.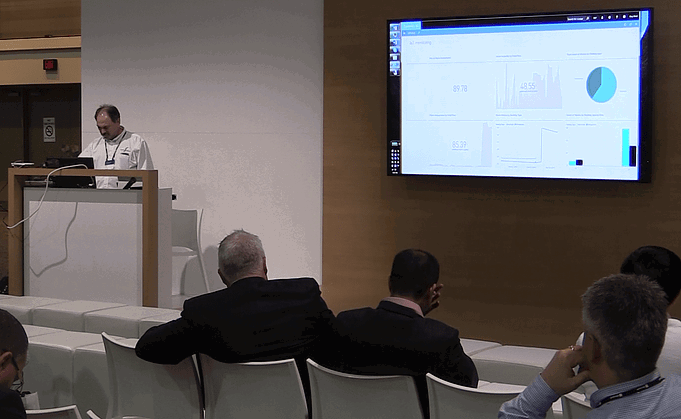 Not A Month Goes By…
This is just a tiny illustration of connected devices influencing Dynamics AX business decisions. The news from Microsoft Azure IoT and related teams are coming fast and furious. It seems new tools and technologies are released weekly. In the last few weeks, a host of new announcements directly or indirectly related to the Azure IoT Suite and Dynamics AX solutions have been released by Microsoft.
Among some of the recent related announcements are:
On March 31, Microsoft has revealed a new Azure IoT Hub device management solution to coordinate, query, and configure Azure IoT devices.
On April 21, Microsoft has released integration between Azure Stream Analytics and Power BI enabling interactive real-time dashboards for streaming data from devices, sensors, and business applications.
On April 29, Microsoft has introduced a new Azure IoT Gateway SDK beta to assist developers to design and deploy tailored business solutions.
On May 2, Microsoft has introduced Entity Store options for Dynamics AX 2012 R3 (previously designed for NEW Dynamics AX) allowing users to create a data store for business reporting and analytics.
On May 3, Microsoft has announced an acquisition of an Italian IoT software provider, Solair, to integrate their pre-configured data collection solutions into the base Azure IoT Suite.
Please, Stay In Touch
We are really looking forward to hear from our readers about potential automation strategies with regards to improving the use of your data sources through connected devices. Being a long standing Dynamics AX Gold Partner, Tier 1 Cloud Solutions Provider (CSP), and a member of Microsoft Azure IoT Red Carpet program gives Ellipse Solutions a unique opportunity to bring IoT to your AX ecosystem.
Please stay tuned for additional news about Azure IoT Suite use in the Dynamics AX world…
For more information about the Azure IoT Suite and Microsoft Dynamics AX, please contact Ellipse Solutions at info@ellipsesolutions.com or by calling our corporate office at (937) 312-1547.