What's New in Dynamics 365 (Part 3): Vendor Invoice Automation
Microsoft Dynamics 365 Finance is constantly evolving to meet its customers' needs and periodically will update or release new features in waves throughout the year. This is part three of a three-part blog series that will give you a quick overview of some of the exciting things Microsoft has pushed out last year, with this one being all about vendor invoice automation. Check out parts 1 and 2 to refresh your memory!
At this point, you can probably tell the overarching theme of this series is finding solutions to time consuming and often repetitive tasks. The third blog of this series will touch on the vendor invoice automation feature in D365, which allows you to automate, an often viewed as tedious, manual process. Using this feature, you can automate the following processes:
Submitting imported invoices to workflow
Automatically matching product receipt lines to the invoice lines

How to Set Up Vendor Invoice Automation
There is a bit of setup required after enabling this feature. In Accounts payable > Setup > Accounts payable parameters, you will see a menu for vendor invoice automation if you have enabled the feature. This is where you will need to enable Automatically submit imported invoices to workflow. Note that you must have an active Vendor invoice workflow to enable this parameter. You can optionally enable Match product receipts automatically and Apply prepayments automatically. You'll also want to take advantage of Process automations and establish a scheduled series to run the process automation(s).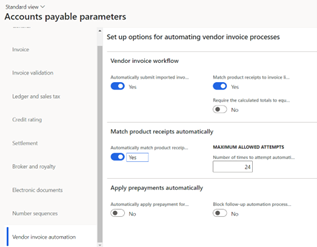 You'll want to be sure to use either the Vendor invoice/line/header data entities
Additionally, you will be given a new workspace that will give you a summary of pending invoices, journals, and documents not invoiced. By opening the Pending invoices, you can view the automation history as well and the workflow and receipt status. It's important to mention that you cannot edit invoice detail in this mode without removing it from automated processing.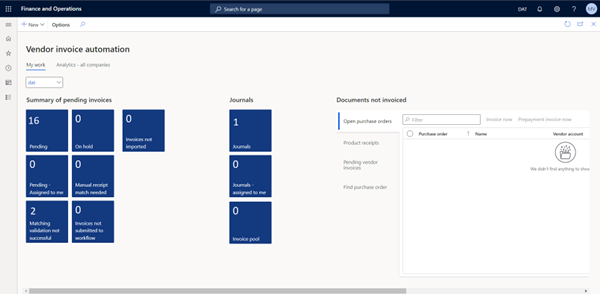 If you haven't already, please take a few minutes to read the first two blogs in this series: