Summit 2022: Attendees Guide

There are a few thousand giddy folks heading to Orlando in October and they are not flocking to the house of mouse… these excited software nerds from all over the world are convening at the Gaylord Hotel and Convention Center to spend 5 days immersed in D365! Summit NA, is a community event with over 500 educational sessions in Finance and Operations (FO), Customer Engagement (CE), Power Platform (PP), Business Central (BC), and Great Plains (GP) PLUS plenty of networking opportunities.
As we prepare to load up the Ellipse Family Truckster and hit the road to Florida, we have pulled together some useful information and fun facts in this blog to help you – the attendee – get the most value out of your time spent at Summit NA 2022!
Pre-conference organization is key!
This conference is immense. The Gaylord is immense. The prep should be immense. Start by visiting the website to review the agenda to create a download of all the sessions you want to attend. Go right to the Advanced Search tab and set some filters like TRACKS or DATES. Then back to the Sessions tab to scroll and star the sessions you like. Consider alternate sessions just in case a particular session is not meeting your expectations, you can pivot without losing too much time.
Once you have done all of this, you can click the EXPORT button to create a separate calendar or import the calendar items directly into an email program.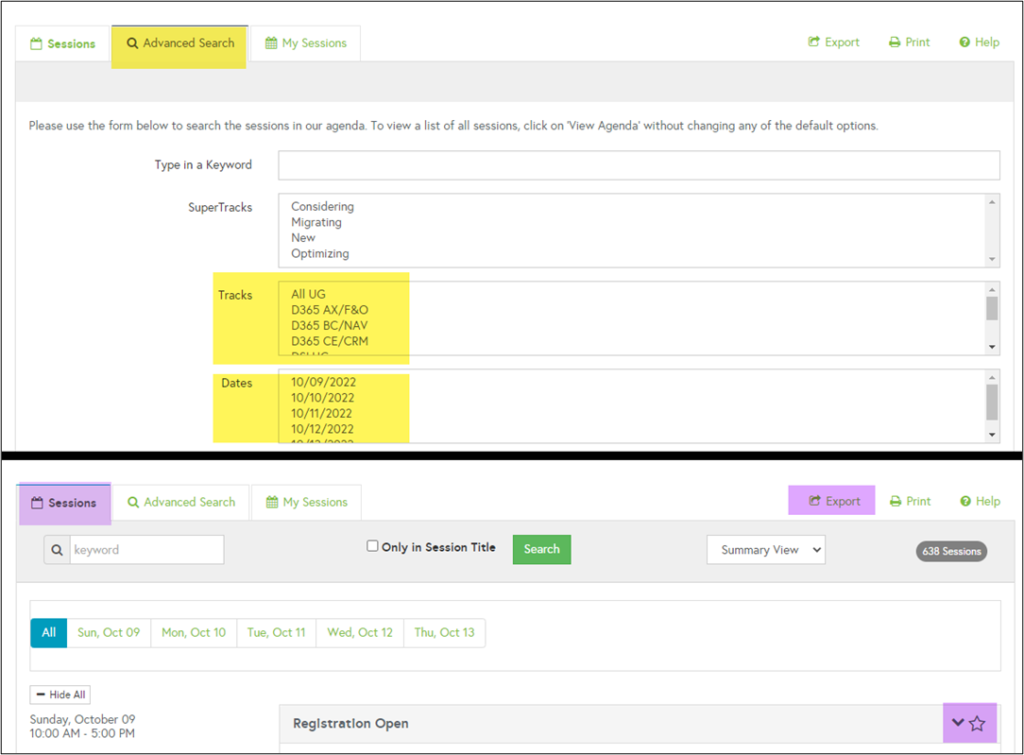 Look at the speakers and identify industry experts with whom you might like to meet. Have questions prepared ahead of time to maximize your impact.
Pack conference essentials like pain relief (after party headaches, sore legs, sore brains), band-aids, business cards, comfy shoes, water bottle, etc.
Review your calendar once you arrive to familiarize yourself with this very busy week!
Dynamics 365 Educational Opportunities
As mentioned, this conference covers multiple Dynamics 365 software disciplines. There are over 500+ opportunities from which to choose. Use the pre-conference work to help guide each day. Quickly determine if the slides have been shared. Most often, the presenter slide dec is available prior to the session. This will allow you to avoid taking unnecessary pictures in the moment, focusing solely on content notes.
If you are going as an individual, take time after each presentation to quickly reflect on what you have learned and make notes to share with teammates. If possible, have a quick virtual meeting with relevant team members back at the office to share in the moment.
If you are there as a team, plan to divide and conquer all the desired sessions of interest. Convene together after the day has ended for a quick post day summary and information share. This will serve to validate ideas and prepare for the post conference action items back at the office.
The tech medics will be donning their lab coats and nerd glasses to help answer questions. Make sure you stop by and take advantage of this service.
October 10, 2:00 PM – 5:30 PM
October 11, 11:00 AM – 12:00 PM, 2:00 PM – 4:00 PM
October 12, 9:30 AM – 11:30 AM, 2:00 PM – 4:00 PM
October 13, 10:00 AM – 12:00 PM
Mastermind at Summit is a unique opportunity for D365 executives to learn how to better navigate the Microsoft partner channel
Networking Events
The event is not all about the educational sessions! Historically, live events in the user group community are praised for their deep networking opportunities. Make contact ahead of time to meet with people of interest. After a few years of a pandemic lock down, it is probably a good idea to brush up on your dusty introduction skills.
There is a Women in Tech event, Public Sector focused full-day of content, and of course the welcome reception!
Other ways to consider networking:
Before or after a session. You are there with like-minded folks interested in the topic.
Breakfast & Lunch. Grab a sandwich and park yourself at a table and strike up a convo!
Expo Hall. Drinks will be flowing, the inhibitions are lower… chat up the vendors and attendees to find common ground topics.
Exposition Hall Madness
Finally, what would a conference be without the grand EXPO Hall! This conference will have many useful exhibitors, each showcasing the way in which their services are tailored to the Dynamics 365 Community.
Of course, Ellipse Solutions, a Microsoft Gold Partner, will be there and you should stop by our booth, #728, to chat about upgrades, projects, FREE Microsoft funding to help with upgrades and projects, continuous update strategies, Help Desk, etc.! We will also be hosting Who Wants to be a Microsoft Millionaire for prizes!
We provide a full end-to-end solution stack for all organizations built on Microsoft Azure, including Microsoft Dynamics 365 ERP + CRM, Microsoft 365 Office Productivity Applications, Artificial Intelligence, and other Azure Cloud Services.
If you have not already registered for 2022, do so here. We look forward to seeing you all in Orlando soon!