Put your data to work for your organiztion with Reporting for Dynamics 365.
Data is the life blood of a company, and reports are critical to allowing the various levels of the company to consume the data in an easy-to-read format. Ellipse Solutions' Reporting for Dynamics 365 enables organizations to conceptualize reporting needs and deliver impactful data-driven reports that unlock the ability to make strategic decisions based on trends, patterns, and performance metrics. This service follows our industry-leading Service Level Agreement (SLA) with guaranteed response times. 
Identify Trends and Patterns
Uncover key data insights that might not be immediately apparent. Trends and patterns from your data can be crucial for adjusting strategies, seizing opportunities, and addressing potential challenges.
Measure Performance
Use data-driven reporting to track key performance indicators (KPIs) and measure the success of various initiatives, allowing for continuous improvement and better accountability.
Optimize Resources
Allocate resources with confidence and efficiency. Whether it's budget, manpower, or time, understanding where resources are best utilized can lead to cost savings and increased efficiency.
Improve Decision Making
Capitalize on your data to make well-informed decisions based on actual trends, patterns, and performance metrics resulting in better strategic planning and decision outcomes.
Getting started with Reporting for Dynamics 365
In this data-driven world, the need for new and updated reports can be overwhelming. There are several tools from which to choose, and a multitude of ways to address a reporting requirement. Ellipse Solutions' Reporting for Dynamics 365 will give you a peace of mind when it comes to creating reports in various disciplines, including:
SSRS
Power BI (Power Platform)
Management Reporter
Electronic Reporter
Excel
Dynamics 365 Finance
Customer Engagement (CE)
Azure Quick Reporting
Custom Reporting
Reporting for Dynamics 365 Service Overview
We designed this offering to make it customer friendly, allowing you to start down the path to better reporting! Our service includes customer friendly benefits such as:
Low Cost of Entry
Keep your initial investment low by starting with a small number of hours and scaling up as needed.
Guaranteed 2, 4, or 8 Hour Response
After submitting a report request in your own online portal, one of our experts will reach out within two, four, or eight hours based on the SLA and severity of the issue.
Quarterly Plans
You can budget in advance for reporting needs on a quarterly basis without any up-front fees.
Dedicated Case Resources
Every reporting request is assigned a single dedicated Microsoft Dynamics reporting expert to manage the ticket from start to finish.
NO wasted hours!
If you do not use all the reporting dollars/hours within a quarter, they will automatically rollover to the next quarter. There is no use it or lose it penalties.
Cancel anytime!
Begin your Reporting journey knowing you can exit anytime without cancellation fees.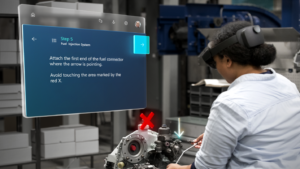 Nowadays it's hard to know what is real and what is not especially in the realm of "Mixed Reality". Gamers have been using this technology for a while to enhance their gaming experience, however, recently Microsoft business applications have gotten into the game…pun intended. With the latest version of D365 Finance & Operations, D365 Sales…
Let's throw a party and light some candles because Microsoft is DRIVING as a Leader in the Magic Quadrant for analytics and business intelligence platforms for the SIXTEENTH year in a row. Along with this, Microsoft has also been positioned furthest to the right for "Completeness of Vision", and highest in "Ability to Execute" in…
Millions of transactions from secure Point of Sale devices occur 24 hours a day, 7 days a week – each containing vital information for analysis and reporting. Lottery organizations have long faced the product of disparate systems and data silos that prevent a "one source of truth" in data. Why is this important? Faced with…