A Quick Guide For Payroll Processing in Dynamics 365
When you purchase Dynamics AX 2012 or Dynamics 365 for Finance and Operations, the payroll module is part of the package you receive. No need to purchase a bolt-on product or an outside payroll service, you have all the functionality you need, at no extra cost! Save your money! For more details on the process, check out our Dynamics 365 payroll overview video.

The Pay Statement
Once you have created your earnings statement and released it for payment. For assistance on earnings statements, read our recent post here.
When an earnings statement is released, Dynamics 365 automatically creates a pay statement. To see pay statements that need review, you can navigate to Payroll > Pay Statements > Calculated Pay Statements.  The other option is to go to Payroll > Pay Statements > All Pay Statements.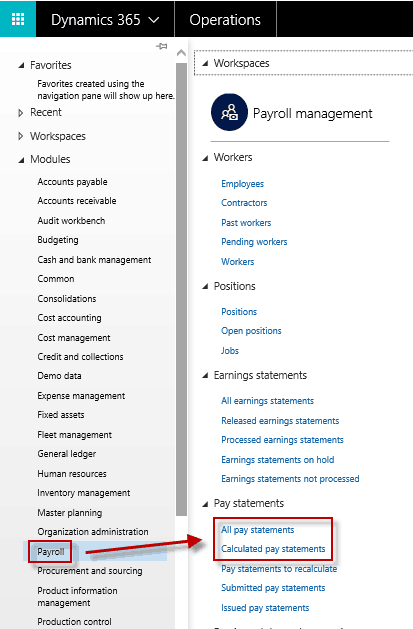 When you open a pay statement, you're able to review all details for a worker's payment.
In the first area, you'll see a summary of hours that are going to be paid. You'll notice that if your earning statement was divided by date, that they do not carry into the pay statement as separate lines, you will get a summary line per earning code.

Under the benefit deduction area, you will see the amount that will be deducted from the employee's total amount and what each deduction is for. This can be benefits, 401K, child support, etc.
Similarly, under the benefit contribution area, you will see the amount that the employer is paying for this payment. These will be items such as 401K match and medical benefits.

The tax deduction and contribution areas are to view the amounts deducted from the employee to pay taxes as well as from employer. These are automatically calculated based on your tax setup.

The final area is for benefit accruals. This is used for any time off that an employee may accrue such as sick or vacation. The area will be empty until the pay statement is submitted for payment; then a calculation will appear.

When you're ready to make a payment to the worker, you can individually release pay statements or select multiple statements from the main grid and then select the Submit for Payment button.
Note: each instance of selecting the button will create a separate payment journal.

A new form will open asking for a confirmation of submittal.  You have an option here to post the pay statement at this time.  We recommend NOT posting in case there is an issue in the payment issuance stage.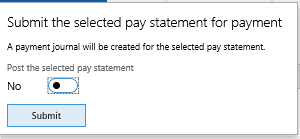 Payment Journal
You've submitted your pay statements for payment which has created a payment journal.  Navigate to the journal, Payroll > Pay Statement Processing > Payment Journal, and open the journal you wish to process.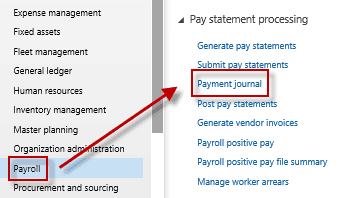 Within the journal, generate the payment and post the journal as you would for an AP payment journal.

Now that your payments have been successfully made, you can post all of your pay statements.  You can do this in bulk form by going to Payroll > Post Pay Statements
You then select the pay cycle and period that should be posted.  This will search for all of the pay statements meeting your criteria and post them.
You've successfully run a payroll!  What we've outlined in this blog series is the "happy path" of payroll, but we all know it may not be that perfect every time.  Look out for future blogs on the additional features of the payroll module.

Have other Microsoft Dynamics AX/365 inquiries or needs? Visit our Help Desk Support page or  Payroll and HR page to see how our experts can help!
For more information please contact Ellipse Solutions at info@ellipsesolutions.com or by calling our corporate office at (937) 312-1547.