Dynamics 365 for Plastics Manufacturing
Plastics manufacturers face many unique challenges in their industry, such as complex production processes, inventory management, quality control, and supply chain optimization. How do plastics manufacturers leverage business software and the latest intelligence technology to overcome these challenges and run their organization more efficiently?
Microsoft Dynamics 365 for Plastics Manufacturing is a single cloud solution that provides plastics manufacturers with a flexible and configurable business software that streamlines operations, improves production, reduces needless expenses and enables granular visibility into costs, processes, information, and metrics necessary to continuously improve your business. Dynamics 365 is built in the Azure cloud, which eliminates data silos and enables mobile capabilities - making the solution available anytime, on any device.
As an out-of-the-box product, Microsoft Dynamics 365 is an effective cloud business solution for Plastics Manufacturers. Microsoft Dynamics was originally built to meet the needs of process, discrete, and mixed-mode manufacturers. 
Ellipse Solutions has been in the plastics manufacturing space since 2007. Our experience in the industry enables us to take a templatized approach with plastics customers, resulting in a more effective solution delivered on a shorter timeline.
Ellipse Plastics is a solution built in Microsoft Dynamics 365 for the plastics industry. This enhancement provides additional functionality specific to common plastics manufacturing processes to streamline operations, improve production, and reduce needless expenses.
Dynamics 365 for Plastics Application Profile:
Ellipse Solutions specializes in Microsoft Dynamics 365 ERP services for Plastic industries including:
Extrusion
Blow Molding
Casting
Film & Sheet
Injection Molding
Fabrication
Pipe/Profile/Tubing
Mold/Toolmakers
Foaming
Recycling
Thermoforming
Unlock the full potential of your plastics manufacturing business.
Harness the power of data-driven insights, streamline operations, and effortlessly scale your operations - all within a single cloud business solution. Contact us today to learn more about Microsoft Dynamics 365 for Plastics Manufacturing.
Key ERP for Plastics Manufacturing Features:
Multi-level BOM: Effectively and accurately detail semi-finished goods costing and tracking with support for multiple levels of bill of materials.
Mixed Mode Capabilities: Handle different manufacturing modes, including discrete, process, lean, and project manufacturing, within the same system, catering to mixed mode business models effectively.
Scrap Management: Properly handle and measure scrap materials during production processes, enabling efficient scrap management and reuse of materials.
Co-products/By-products: Handle co-products and by-products, allowing for flexible pricing calculations and accurate cost allocations.
Mobile Application: Access production-related functions and information through a mobile application, enabling adjustments to temperatures, quality tracking, and real-time production visibility from any device.
Key ERP for Plastics Manufacturing Benefits
Microsoft Dynamics 365 is a full cloud business solution for Plastics Manufacturers offering a suite of powerful features designed specifically for the Plastics industry. Implementing Dynamics 365 in your plastics manufacturing operations brings a host of benefits:
Streamlined Operations
Improve efficiency and productivity by automating processes, optimizing resource allocation, and reducing manual tasks. With Microsoft Dynamics 365, Plastics Manufacturers can streamline operations to save time, reduce costs, and improve overall operational effectiveness - all within a single cloud business solution
Enhanced Supply Chain Management
Gain visibility into your supply chain, improve coordination with suppliers, reduce lead times, and minimize stockouts for seamless operations. By optimizing your supply chain, you can improve on-time deliveries, reduce inventory carrying costs, and enhance customer satisfaction.
Data-Driven Insights
Harness the power of business intelligence to gain actionable and valuable insights. With Dynamics 365's robust analytics capabilities, Plastics Manufacturers can leverage data to make informed decisions, identify opportunities for improvement, and drive business growth. Stay ahead of the competition and make strategic decisions with confidence through Dynamics 365.
Shop Floor Excellence
With real-time visibility into production data, plastics manufacturers can make informed decisions, minimize downtime, and better meet customer demands. Dynamics 365 gives businesses the tools to optimize production scheduling and improve resource management, ultimately increasing the overall productivity of your plastics manufacturing shop floor.
A Seamless Microsoft Experience
Leverage the power of Microsoft's ecosystem with Dynamics 365. As a Microsoft product, Dynamics 365 seamlessly integrates with other Microsoft tools and platforms, such as Office 365 and Azure. This integration enables a cohesive and unified experience across your organization, empowering you to leverage familiar tools and maximize productivity.
Microsoft Business Applications for Plastics Manufacturing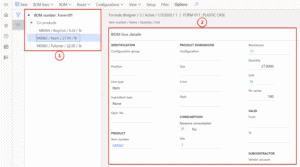 In part 1 of this blog series, we discussed a business case that involved a manufacturing company that produced plastic products for the automotive industry.  The company hired a new product designer Ryan who is getting comfortable using Dynamics 365 and polishing his Formula designer skills.  Thus far, Ryan has learned how to open the…
Read More