Planning Optimization: The Future of Master Planning in Dynamics 365 – Part 1
What is better than having a plan for your business' supply chain needs? Being able to change that plan on the fly! In Microsoft Dynamics 365, Planning Optimization will help you achieve your plan faster and allow for more flexibility.
Using the existing built-in MRP tool, most master plans run overnight or during off-hours for the business. Depending on the size of the business, the plan can take multiple hours to complete! Also, the MRP run will have to compete for a timeslot with other nightly batch jobs, and there is the risk of errors. If any parameters are set incorrectly or an item is not setup completely, that means at least another 24 hours before the planned order is generated. This raises concerns for on-time delivery, expedite fees and future business growth.
What if, after new demand is placed, there was a magical ability to run master planning without interrupting the normal business activities during the day? How exciting that would be! With MS D365 Planning Optimization, the future has arrived!
How much does the Planning Optimization service cost?
There is no additional cost if master planning is available to run with the current licensing.
Is Planning Optimization available for everyone?
The following Azure geographies: United States, Canada, Europe, United Kingdom, Australia, and Asia Pacific. If the service is installed from another geographic region, then LCS will show a message that this geographic is not supported. Please note: Planning Optimization does not support on-premises deployments of Dynamics 365 Supply Chain Management.
What are the steps to enable Planning Optimization?
First, Supply Chain Management must be running on an LCS enabled high-availability environment, tier 2 or higher (not a OneBox environment), with Dynamics 365 Supply Chain Management version 10.0.7 or later. The system must also be set up for Power Platform integration. Once the business is ready, an authorized user can enable Planning Optimization in the license configuration or use the business' Lifecycle Services (LCS) to turn on the license and related features.
How do I know if Planning Optimization will work for my business?
As part of the migration process, MS has added a Planning Optimization fit analysis to the Master Planning module. Go to Master planning > Setup > Planning Optimization fit analysis, and then select Run analysis. The analysis will take several minutes to run and if any inconsistencies are found, they are listed on the same page. If needed, exceptions to keep using the built-in MRP tool can be submitted to MS for approval.
What else do I need to know about MS D365 Planning Optimization service?
The service offered from MS is being built from the ground up. All current MRP features are not being offered all at once but are being added to the service in stages. D365 will allow for approved exceptions for those businesses needing features not yet optimized to continue using the built-in MRP. However, once the feature needed is added to Planning Optimization, migration to the new service is required as the exception will end after a grace period starting from the availability date. More information can be found in Microsoft Dynamics 365 documentation.
What is the same about Planned Orders when using Planning Optimization?
BOM requirements are honored during master planning.
Scheduling for the planned production order is based on the static lead time from the released product.
Intercompany included with planned downstream demand.
Exclusions of products with specific lifecycle states
Update marking during firming.
Reductions of demand forecasts by all transactions.
Coverage time fences will be considered.
Approved Purchase requisitions will generate a planned order.
What is new about Planned Orders when using Planning Optimization?
Faster results generated in minutes and not hours.
Negative on-hand inventory is treated as zero on-hand to avoid over-supply.
Auto-firming based on planned order start date.
Safety stock is planned with Today's date + procurement time to avoid delays.
Negative days is used for all products, regardless of negative days setup.
Changing planned production orders will not reflect in the rest of the plan until the next master plan run. The changed planned order will need to be updated, then approved, and master planning run again.
Filters are not recommended when dependent child items need to be included in the master planning run.
Error message appears if the built-in MRP engine is used – the plan will continue to run successfully, however the business should migrate to Planning Optimization since the built-in engine will be deprecated.
Don't forget – the Planning Optimization service is in the process of being built from the ground up. There will be new features to turn on and use as they become available. Look for Microsoft update in your business' LCS.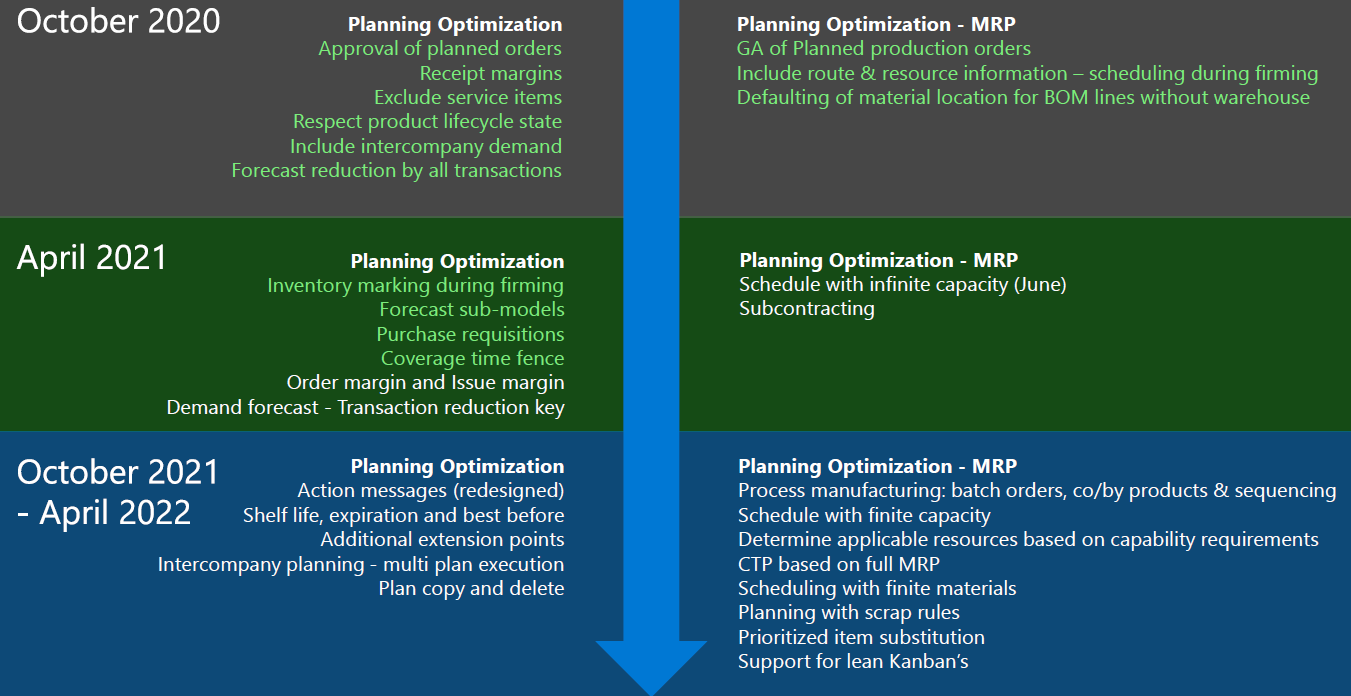 Ellipse Solutions would be happy to partner with your company to evaluate the business' Planning Optimization fit analysis. Check out Part 2 of this blog series here:
Planning Optimization: Production Planning in Dynamics 365 – Part 2