Microsoft's Vision of Digital Transformation for Manufacturing
As we recently attended IMTS in Chicago last month and witnessed the overall movement of the manufacturing sector toward Digital Transformation, now seems like an apt time to review what this means for Dynamics AX/365 users. As a Microsoft Dynamics Gold Partner focused solely on Microsoft's ERP solution, Dynamics 365 for Finance and Operations (AX), it's only right.
You're gaining some new friends, Dynamics 365 adoption is in full swing
We spoke to a large amount of companies using Dynamics AX/365, and at least a quarter of those that stopped in our booth were new to Dynamics ERP. Further, not only is Microsoft finding success in gaining new Manufacturing clients, the majority had extremely positive opinions in their short time with Dynamics. This is exciting to us as a Partner with both process and discrete manufacturing expertise.
In fact, one of those companies will be a very large Dynamics 365 implementation with dozens of plants, several business units, and representing over $4B in revenue. We also saw the other side represented with companies of a few hundred employees and around $75M in revenues.  Suffice it to say, D365 lives for both modest sized and truly enterprise manufacturing companies.
Microsoft's aim for Digital Transformation is widespread
While Dynamics 365 is certainly a large piece of the puzzle, completing the picture and achieving true Digital Transformation will be unique for every manufacturer. The good news is Microsoft has the other pieces as well, and naturally, they fit perfectly with their ERP solution better than a smartphone stitches together a panorama of Lake Michigan (taken at IMTS 2018).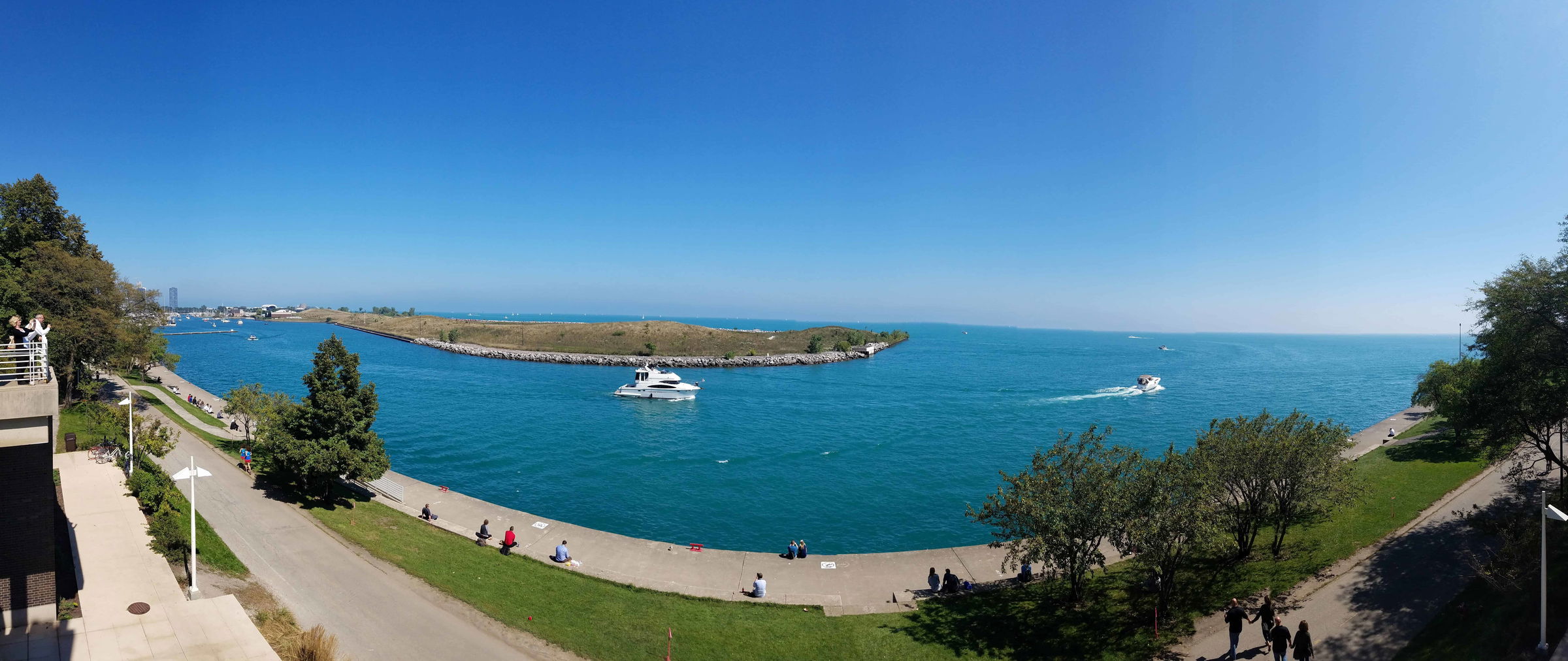 That means current users of Dynamics AX and those already on Dynamics 365 are already ahead of the game. Let's meet a few components of the supporting cast for "Digital Transformation Through Dynamics":
Azure – This is a fairly obvious, but required mention nonetheless. With Dynamics 365 built on the cloud, with a platform/infrastructure/application strategy built to support your ERP, CRM and any peripheral solutions.
Power BI – Microsoft is embedding more and more predictive technologies in Finance and Operations. Workspaces serving up Power BI visualizations are becoming increasingly prevalent and can be invaluable for companies needing to read and interpret information efficiently.
Predictive Analytics – Building on the above points, companies are better enabled to hedge and mitigate risk for the most expensive aspects of running your business. In manufacturing, this could be raw material cost or anything else where cost volatility could actually be a unique advantage to the transformed company.
Azure IoT Suite – IoT has been a hot topic for the past couple of years, and it is only getting bigger. Combining the IoT Suite with Dynamics 365 enables truly intelligent applications for manufacturers. Bad events (machine downtime, price pressures, competitive threats) can be mitigated and unique opportunities (think Uber surge pricing to compensate for high demand) will be far more common.
Office 365 – What's better than all of the above utilizing a familiar user interface with seamless integrations to the office productivity software you already know and love?
Microsoft is in a very unique position. An enterprise ERP solution, built on Azure, with embedded predictive analytics and visualizations, and hundreds of Azure cloud services available at your fingertips. Layering the ability to help interface and make external digital applications and assets more intelligent not only enables companies to pivot and be more agile, but also accelerate results for these new opportunities. This is Digital Transformation at the enterprise level.
Questions or concerns about Dynamics 365 and Digital Transformation for Manufacturing? Contact us today!