Microsoft Named a Leader for CRM Customer Engagement Center
Another feather in the cap, notch in the belt, ace in the sleeve… whatever you want to call it at this point. Microsoft has earned the "Leader" designation in another Gartner Magic Quadrant, this time for CRM Customer Engagement Center. Like other technologies, this continues a bit of a streak for our Redmond friends, marking the 8th consecutive year.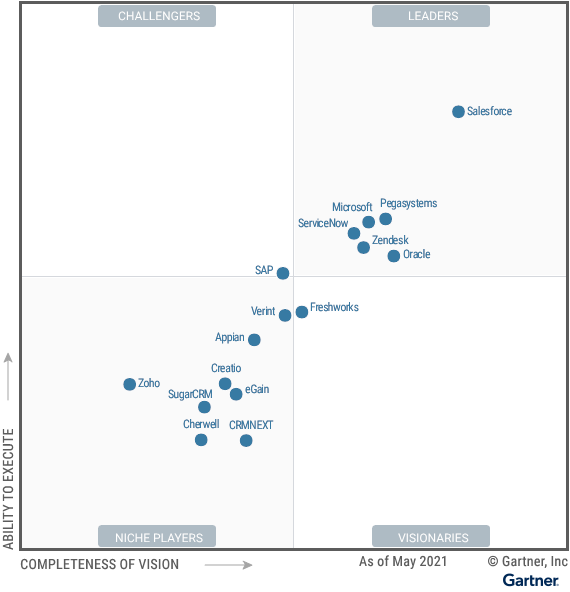 So what is it that put Microsoft in the desirable top-right position yet again this year?
As usual, Gartner does an excellent job of analyzing each player in the market and assessing strengths and weaknesses. When evaluating Microsoft, there were multiple Dynamics 365 solutions to consider as the D365 and Biz Apps portfolio has expanded considerably since the Dynamics CRM days. Today, Customer Engagement Center functionality is provided primarily through Dynamics 365 Customer Service, Power Virtual Agents, Power Automate, and Dynamics 365 Customer Insights.
Gartner identified strengths in Microsoft's overall viability and vision moving forward. The seamless experience across Azure cloud offerings, Power BI, Office 365, Teams and more via Dataverse is a major advantage.
In terms of weaknesses/cautions, much of Gartner's concerns, ironically, come down to support (or customer service, if you will). A major part of this, and a recurring theme among Gartner's cautions for Microsoft in their Magic Quadrant reports, is the inconsistency of the Partner Network:

To that, we couldn't agree more. Selecting the right Partner is just as important as selecting the right solution in some ways. With that, a shameless plug: Contact us and we would be happy to show you why over 50% of our customers started out with another Partner, and conversely why we have a 97% customer retention rate.