Microsoft Dynamics AX 2012 R2 Retirement Benefits Plans – Part 1
New in the CU7 update for Microsoft Dynamics AX 2012 R2, is the ability to set up a benefit plan that automatically calculates the employer contribution. A benefit plan can be used for retirement investments, medical insurance, worker compensation plans, and parking benefits. For the basis of this blog, we will be specifically focusing in on benefits for retirement investments and more specifically how AX calculates the company's contribution. This is useful for a company if they offer a 401K or any similar investment opportunities. Part 1 of the blog covers the setup of Benefit elements.
Setup
In order to use this new functionality to setup a retirement plan, a user must first set up the benefit elements. There are three main elements that have to be set up:
Benefit Type
Benefit Plan
Benefit Options
Benefit Types
The Benefit type setup is where a user defines the name of the plan, states if a worker can enroll in multiple plans at the same time I.e. a user can have multiple retirement plans simultaneously) and specify the Payroll category. This is where the top most basic benefit types are configured.
For the use of setting up a retirement benefit, the Payroll category should be set to "Retirement" for the new benefit type. In the image below, a benefit type with the name of "Investment" was set up and linked to the retirement payroll category.
Benefit Types are set up at:
Human resources > Setup > Benefits > Benefit elements > Types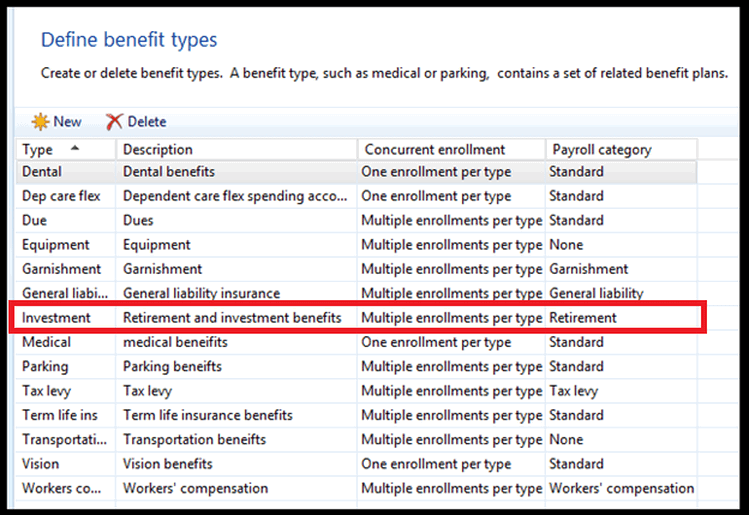 Benefit Plans
The next setup that is required is Benefit Plans. Benefit plans drill down and provide more detail about the Benefit Type. The user should provide the name and description of the plan and then attach the plan to the benefit type attached to the payroll category "Retirement". In the image below, benefit plan "401K" was set up and has type investment, which is our retirement payroll category.
When a Plan is set up as a retirement plan, additional fast tabs are available to the user. Here a user can specify the Payroll impact, contribution limit, deduction details, financial dimensions and more. This is where a user can really define how the retirement benefits are set up.
Benefit Plans are available at:
Human resources > Setup > Benefits > Benefit elements > Plans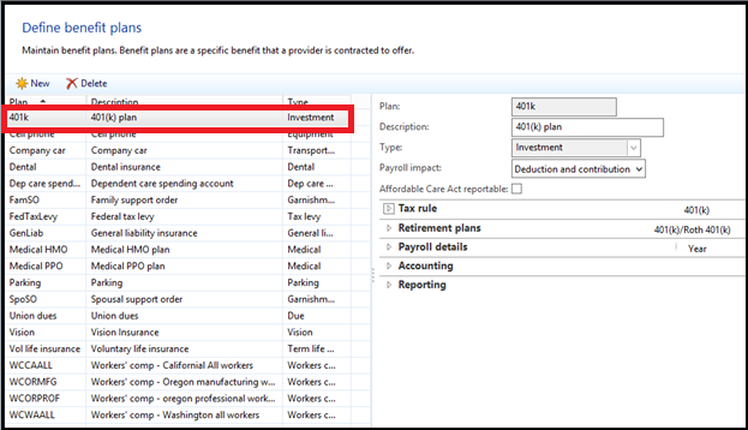 Benefit Options
The last setup is benefit options. Benefit options are used to setup options for dependents and beneficiaries. Use this screen to create a benefit option that specifies if dependents and beneficiaries are covered under your retirement plan.
Benefit Types are set up at:
Human resources > Setup > Benefits > Benefit elements > Options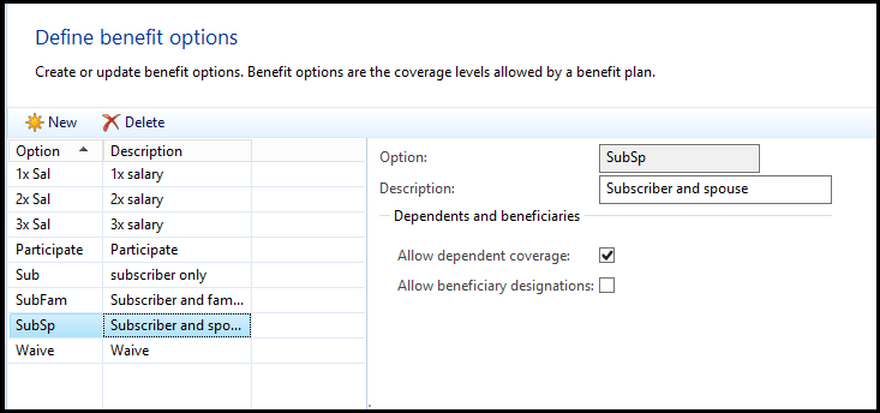 Contribution Rates
Once the details of your Benefit plan are set up, it is time to specify the contribution calculation rates for you plan. Tune in next week to learn how to setup Retirement benefit contribution rates and create a new Retirement benefit.
See Part 2 Here!
Have other Microsoft Dynamics AX Inquires or needs? Visit our Help Desk for AX page to see how our experts can help!
For more information please contact Ellipse Solutions at info@ellipsesolutions.com or by calling our corporate office at (937) 312-1547.