Are your marketing efforts spread across several platforms with varying pieces of content? Are sales and marketing not as connected as they should be? It's time to bring it all together, with Dynamics 365 Marketing!
Marketing is more important now than it ever has been in the past, and it's tough to stand out from the crowd. Delivering a personable and engaged experience, from the awareness stage of marketing to final close of sale, can be the difference between you and your competition.
What can Dynamics 365 Marketing do for your business?
Ready to get a more in-depth view of Dynamics 365 Marketing? Contact us to request your personalized demonstration!
Why Dynamics 365 Marketing?
Dynamics 365 Marketing helps your marketing and sales teams plan, automate, and monitor the full customer buying journey - from the initial point of awareness, through lead nurturing, and to conversion into a sales ready lead. Run automated email campaigns, plan and promote sales events, create interactive online forms, generate and score leads, collaborate seamlessly with Sales - all under one platform!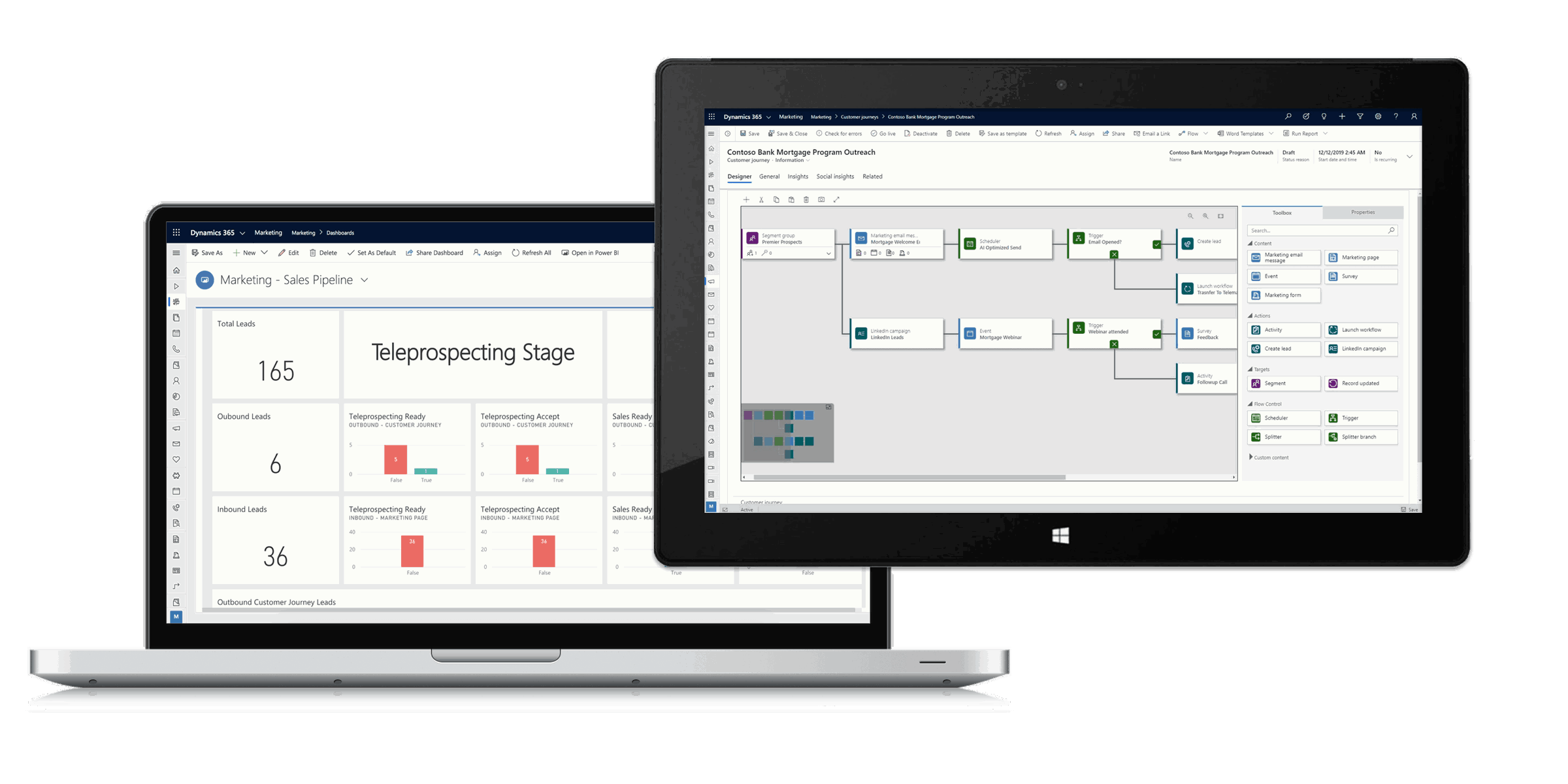 Marketing Team
Quickly create captivating bulk emails with drag and drop campaign designer tools
Set up and manage nurture rules and workflows for consistent and meaningful contact
View contact lead scores based on email opens, email clicks, event registrations, website visits, and more
Sales Executives
Seamlessly integrate with your organizations marketing team to know when a lead is qualified and ready to be approached
Access the journey of each lead in the dashboard to view the history of their interactions with marketing
Collaborate with marketing to nurture your best prospects and develop new leads
Dynamics 365 Marketing Feature Summary
Email marketing with A/B testing and Send Now
Landing pages, forms, and website personalization
Reusable content blocks and videos
Social posting
Marketing support for Business units
Marketing Calendar