Drive customer satisfaction and technician productivity to new heights with Dynamics 365 Field Service.
Whether it's scheduling the right resources at the right time and place, or keeping assets in the field connected with the type of insights that "wow" a customer, employees on-the-go need to be more productive than ever.
Microsoft Dynamics 365 for Field Service allows your business to deliver an unparalleled customer experience, from the home office to the service truck.
What can Dynamics 365 Field Service do for your business?
Ready to get a more in-depth view of Dynamics 365 Field Service? Contact us to request your personalized demonstration!
Why Dynamics 365 Field Service?
Microsoft Dynamics 365 Field Service helps your organization deliver a seamless, customer-centric service experience. Combining the capabilities of traditional CRM with machine learning, mixed reality, and IoT technologies, Dynamics 365 Field Service creates a single integrated solution that is transforming Field Service Management.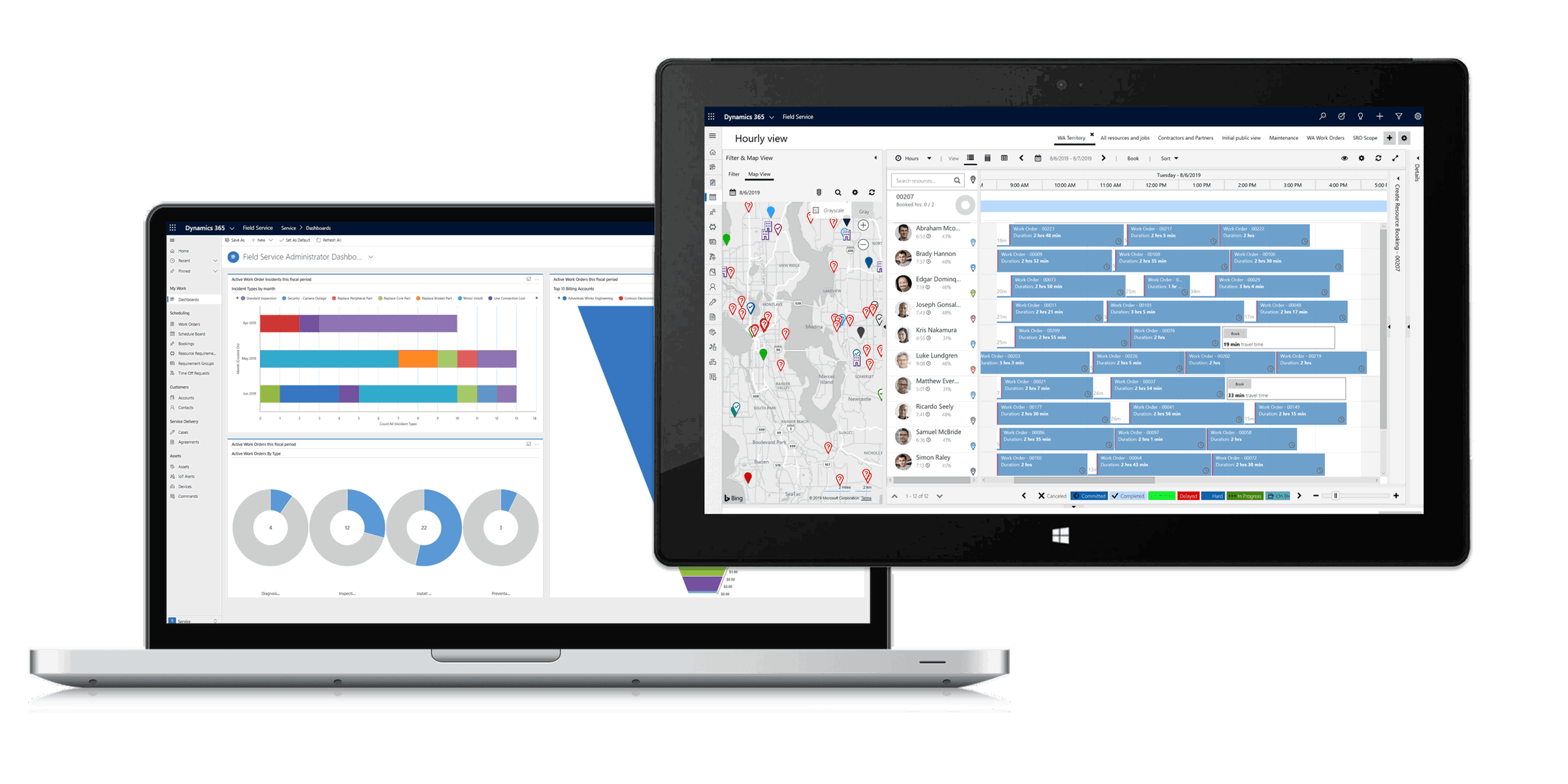 Monitor & Service Equipment Remotely
With IoT monitoring and Connected Field Service, your service employees will know when your customers' equipment is running smoothly; and when it isn't. Receive notifications when machines have failed or are about to fail, troubleshoot the problem remotely, and send a technician out to fix the issue if necessary.
Optimize Resource Scheduling & Efficiency
Empower your dispatch team and employees in the field with intelligent resource scheduling with Dynamics 365 Field Service! Match each job with field service personnel based on applicable specialists' skills, scope of work, travel time, current in-truck inventory, and more!
Increase Productivity of Field Service Technicians
Streamline service work in the field by increasing the efficiency of your technicians with Dynamics 365 Field Service. Your team is connected in real time throughout the entire job via mobile devices. This includes – initial notifications for job dispatch, turn-by-turn directions to the site, customer history/details, and fully configurable work orders.