Unify your retail organizations' back-office, in-store, call center, and digital experiences with Microsoft Dynamics 365 Commerce!
Delivering sales in a retail environment is requiring companies to shift the way they interact with customers. Consumers do their research and want to be educated before making a purchase. Microsoft Dynamics 365 Commerce gives retailers the ability to create insightful shopping experiences across all channels for a higher level of customer engagement and satisfaction.
Manage digital retail commerce in one cloud solution
Dynamics 365 Commerce offers a solution for building intelligent digital storefronts and allows for management of content, assets, promotions, and pricing across all channels.
Build loyalty with an intelligent omni-channel experience
Unify physical and digital commerce, and gain a comprehensive view of your customers. Respond to their needs with AI, customer insights, and loyalty programs.
Streamline retail operations with the power of the cloud
Optimize back-office operations and use AI to develop meaningful visualizations for comprehensive analysis of data with the power of intelligence in the cloud.
Organize pricing and promotions across all product offerings with ease
Dynamics 365 Commerce offers a solution for building intelligent digital storefronts and allows for management of content, assets, promotions, and pricing across all channels.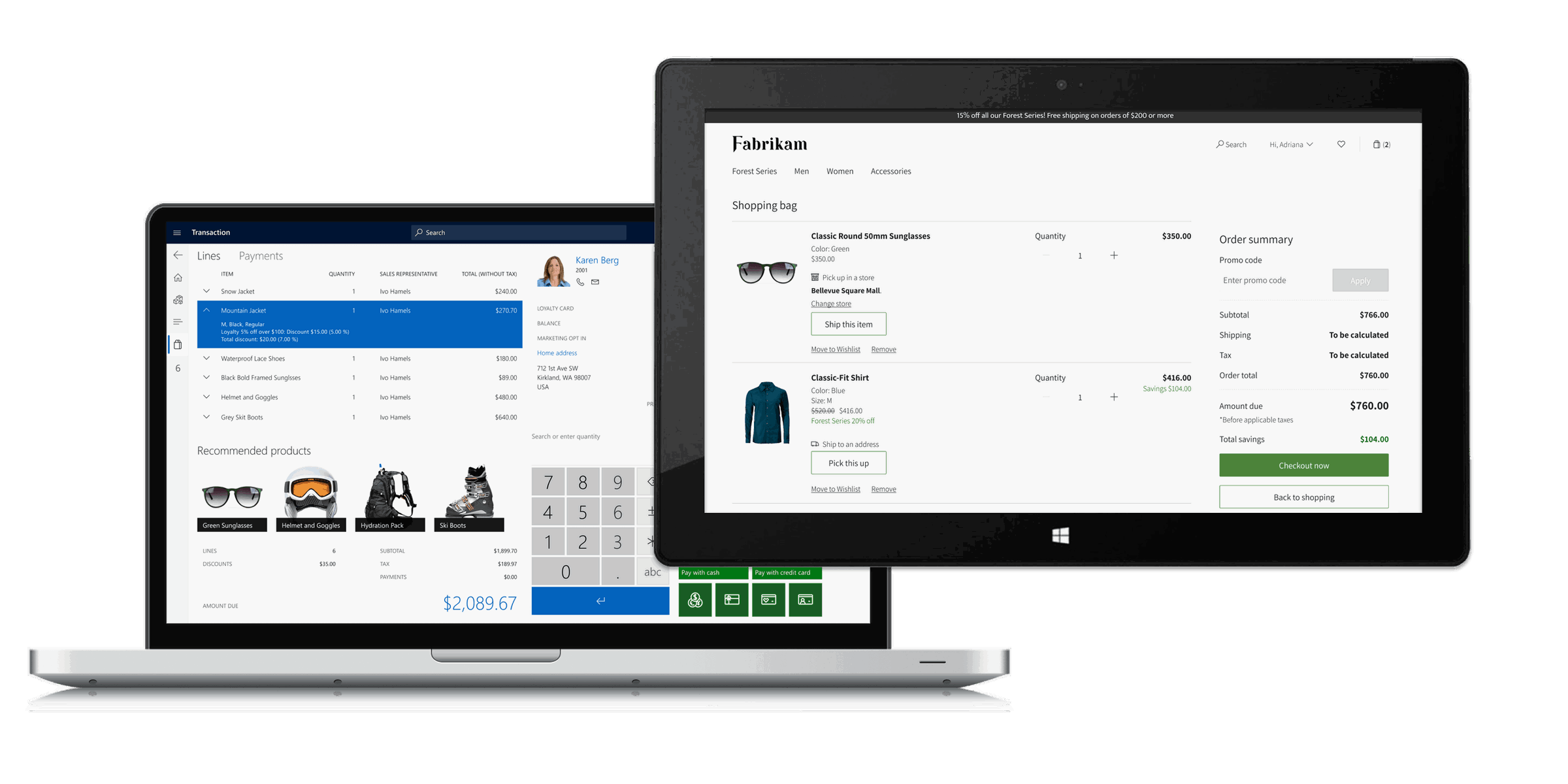 Why Microsoft Dynamics 365 Commerce?
Streamlining your retail organizations' operations not only gives you the tools needed to more efficiently run your business, it also gives you the proper intelligence and automation to deliver exceptional experiences for your valued customers. Built on Dynamics 365 Commerce brings retail in the digital age to the next level.
Unified Data
How do I prevent "out of stocks"? Organizations can bring together disconnected data silos with this integrated platform. Real time access and enhanced access to product and inventory management includes tools for managing product catalogs, pricing, and inventory levels. This helps businesses keep track of their products and ensure that they have the right products in stock to meet customer demand. Dynamics 365 Commerce can handle the full spectrum of retail operations, from merchandising to modern point of sale, all in one place!
Real time data insights
Integrated reporting and analytics
AI driven decision making abilities
Scalability and flexibility
Dynamics 365 Commerce is designed to be scalable and flexible, making it easy for businesses to grow and adapt to changing market conditions. It can be customized to meet the specific needs of each business and can be integrated with other systems such as CRM and ERP. The software is stacked out of the box with all the tools a consumer will need to you design and maintain retail websites for various standard and non-standard channels.
Create custom B2B sites and user specific catalogs
Bulk order by item, variant, and templates
Easy data uploads and updates between ERP and Commerce
Microsoft Power Platform Integration
Microsoft is developing and supporting tools that give the end-user endless options to elevate the software. Power Virtual Agents are scalable, intelligent conversational bots that are taking advantage of emerging technology like ChatGPT. Coupled with built-in KPI tracking, the system can start to learn from past experience to provide continuous improvement suggestions.
Power platform also provide connectors that easily allow a citizen developer to build low code/no code apps for other tasks such as product search engines, inventory checks, and category review.