Is your business ready for a digital transformation? Get started with Microsoft Dynamics 365!
The way businesses manage and run their operations has changed drastically over the last decade. Technology has advanced to a point that adoption of the latest software is critical to the future success of an organization. Microsoft Dynamics 365 unifies CRM and ERP capabilities into a variety of applications that work seamlessly together across sales, customer service, field service, operations, financials, marketing, and project service.

Do you have a single source of real-time financial reporting with your current solution?
Dynamics 365 gives real-time visibility into financials along with embedded analytics and graphic visualization, including the ability to drill-down into the transactions.
Is your current system creating silos or inefficiencies that slow down your operations?
Dynamics 365 provides a centralized source of operations intelligence that enables global workforce and supply chain to collaborate and do business anywhere.
How much time and effort do upgrades of your current solution take?
Dynamics 365 offers unmatched flexible, adaptable and scalable deployment options that enable to transform specific areas of business and expand from there.
Start with what you need
Start your ERP/CRM journey with the right fit for your business. Choose only what your organization needs and grow at your own pace.
Built-in Intelligence
Common processes are fully integrated with big data, advanced analytics, and IoT for better decision making.
Productivity where you need it
Empower your employees with productivity tools for each of their daily business processes.
Scalability for growing companies
Adapt and innovate in real-time with a wide selection of flexible, extensible business applications.
What can Dynamics 365 do for your business?
Ready to get a more in-depth view of Dynamics 365? Contact us to request your personalized demonstration!
Microsoft Dynamics 365 Business Applications
Utilize world class financial capabilities with built-in predictive analytics and intelligence to set the pace in your industry by enabling better and quicker decision making.

The modern gift card, a wad of cash conveniently disguised in a rectangular piece of plastic. They are welcomed by birthday present recipients world-wide in place of an ill-fitting sweater. Of course, they do quite often end up living out their days in a kitchen junk drawer or stuffed in a wallet or purse, never…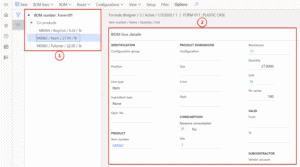 In part 1 of this blog series, we discussed a business case that involved a manufacturing company that produced plastic products for the automotive industry.  The company hired a new product designer Ryan who is getting comfortable using Dynamics 365 and polishing his Formula designer skills.  Thus far, Ryan has learned how to open the…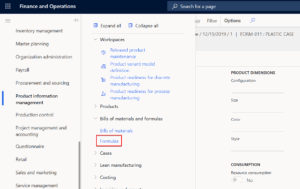 Today's blog goes over the Formula Designer for Process Manufacturing in Dynamics 365 Supply Chain. This blog post does not cover the differences between a BOM and a formula.  To learn more about that topic, check out this blog: BOMs or Formulas: What's the Deal? The example we will be using today is a manufacturing…