Microsoft Dynamics 365 is a Leader in all the Quadrants!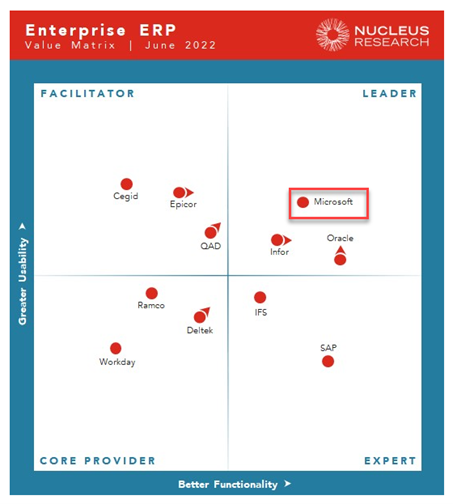 Whether it is a student on a soapbox in the student commons, the gym rat railing at the chicken-legged dudes stuck on biceps, the ATV-er's espousing the joy of mudding, or in this case a few recent Microsoft Dynamics 365 research drops from Nucleus Research and Gartner… we love ALL the Quad-Rants!
The Nucleus Research inaugural Enterprise ERP Value Matrix ranked ERP vendors with over $500M in annual revenue on a few factors: functionality and usability of their solutions. As you can see above, Microsoft is trending as not only a leader but also ranking high in usability.
Microsoft Dynamics 365 is Growing in the CRM Space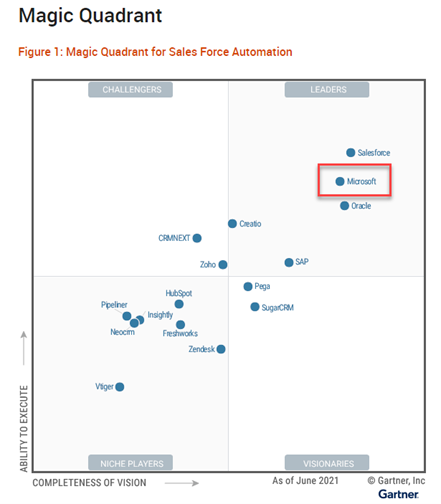 Gartner's latest report highlights Microsoft's status in a leadership position with sales force automation software. Dynamics 365 Sales has relevancy in all organizations of all sizes. Conversational intelligence for desktop, sales acceleration and advanced predictive forecasting functions are just some of the advancements.
Microsoft will keep pushing with future enhancements in seamless digital selling experiences that will leverage collaboration through Microsoft Teams and other web chat experiences
Microsoft has a strong understanding of the marketplace and has developed a deep roadmap to improve while keeping its focus on field-based sales. They introduced the ability to provide industry-specific assessments and benchmarks, and to use these to showcase how its Dynamics 365 Sales solution can help deliver results.
AI-based products and features continue to be a focus, namely with the release of conversational intelligence. All of this with a moderate cost of use.
Ellipse is a Gold Partner that is loves to talk D365 shop whether it is F&O, BI, CRM, CE, Power. Give us a call if you have any questions or want to learn more about the Microsoft D365 family!