Microsoft Certifications and Exams for Dynamics 365 for Finance and Operations Part 1: MB-300 (Unified Core Operations)
Microsoft has made the statement that they will be migrating their Dynamics 365 e-learning courses from PartnerSource, CustomerSource, and the Dynamics Learning Portal (DLP) to Microsoft Learn. Microsoft Learn is a new platform from Microsoft that features "free self-paced, role-based, task-based content in Learning paths (groups of modules) and modules (individual tasks)." Currently, they have posted a list of what is available on their blog under Finding Dynamics 365 Courses on Microsoft Learn. Unfortunately, this list only encompasses courses related to Power Platform, Customer Engagement, Customer Service, Field Service, Marketing, and Sales.
As the new Microsoft Dynamics 365 for Finance and Operations exams have been released in beta on March 31st, many people are asking, "Where is the learning plan for the Finance and Operations exams?"
Well, the good news is, the courses are out there on Microsoft Learn. A person who is motivated enough to review the Skills measured section on the exam page against the courses in Microsoft Learn will be able to match up the Learning paths and modules. Luckily, we have someone just ambitious enough to undertake this task. In this four part series, we will break down the requirements for the new exams and list out what we believe to be the fully encompassing list of links to relevant Microsoft Learn Learning paths and modules.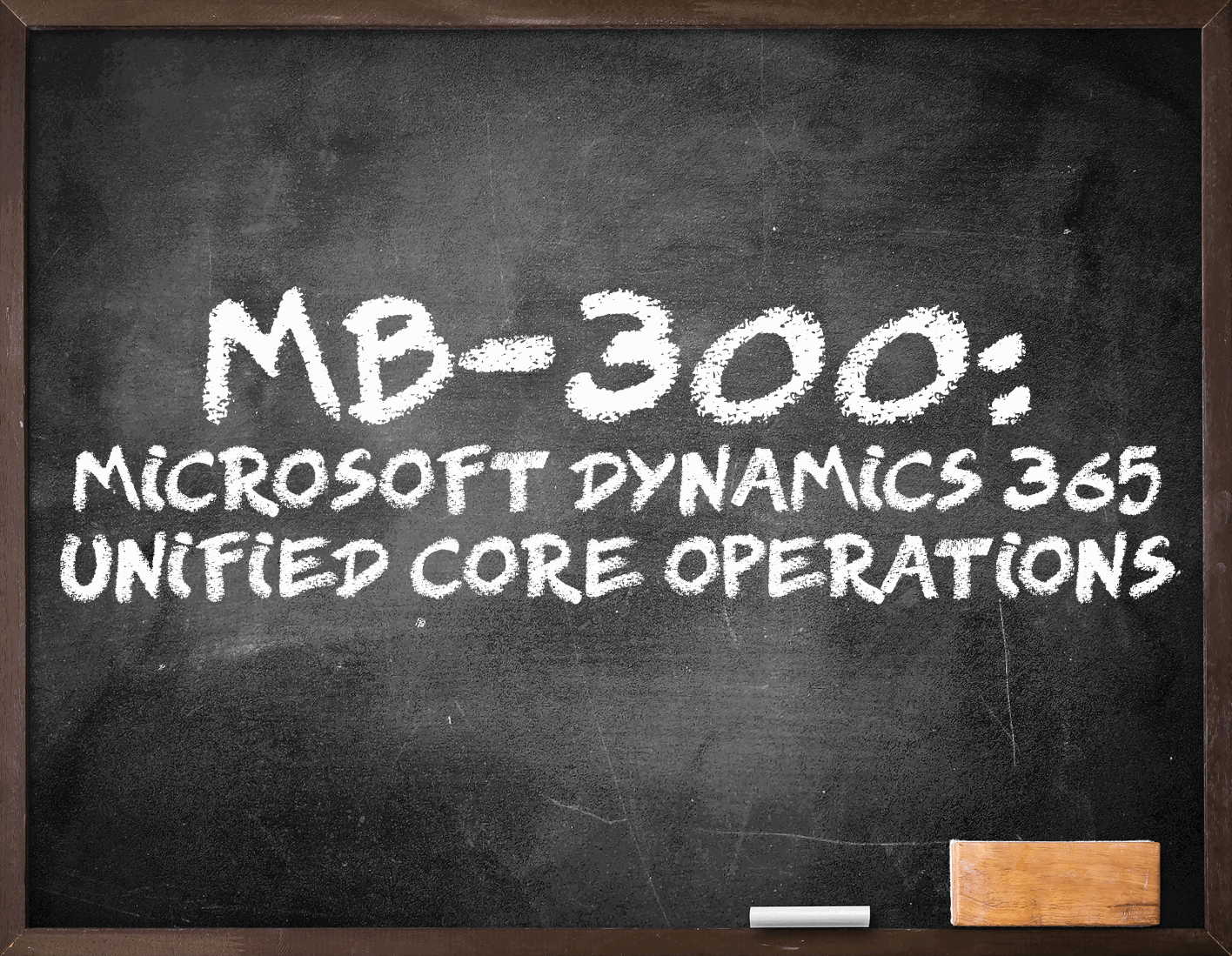 In this first blog post, we will review the requirements for the MB-300: Microsoft Dynamics 365 Unified Operations Core exam, which is a prerequisite exam to obtain certification for the following:
MB-300: Microsoft Dynamics 365 Unified Core Operations
Below is a list of the skills measured and how much of the exam is expected to be focused on these skills.
Use common functionality and implementation tools (20-25%)
Configure security, processes, and options (45-50%)
Perform data migration (15-20%)
Validate and support the solution (15-20%)
In order to support these skills, Microsoft is offering the following Learning Paths:
And another course that would be beneficial but doesn't fit the skills stated on the exam page is:
Please note, all Learning paths have multiple modules tied together under the umbrella of one Learning path, so there is a lot of content in the above mentioned links! All summed up, the total time you would invest in these Learning paths is 15 hours and 24 minutes (add an additional hour for the bonus course). While that may seem overwhelming, just remember that becoming a Microsoft Certified Professional is a journey and the knowledge gained today is only going to benefit you more as you progress through your Dynamics 365 career.
Best of luck on your exams!
Looking for Parts 2, 3 and 4? Check them out here:
Microsoft Certifications and Exams for Dynamics 365 for Finance and Operations: Part 2
Microsoft Certifications and Exams for Dynamics 365 for Finance and Operations: Part 3
Microsoft Certifications and Exams for Dynamics 365 for Finance and Operations: Part 4