Why Are Manufacturers Choosing Dynamics 365?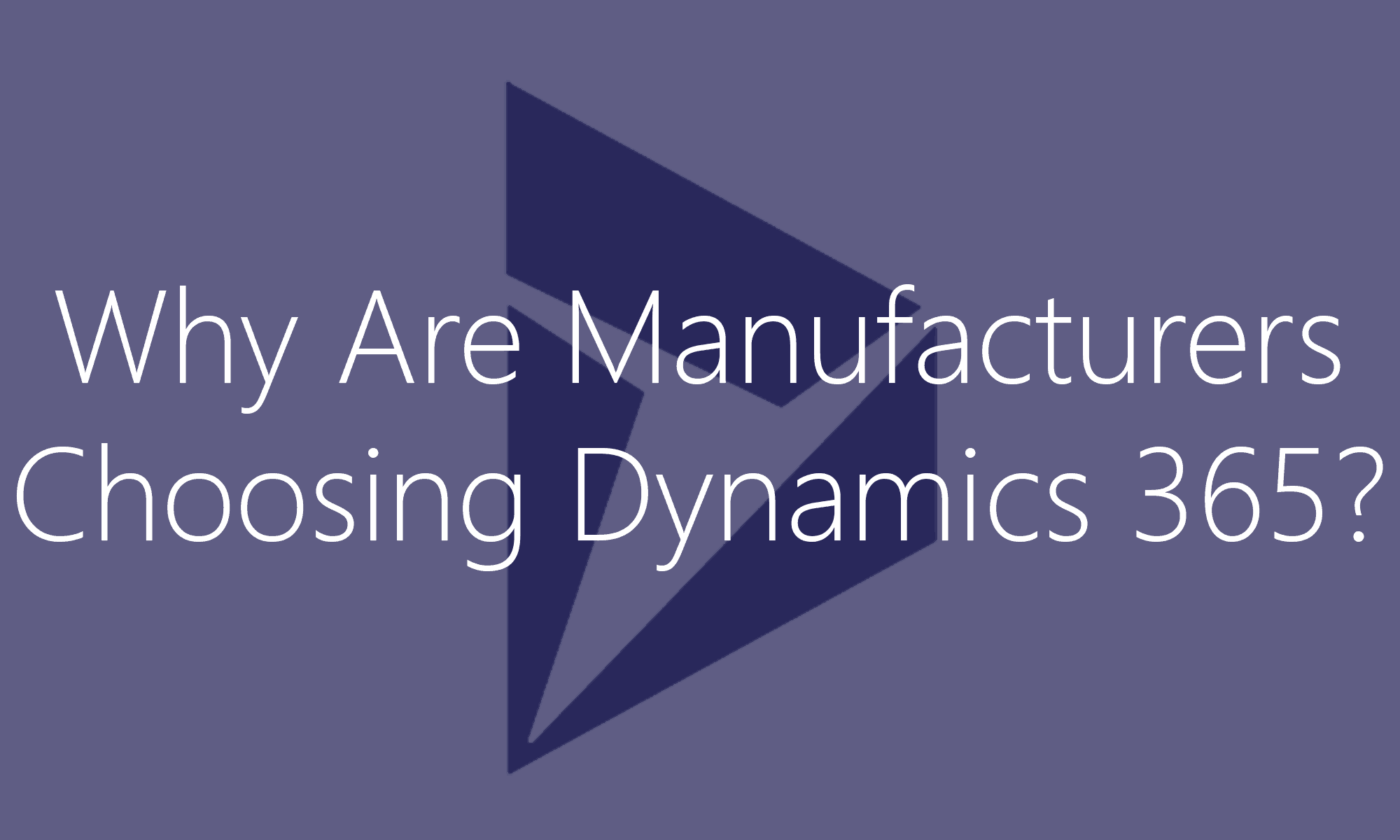 Large manufacturers are always looking for ways to grow their organization, increase productivity, and increase their bottom lines. To some, that may mean purchasing new machines, hiring more workers, or maybe even acquiring similar businesses. However, with the advances in new technology, many manufacturers are turning to ERP (Enterprise Resource Planning) software to gain a competitive edge.
There are many factors to consider when deciding which ERP is best for your company. Today we will be taking a look at why many manufacturers are choosing Dynamics 365 for Finance and Operations as their next ERP.
Born with the Manufacturer in Mind
Discrete, process, or mixed-mode – Dynamics 365 (previously known as Dynamics AX) was built to support the needs of manufacturing. Dynamics 365 handles multiple business models and provides real-time visibility for plant operations, allowing your organization to stay connected and informed from the shop floor to the top floor. Employees equipped with business intelligence and analytics tools are able to make decisions quickly and with a higher level of accuracy than ever before.
When the right people are able to receive, understand, and leverage the right information at the right time; Digital Transformation becomes more than a buzzword.
Variety of Deployment Options
The majority of top-tier ERP software providers are forcing customers to migrate to the cloud. With the success of Azure, Microsoft is certainly encouraging customers to consider the cloud for their deployment of Dynamics 365 for Finance and Operations. However, while the cloud is certainly the future, it is not currently required for Dynamics 365.
Microsoft continues to remain flexible in their approach to deployment options. In the Cloud or On-Premise – the choice is yours!
Ease-of-Use and Rapid User Adoption
An ERP only works if it's easy and effective in its use. Throughout the history of Microsoft, there have been many pieces of software released for businesses with these goals in mind. Microsoft has proven to be exceptional at developing training, tutorials, and videos for the business applications they sell.
The case is no different with Dynamics 365.
Microsoft created Task Recorder and Task Guides for Dynamics 365. Imagine being able to record all steps with helpful notes and a context sensitive cursor to actually guide users through common tasks, and ensure the same process is consistently followed. Repetitive and important tasks such as creating purchase orders or employee onboarding become nearly fool proof.
For more information on creating Task Guides, take a look at a couple of our previous posts:
The Internet of Things (IoT)
You may be surprised, but you are already more than likely embracing the "Internet of Things". Smart phones, smart watches, smart cars etc. are everywhere. However, in Manufacturing, IoT will be playing an ever increasing role as the capabilities of systems become more intelligent. Real-time tracking of your Shop Floor including machinery usage, maintenance, and even performance will become a normal (and critical) part of day-to-day operations.
It may have seemed like a fad that would fade away at first, but IoT is no doubt here and here for the long haul. There are many creative ways to use this new technology to get an edge on your competition. So, get out your thinking cap – you may be surprised at how IoT can be leveraged in your organization. To see the Internet of Things in action, check out "Dynamics 365 & Azure Iot Suite – Temperature Sensor Demo".
Some areas in which an IoT solution could benefit a manufacturer include:
Remote Monitoring
Predictive Maintenance
Manufacturing Capacity, Throughput and Availability
Remaining Useful Life or "RUL"
Quality Control
Process Improvement
Service Contract Impact
Azure Machine Learning
Machine Learning is another technology (much like IoT) that can be applied in a multitude of ways. New tools and technology have opened the door to new use cases and applications in manufacturing.
In one specific case, Ellipse Solutions helped a plastics manufacturer utilize Azure Machine Learning to build a sales forecast for the upcoming year by analyzing historical data and trends. Check out "A Taste of Sales Forecasting Using Azure Machine Learning" for a more detailed run-down.
Extended Functionality via AppSource
After implementing an ERP, you may find yourself craving additional features and functionality. So what do you do? Well, the typical answer is to hire consultants or additional IT personnel to create customizations. Not with Microsoft! In an effort to assist enterprise users that see extended functionality, Microsoft created AppSource.
AppSource is essentially a giant marketplace where Microsoft Partners (like Ellipse Solutions) publish business applications and consulting service offerings. Customers are able to browse through the offerings at their leisure, and are able to request an application or service in a matter of minutes.
Power BI
While collecting data can seem helpful, it is nothing without having a predictive, analytical, and automated Business Intelligence tool to drive insight into better and faster actionable decisions. Power BI has helped transform businesses around the world by providing self-service analytics at a variety of scales.
While there are many other competitors in the field of business intelligence, Power BI has been recognized by Gartner as a Leader for 11 consecutive years. Talk about completely dominating the competition!