ICMA 2022: Attendee Guide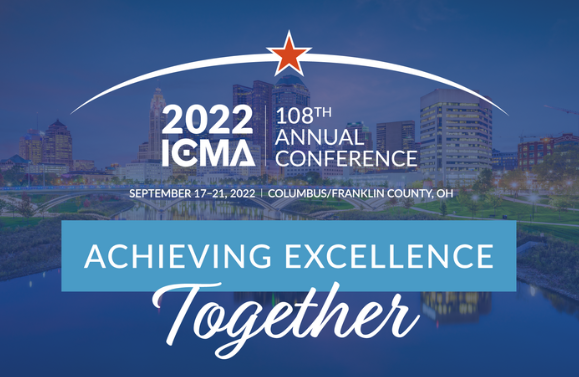 I see that ICMA is having one of their annual events, September 17-21, in Columbus OH and we may see you there! The 108th annual conference is made up of professionals from all over the world, meeting to share and learn! They say it is the world's largest gathering of folks at the local government level and I am sure they will have one of those over-sized blue ribbons out front to prove it!
In preparation for the event, we have complied this blog to help you – the attendee – to get the most value out of your time spent at ICMA 2022!
Educational Opportunities
The conference is being held at the Greater Columbus Convention Center (GCCC) and will include an array of great content including multiple keynotes, 150+ educational sessions, and roundtables. There are 7 individually focused educational tracks:
Advancing Diversity, Equity, and Inclusion
Civility and Engagement
Economic Recovery, Redevelopment, and Resilience
Leading Strong Teams for A Strong Community
Livable, Sustainable Communities
Personal Development
Workforces and Service Delivery of the Future
All keynote and selected educational breakout sessions will be available via livestream and on-demand, so if you can't make it to Columbus be sure to check out the digital/virtual choice!
A Plethora of Networking Events
The event is not all about the sessions, however! There are multiple sporting events/networking opportunities on Sunday September 18 – a 5K run, yoga, "World Cup" pick-up soccer, and more. This is a great way to meet attendees and bond on a different level. These do cost a bit extra and pre-registration is required. There is also plenty to do around the GCCC, as it is in the city's entertainment district. Heading north on High Street is considered the Short North Arts district, a quirky stretch of restaurants, shops, and local art and murals.
Throughout the conference, there are many opportunities for attendees to meet others in various settings. There are lounges for ad-hoc discussions, special luncheons, happy hours, a CivicPRIDE mixer, a hosted night at the Center of Science and Industry (COSI), a hands-on science center, and much more. You can peruse the schedule at glance to get a better idea of what might be of interest
The Grand Expo Hall
Finally, what would a conference be without the grand EXPO Hall! This year's ICMA Conference will have over 150 exhibitors, each showcasing their latest products, solutions, and services tailored to the State and Local Government industry.
Of course, Ellipse Solutions, a Microsoft Gold Partner, will be there among the many vendors. Stop by our booth, #646, to chat about software and local government technology needs! We provide a full end-to-end solution stack for government agencies built on Microsoft Azure, including Microsoft Dynamics 365 ERP + CRM, Microsoft 365 Office Productivity Applications, Artificial Intelligence, and other Azure Cloud Services.
If you have not already registered for 2022, do so here. Additionally, be sure to save the dates for future ICMA conferences already scheduled!
Bonus Tip: Jaywalking, crossing the street sans crosswalk or traffic signal, is enforced downtown with a 100.00 ticket. However, Moon Walking on public land is encouraged if the conditions are safe.