Factory of the Future: Exploring Sensor Data Intelligence for Microsoft Dynamics 365 Supply Chain Management
As the manufacturing world looks to improve the resilience of its supply chain, an important aspect to consider in the process is the reliability and predictability of its assets and infrastructure.
Sensor Data Intelligence from Microsoft seeks to help bridge the gap and equip organizations with the capabilities needed to build on the IoT (Internet of Things) foundation to empower them to make data-driven decisions and transition from reactive and preventative management of machines and equipment to a predictive and proactive approach.
Architecturally speaking, Sensor Data intelligence represents the 2nd iteration of the previously available IoT Intelligence solution that truly is built to allow organizations to set up, scale, and extend the framework to all applicable business solutions. This is accomplished by allowing the solutions to be fully hosted and managed on the organization's Azure subscription with the flexibility to customize to meet industry-specific and unique business requirements.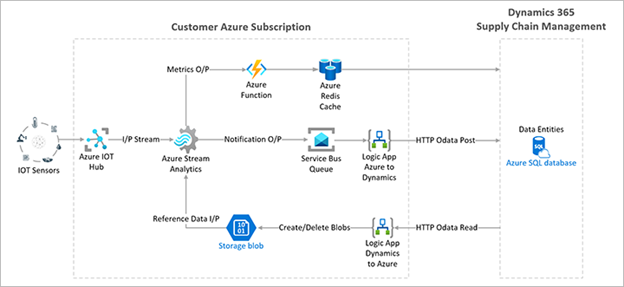 The readings and notifications from sensors are collected and routed through Azure stream analytics to ensure both priority downtime notifications, as well as regular readings and data collection. These are independently registered and validated to allow fewer points of failure and the ability to prioritize time-sensitive notifications over day-to-day analytics.
This solution is also simple to set up and operate with Dynamics 365 Supply Chain Management through easy-to-use wizards to help address common scenarios. This will then integrate natively with the Asset Management and Production control modules in D365 SCM which helps deliver the necessary insights to the right decision makers.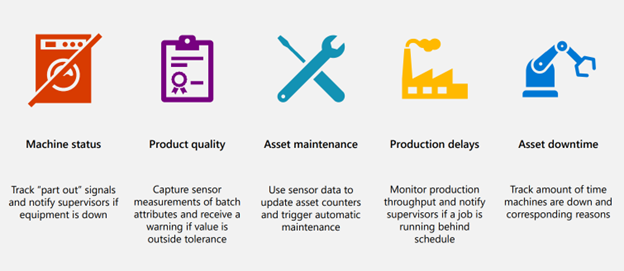 Organizations with large production lines such as plastics and packaging manufacturers or food and beverage industries will benefit from the ability to proactively monitor and track machine readings and prevent an expensive downtime situation by analyzing efficiency and reporting trends of asset components exceeding standard wear and tear specifications. Another use case scenario that can be addressed is tracking historical downtimes on a production line in order to consider an overhaul(replace) vs maintenance situation for a plant manager.
This functionality can also help in aiding compliance for regulatory bodies and internal policies that help report and escalate real-time quality concerns of finished as they are being manufactured by reporting critical product-specific batch attributes and mission-critical deviations.
Overall, the solution will help planning and production teams navigate production delay scenarios when orders are behind schedule and thereby giving the opportunity to the management teams to create and implement contingency plans to prevent any supply chain disruption.