What To Expect From Dynamics 365 CRM Applications This Fall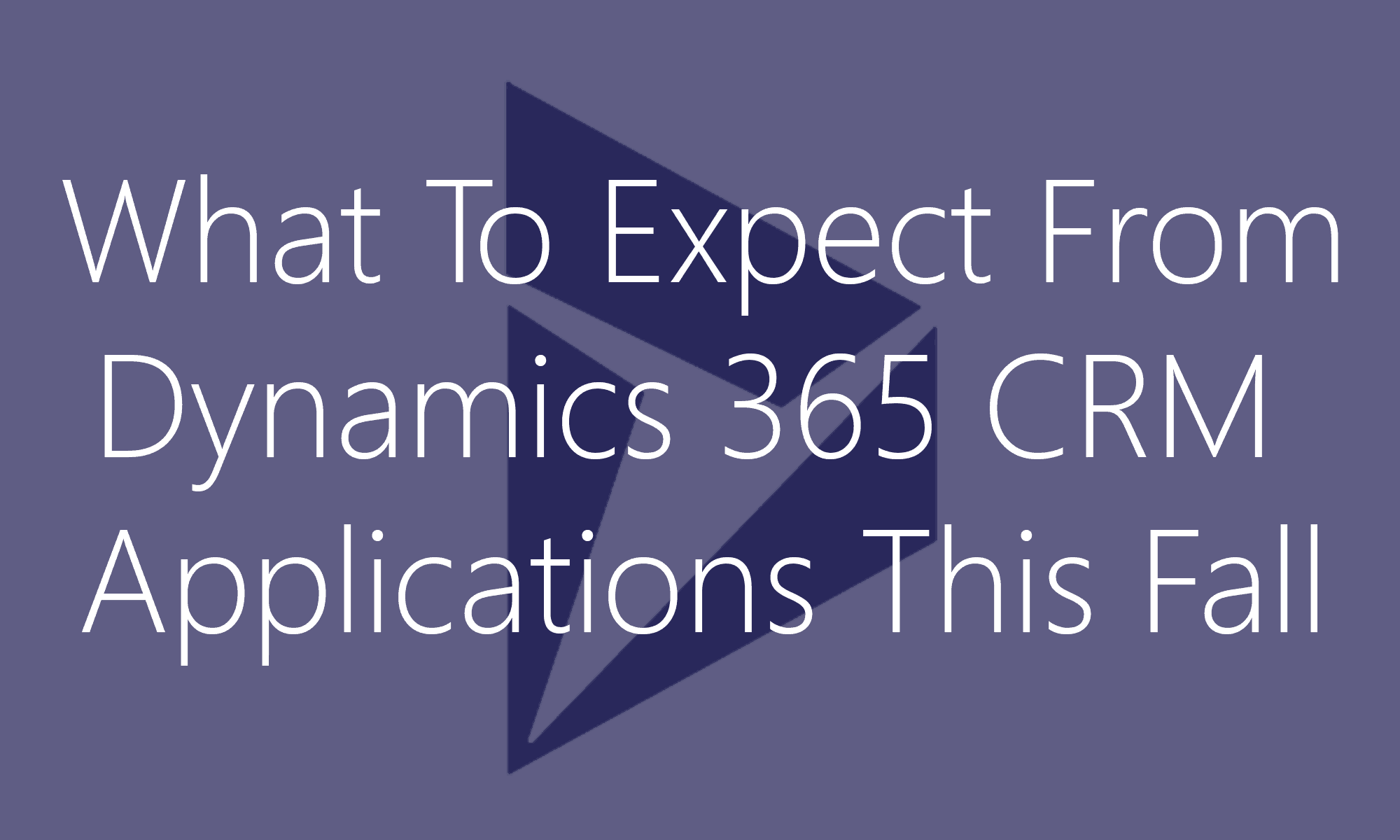 Yesterday we went over what features we can look forward to seeing this October in Dynamics 365 for Finance and Operations, the ERP side of D365. Today, let's look at what we can expect from the applications that make up the CRM side. Again, unless otherwise noted, these features will be released with general availability in October of this year.
Dynamics 365 for Marketing
Account-based marketing
Reusable content blocks
Social listening for your campaigns
Marketing calendar for planning
Deep LinkedIn integration
Richer segmentation experience
Custom analytics
Additional languages and geographies
Video content using Microsoft Stream (Public Preview)
Social Insights in Dynamics 365 for Marketing
Dynamics 365 for Sales
Playbooks
LinkedIn insights
Microsoft Teams integration (Public Preview)
Who knows whom (Public Preview)
Talking points (Public Preview)
Quick Actions (Public Preview)
Predictive Lead Scoring (Public Preview)
Relationship analytics with LinkedIn InMail (Public Preview)
Dynamics 365 AI for Sales app (Public Preview)
Microsoft call intelligence (Public Preview)
Dynamics 365 for Customer Service
Service scheduling powered by Universal Resource Scheduling
Customer Service admin settings
Suggest similar cases (December 2018)
Knowledge article recommendation (December 2018)
Relevance search for knowledge management
Customer Service health in One Admin Center (Public Preview) (December 2018)
Dynamics 365 for Field Service
(Target release month for these features is November 2018)
Overall
Integration with Finance and Operations
Entitlement management
Multi-resource scheduling (for work orders)
SLA management
Mobile
Integration with Microsoft Bot Framework
Background location sharing (Public Preview)
Push notifications (Public Preview)
Universal Resource Scheduling (URS)
Define groups of requirements with conditional logic
Multi-resource scheduling
Schedule predefined resource crews
Resource pools
Facility scheduling
Fulfillment preferences
Capacity scheduling
Schedule board split view
Extensible resource availability (Public Preview)
In-form scheduling (Public Preview)
PowerApps sample app (Public Preview)
Self-service scheduling APIs (Public Preview)
Resource Utilization View (Public Preview)
URS customer-driven product enhancements (Public Preview)
Connected Field Service (IoT)
Enhanced IoT Central integration
Resource Scheduling Optimization
Enable More Objectives
Single Resource Optimization
What-if analysis statistics
Dynamics 365 for Project Service
(Target release month for these features is November 2018)
Adjustments to approved time, expense, and journal lines
Unit-aware expense category pricing for setup, estimation, and actuals
Use transaction filters to review invoicing backlog when creating invoices
Date effectivity validation on price lists
Resourcing unit currency on role price lines for cost
Support for multiple time units on a single price list
Ability to make copies of price list by adding a markup percentage
Resolution of multi-currency cost price list on projects
Want to know more about any of the features listed above? Check out the Business Applications Fall Release Notes from Microsoft (PDF download) or contact us today!