Experience a better Microsoft Dynamics 365 Implementation process with Ellipse Ensure!
Taking on an ERP or CRM implementation can be intimidating. Using conventional implementation methods for projects can carry a hefty price tag and come with lengthy timelines – putting a strain on your team, daily operations, and bottom line. You and your organization deserve better.
Put your mind at ease and your organization in a position for a successful project and a better ROI with Ellipse Ensure Dynamics 365 Implementation Methodology!
Ellipse Ensure D365 Implementation Methodology
Most Microsoft Dynamics partners take one of two strategies to implementing Microsoft Dynamics 365 - a "rapid" methodology that can lead to cutting corners, or a traditional approach which can be lengthy and expensive.
The beauty behind Ellipse Ensure is that it is a blend of the positives from both approaches. By using pre-configured templates as a starting point, we give you a head start on the implementation project while still being thorough enough to fit your specific business requirements.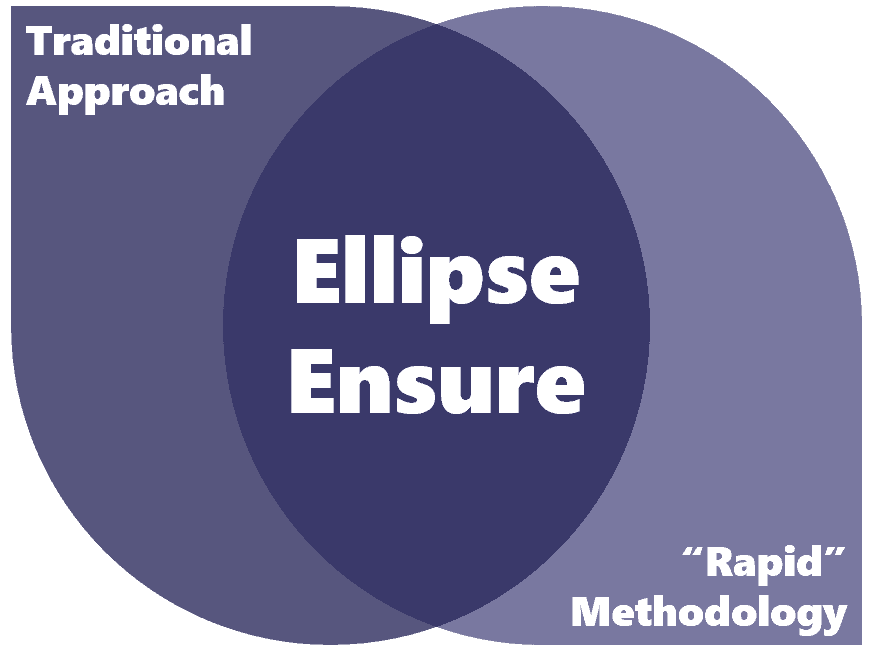 Reduce Implementation Costs Up To:
Decrease Project Duration Up To:
Ellipse Ensure D365 Implementation Methodology Benefits
Crafted and refined by the experience of numerous Microsoft Dynamics implementations spanning 20 years of business, Ellipse Ensure D365 Implementation Methodology has been rigorously tested and optimized to ensure successful projects for our customers. This approach has lead to a customer retention rate of greater than 98%!

Streamlined Implementation
Our templated approach gives your implementation project a head-start while still being flexible enough for businesses with complex needs.

Industry-Leading Standards
Best practices are at the core of Ellipse Ensure Implementation Methodology, resulting in a successful project and a five-star business application.

Rapid & Robust ROI
Shortening your timeline to go-live on a new tailored business application results in faster time-to-value and return on your investment.