Dynamics 365 – Vendor Demographics
Today's post focuses on tracking and reporting Vendor Demographics in Dynamics 365 Finance and Dynamics 365 Supply Chain.
This functionality typically becomes more relevant for Dynamics deployments dealing with a lot of customers engaged in government, military or enterprise level contracts.  Many such contracts require tracking of vendors based on their demographics.  A number of their projects are allocated for specific vendor groups (minority owned, woman owned, service veteran owned, HUBZone enterprise, etc.)  Such firms must maintain specific vendor designations and statistics that do not violate legal ordinances with regard to supplier selection.  Thus, these firms must keep detailed records about their vendors to stay in line with contractual obligations and occasionally other regulations.

Let's set the scene: An enterprise-level corporation selling products and services to state agencies is contractually obligated to maintain a pre-defined ratio of different types of vendors. As the company proceeds to select suppliers and sub-contractors for their individual projects, newly signed vendors will be set up, pre-screened and entered into Dynamics 365. It is typically a responsibility of the Procurement team to maintain such information and report on vendor demographics upon request.  The Procurement Clerk in this enterprise will be known as "Tom". 
Note: The agency could utilize the Vendor add application workflow to review and approve new vendors, instead however (for the sake of our example), the organization is using a manual process of reviewing and approving vendors.
Tom is appraising a new vendor record that was recently created by a Buyer and his responsibilities include an audit and entry of Vendor demographics. 
To view or edit a vendor record, Tom opens All vendors.  This can be done two different ways in Dynamics 365. 
Click Procurement and sourcing > Vendors > All vendors.
Click Accounts payable > Vendors > All vendors.
For this example, Tom navigates to All vendors using the Procurement and sourcing module, as noted in the screenshot below.
Please note that the same function is also available in Dynamics AX 2012.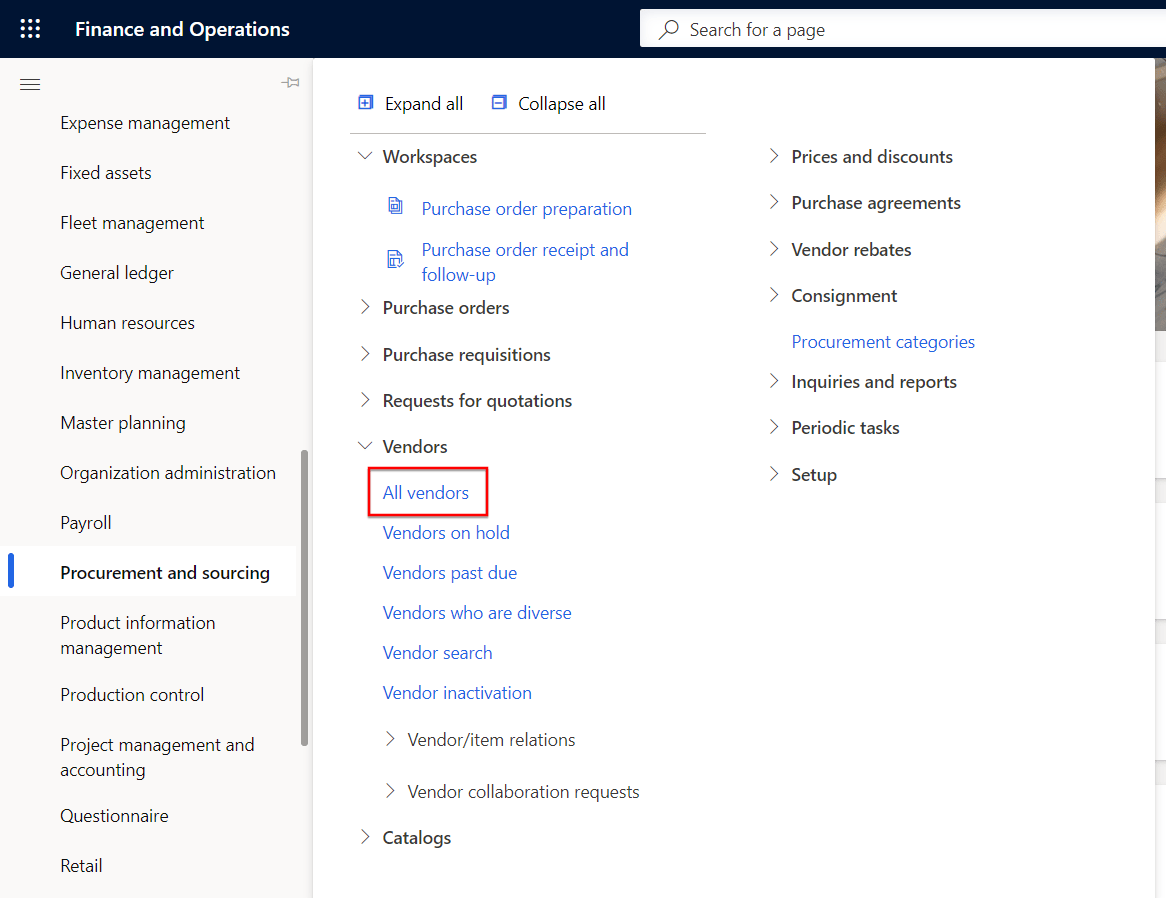 From the All vendors grid, Tom selects the record for Vendor account US-801, Perfect Coating Solutions.  This is the recently created vendor.  Clicking on the blue Vendor account name will open the vendor record.

To edit the Vendor profile information, Tom clicks Edit in the menu.  This enables the check boxes to be selected.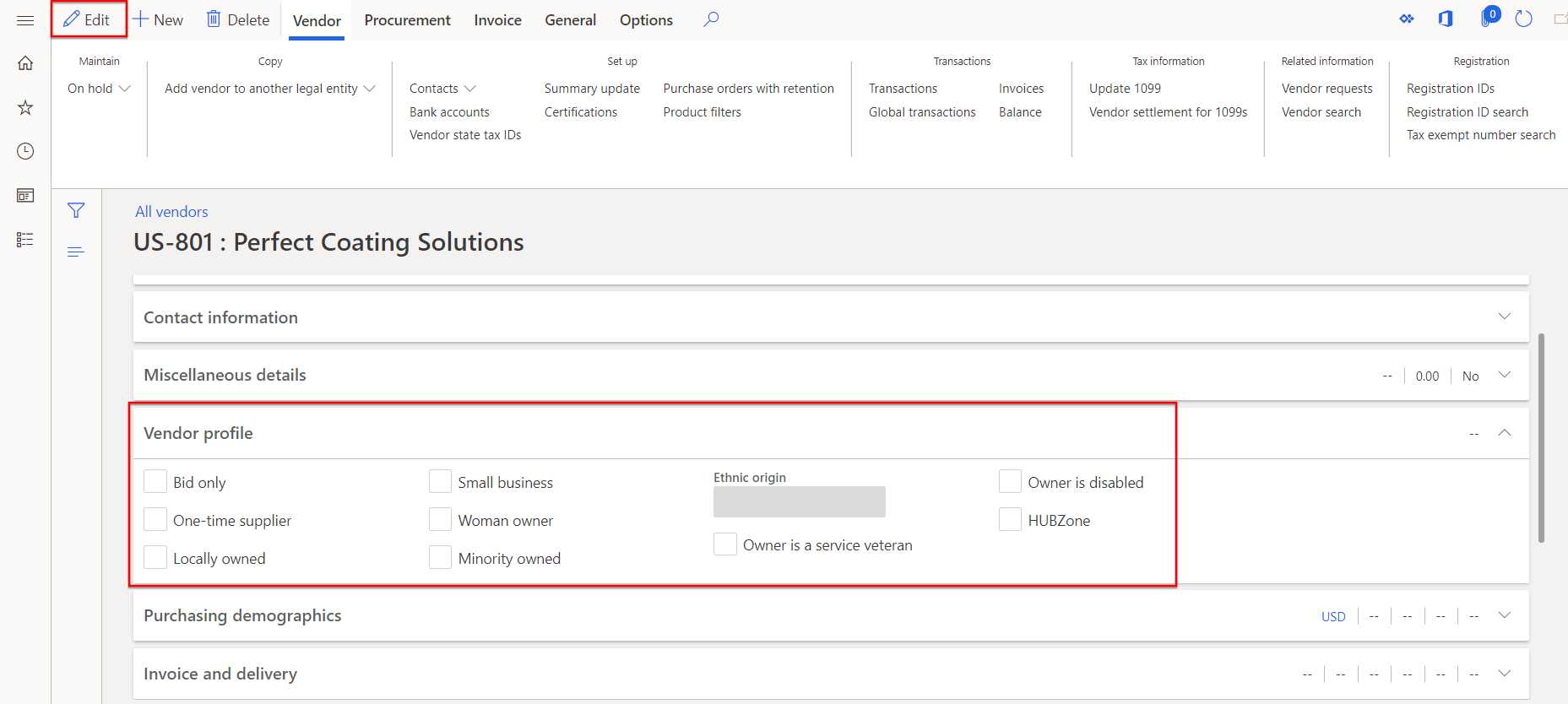 Tom checks the box for Small business and Minority owned. 
When you check the box for Minority owned, the Ethnic origin drop-down is enabled.  Tom selects the ethnic origin of the vendor and clicks Save in the menu.
Once you've checked the correct boxes, the vendor profile can be used in searches.  Using the Vendor Search function is demonstrated below.

To see a list of all vendors that are diverse, click Procurement and sourcing > Vendors > Vendors who are diverse.
Finding all of the vendors that match certain criteria can be a time-consuming process, if you tried going through the All vendors list.  For example, if you want to see a list of all approved vendors in a specific vendor group; this where the Vendor Search function comes in and saves the day!
To use the Vendor search form, click Procurement and sourcing > Vendors > Vendor search.  As noted in the screenshot below.
Or from the list of All vendors, click Vendor search in the menu.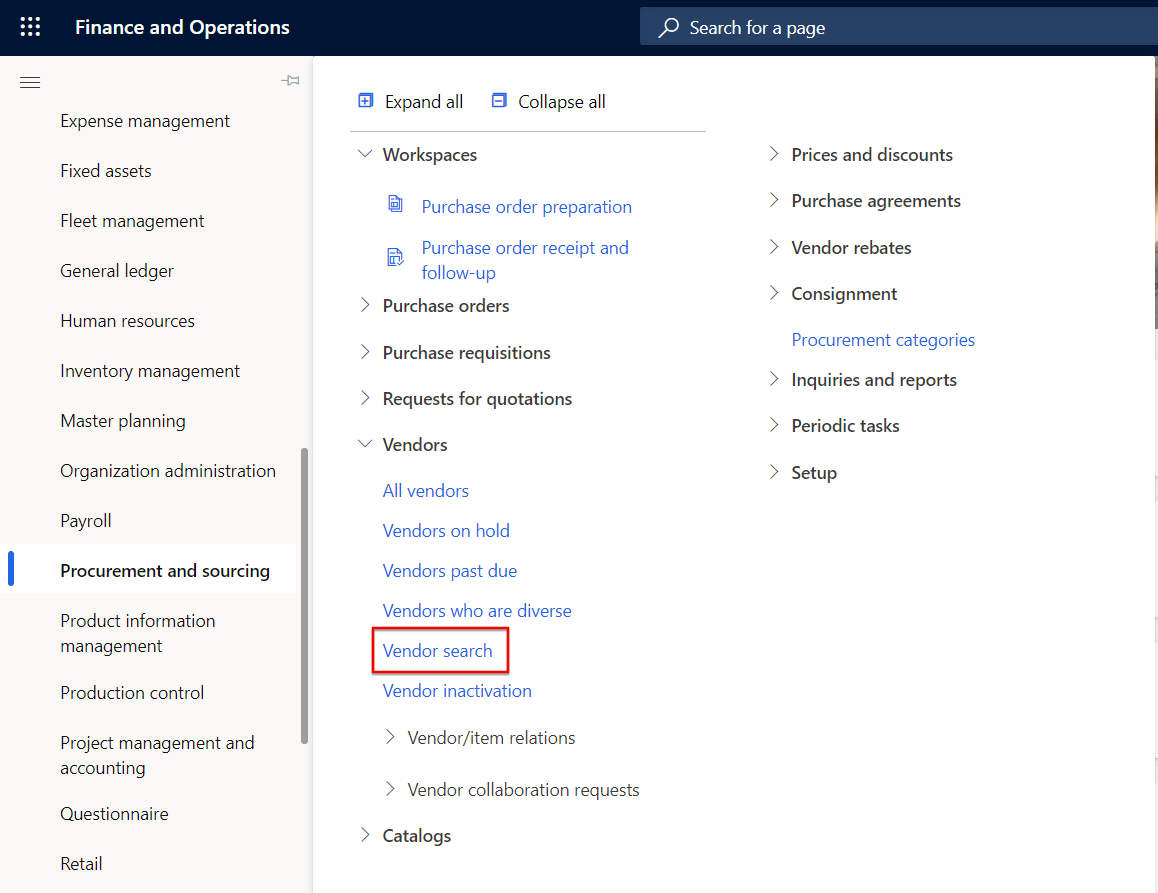 For example, Tom wants to find all vendors that are Small business and Minority owned.  He selects Yes from the drop-down fields as noted below in the screenshot.  Click OK to apply the filter.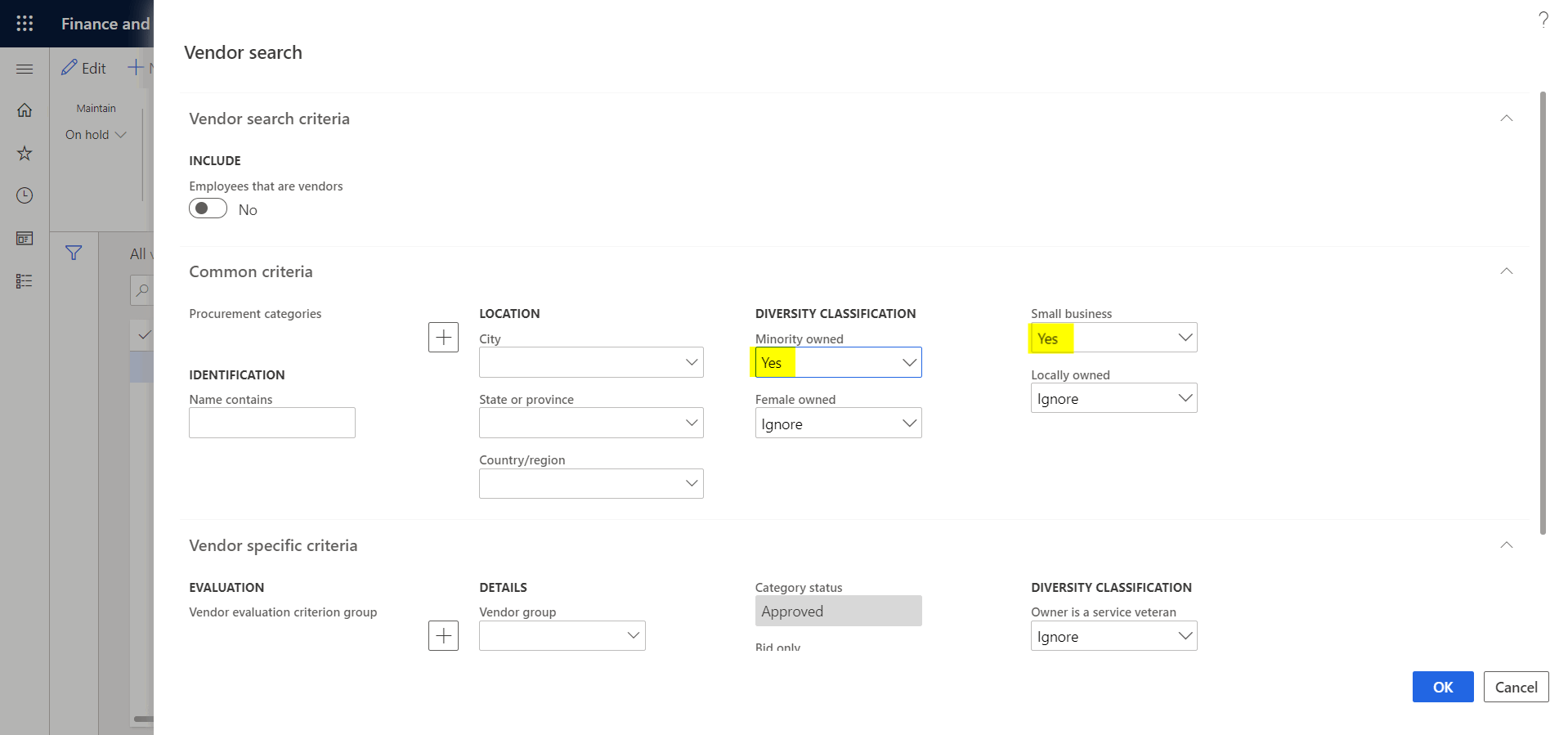 The vendors that match the search criteria are displayed in the Current vendors list.  Please note Vendor account US-801 from earlier is shown in the list, because the Vendor profile was configured.
The Current vendors grid displays other useful information like if the account has a Vendor hold, as noted below in the screenshot.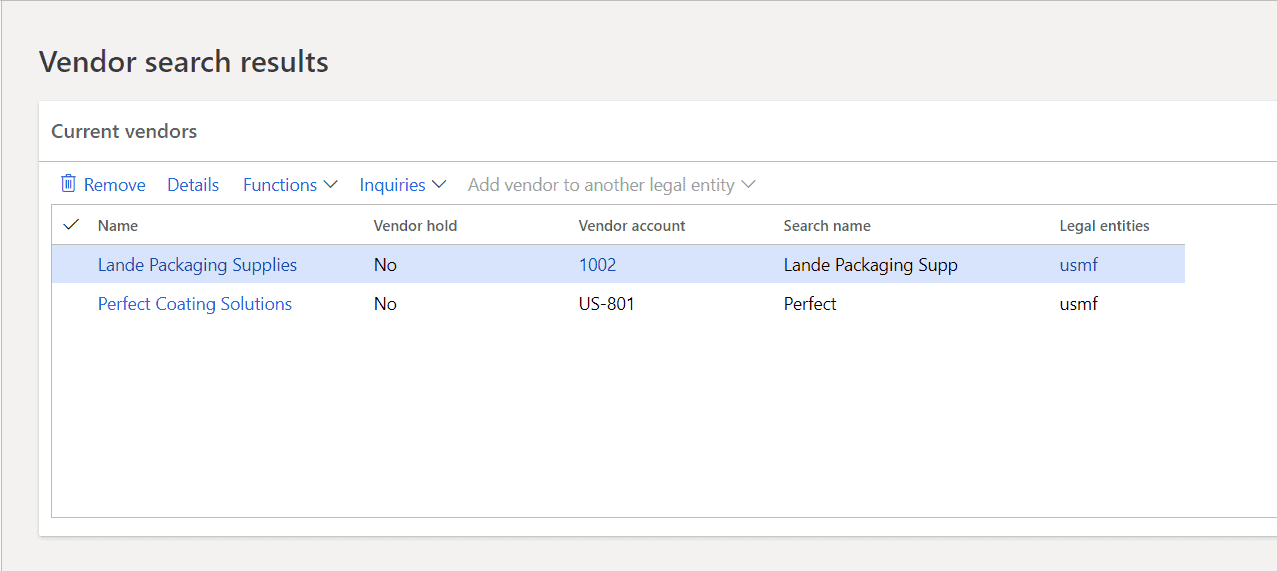 We have occasionally come across requirements that necessitate tracking the supplier demographics of company suppliers (the sub-contractors of your vendors) and less frequently, more than one level of vendor hierarchy. To achieve such nested tracking in Dynamics 365 requires some trickery (read "customizations").  As you can envision, through the use of PowerBI, such reporting can get really elaborate and visual. 
Thanks for reading! You may also be interested in…