Implementing a Dynamics 365 CRM business application doesn't have to be complicated. Get to go-live faster and start utilizing your new solution with Dynamics 365 Rapid Roll-Out!
Let's face it - implementing new business applications can be a pain. System customizations, unique workflows, and custom business process configurations slow down the implementation process and inflate the cost of your solution. These traditional methods of implementing a Customer Relationship Management tool are dated, and lag behind today's fast paced business world.
Empower your team with the tools they need today and scale the solution up as needed, with Dynamics 365 Rapid Roll-Out!

Determine Your Foundation
Work with our experts to decide what's most important to you and what features your organization needs in order to launch the foundation of the solution.

Deploy the Initial Solution
Our consultants will rapidly implement your foundational solution so that your team can quickly begin using the new system and reaping the rewards.

Scale up as Needed
Grow your solution on your time! Implement additional functionality, unique workflows, and custom business processes to increase your capabilities and ROI.
What are the Benefits of Dynamics 365 Rapid Roll-Out?
Not all organizations need an extensive, highly customized Customer Relationship Management (CRM) solution. In fact, many companies have found more success by first deploying a foundational out-of-the-box system and waiting to add features in the future. By doing this, your team gets to go-live quickly and more efficiently, and can begin mastering the system while identifying any additionally needed functionality.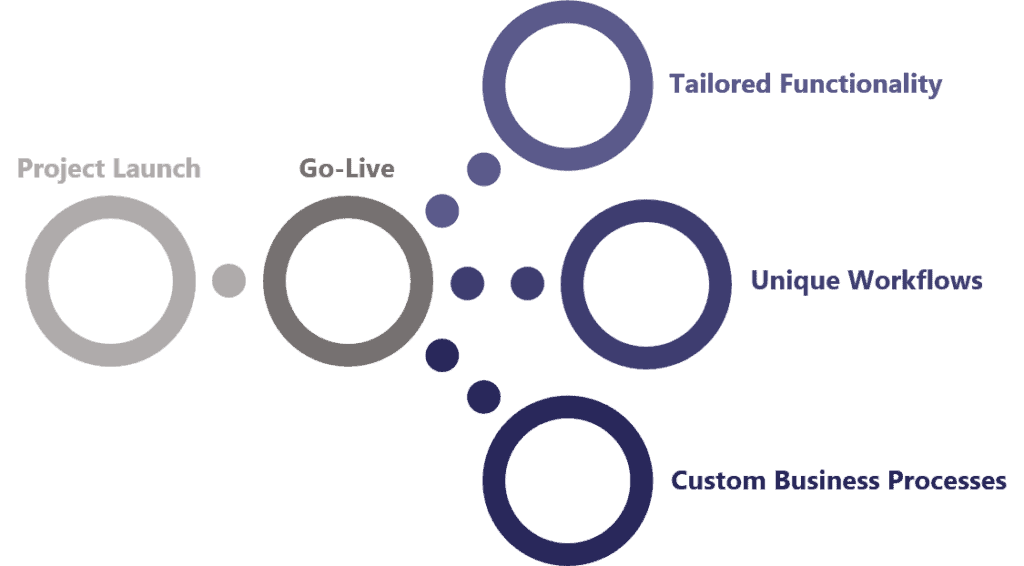 Deploy with Speed
Expedite your implementation and get to go-live in weeks or months instead of years
Master the Basics
Focus on learning out of the box functionality and expand to more complex options later
A Clean Foundation
Build a clean, purposeful data repository instead of a massive data warehousing project
Build Expertise
Simplify the learning curve and build internal product expertise on a small project investment
Dynamics 365 Roll-Out Solutions
The Dynamics 365 Rapid Roll-Out implementation service is available for the
CRM business applications listed below. Select one to get started today!
Dynamics 365
Sales
Drive sales performance, build valuable and meaningful relationships, and improve the productivity of your sales team with D365 Sales.
Dynamics 365
Marketing
Empower your marketing and sales teams with D365 Marketing - plan, automate, and proactively monitor the entire customer buying journey.
Dynamics 365
Customer Service
Deliver personalized service, improve your representatives' productivity, and remove unnecessary data silos with D365 Customer Service.