Dynamics 365: A Quick Glance at Payroll Earning Statements
Whether you use Dynamics 365 for Finance and Operations or Dynamics AX 2012 (R2 and beyond) the payroll module IS part of the package you own.  No need to purchase a bolt-on product or an outside payroll service, you have all the functionality you need, at no extra cost!  Jump into this payroll blog series to see how it works.  For even more details on the process, check out our payroll overview video.
The Earnings Statement
The first step in payroll processing is to generate earnings for your workers.  There are a few different ways to generate earnings.
Option #1: Use the Generate Earnings Form in the Payroll module.
This query is used to generate earnings for salaried employees or employees assigned to a worker schedule.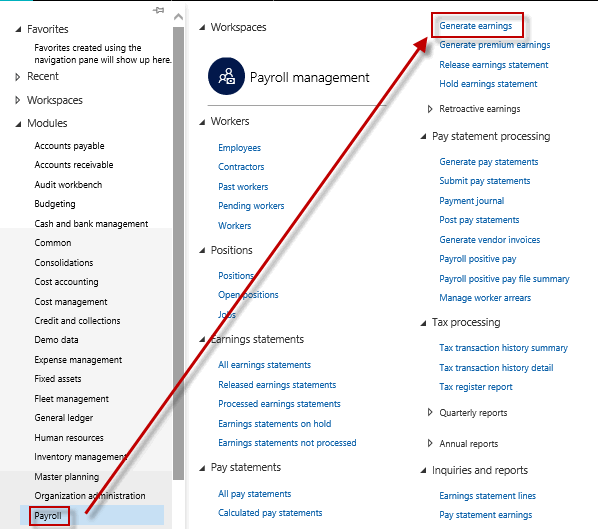 Select your pay cycle and the period you wish to generate the earnings for.  There are additional filters if you want to generate the earnings only for certain people, positions, jobs, unions, etc.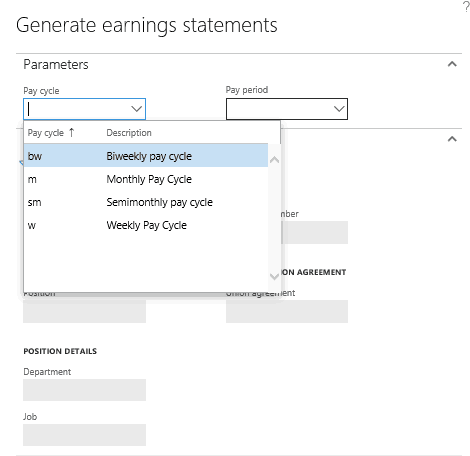 You'll receive a confirmation message that earnings have been generated.  To review the earnings, you can navigate to one of two places:  Payroll > Earnings Statements > All Earnings Statements (this will show you all statements ever generated and you can filter for the ones you just generated) or you can go to Payroll > Earnings Statements > Earnings Statements Not Processed (this will show you all the statements that need to be reviewed for payment).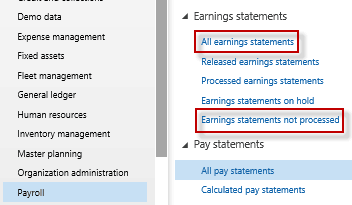 There will be an Earnings Statement for each worker.  When you open the statement, you will see a line item for the salaried amount or for those on a schedule, you will see a line item for each day in the schedule.
The line items show the date, position worked, tax region of the worker, earning code, quantity of hours and rate type.
When you're reviewing the statement, you can edit/add/delete line items as needed.
Option #2: Create each earnings statement
Navigate to Payroll > Earnings Statements > All Earnings Statements.  In the Ribbon, select New Earnings Statement.  A blank statement will open.  You will select your worker, the pay cycle and pay period.  Then in the bottom section, you will add earning lines.
Select the earning date, the position (this will then populate the tax region), the earning code (which will then populate the description).  Next, enter the quantity and unit type.  If your worker is on a compensation plan, your rate will populate for you.  If the earning code you selected has not been set up for your worker, you will need to add in the rate.
Continue the process of adding lines until you've completed the statement for the pay period.

Option #3: Integration
If you're using the time and attendance area of Dynamics for your workers or are tracking time outside of Dynamics AX/365, an integration is typically the path to create your Payroll earnings statements.
Release Earnings
After you have reviewed and finalized the earnings statement, you need to process the earnings to move them to the pay phase of the process.  To do this, you can individually select Release Earnings Statement in the ribbon of each statement OR within the All Earnings Statement or Earnings Statements Not Processed forms, you can select multiple statements and then select to release.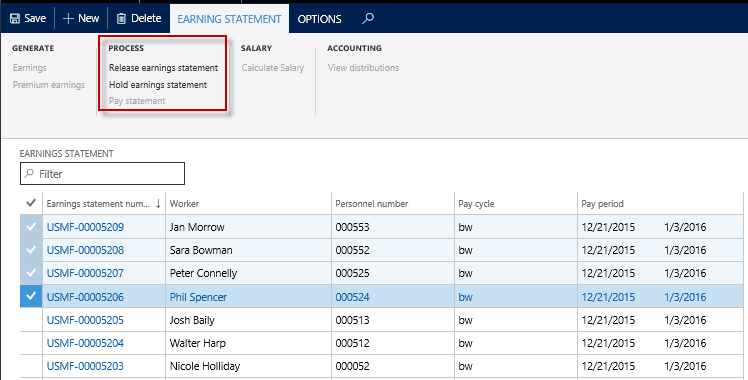 Have other Microsoft Dynamics AX/365 inquiries or needs? Visit our Help Desk Support page to see how our experts can help!
For more information please contact Ellipse Solutions at info@ellipsesolutions.com or by calling our corporate office at (937) 312-1547.