Dynamics 365 Project Operations Part 2 – The Inquiring Minds Want To Know…
Last week we discussed the new world of Project Operations and the direction Microsoft is taking the project-based organizations with respect to their Dynamics 365 platform.  This is an intriguing initiative by Microsoft considering that Dynamics product line has been one of the leading solutions for this particular industry segment for many years, including but not limited to project manufacturers, field services, architecture and engineering firms, and even specialty contractors in the construction space. While Microsoft has released some information about the newly inspired Dynamics 365 Project Operations, many uncertainties remain. This Q&A write-up will help to clarify Microsoft's intentions and answer some of the burning questions in the Dynamics community.

1. What product is the foundation for D365 Project Operations technologically and functionally?
Dynamics 365 Project Operations does not necessarily represent a new product line, but rather a congregation of three existing solutions (Project Management and Accounting feature of Dynamics 365 Finance and Supply Chain, Dynamics 365 Project Service Automation, and Microsoft Project) into a single set of user scenarios typical of project-centric businesses. In simplified terms, the new solution represents a tight process flow to assure all components of project resource management, scheduling, accounting, etc. are working together in a single unified solution set.
The long-term approach to the database back-end for Dynamics 365 Project Operations is CDS.  Common Data Service consists of foundational, secure data entities to enable standard, mainstream business use cases with reusable business logic.  Project Management and Accounting development work will continue on X++ while Project Service Automation solutions will still be built on the Power Platform.
2. What is the future of the existing Projects products?  D365 Finance – Project Management and Accounting, D365 Project Service Automation, Microsoft Project?
While the new Dynamics 365 Project Operations will combine the features and process flows of three individual products, each of the existing solutions will remain available, widely used, and fully independent in specialized circumstances.
3. What industries/processes are being primarily targeted?
Most typical, project-focused organizations are being pursued with this initiative, including accounting, engineering, consulting, legal services. At the same time, it is expected that pure Project Manufacturing companies without a significant service component will likely continue to use Project Management and Accounting on its own. As always, it is expected that partner/ISV solutions will supplement very specialized needs in certain industries, such as construction and utilities.
The key to Microsoft's offering is not only the newly supported set of business scenarios, but also availability of fully-integrated solutions for all other parts of each organization (HR, Finance, Collaboration tools, etc).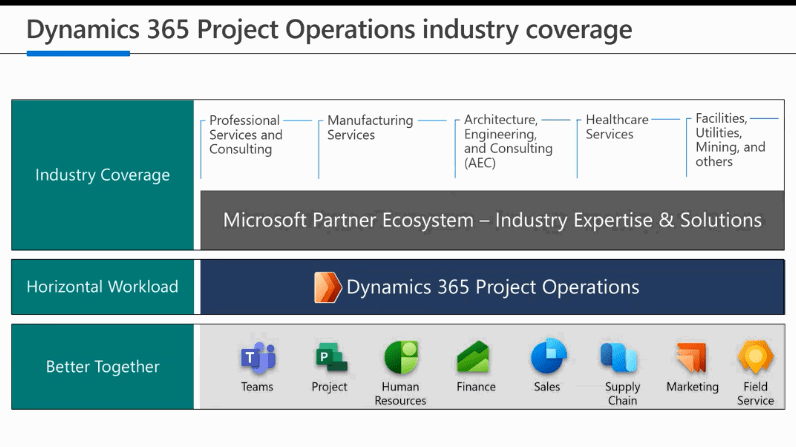 4. Are there plans to integrate with Microsoft Project or other similar non-Microsoft tools?
Microsoft Project components are literally embedded in this new solution – specifically the resource scheduling tools from Microsoft Project have been implanted inside of Project Service Automation… and it looks pretty sleek.  This will be especially exciting for those who found resource management utilities to be somewhat underwhelming in past versions.
5. When should the Dynamics community expect the licensing/subscriptions to be re-shuffled with respect to Dynamics 365 Project Operations?
Microsoft stated that the full commitment and the roadmap investments for the professional services automation market will be done through Dynamics 365 Project Operations after Oct 1, 2020.  PSA and PMA customers will not see any immediate disruption, and will be transitioned to Project Operations with the help of Microsoft at their own pace. The end dates for PSA service will vary depending on whether the customer is on CSP (10/1/2022) or EA (10/1/2024).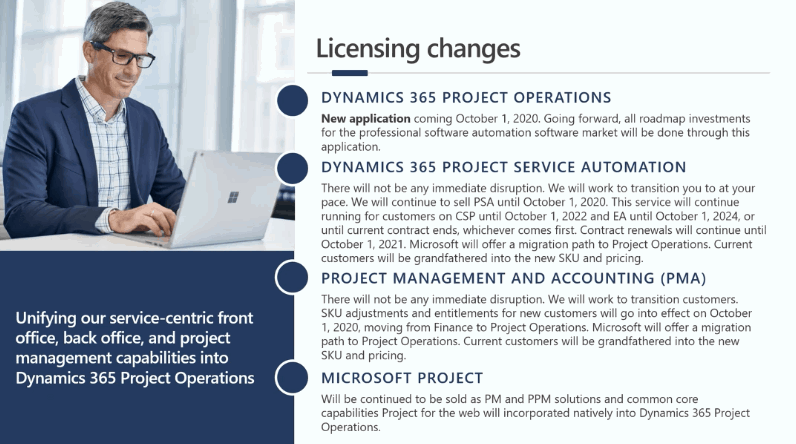 6. When will D365 Project Operations reach general availability?
Project Operations began Phase 1 of the preview program earlier this summer in June with limited features.  Full scope parity is now available in Phase 2 of the preview this month, with general availability coming in the October release.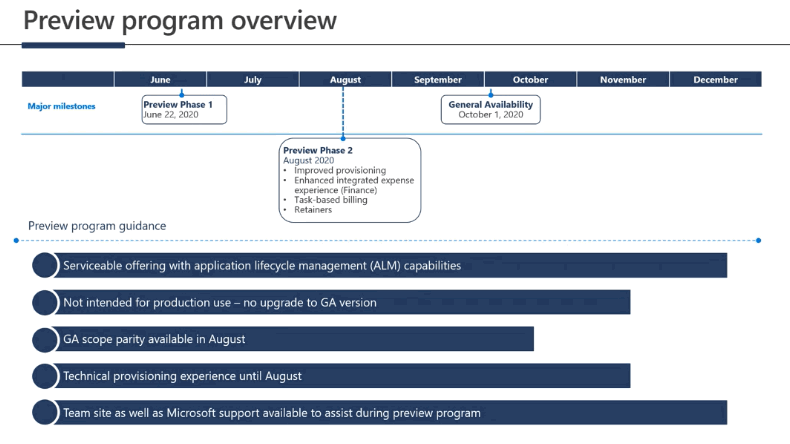 Part 3 of this blog series is available now (with video):
Dynamics 365 Project Operations Part 3 – Laying Out The Vision
Thanks for reading! Stay tuned for more updates about Dynamics 365 Project Operations. You may also be interested in…