Dynamics 365 – Priority Planning with Planning Optimization
"Priority" is often a necessary but evil business process. Do you drive the business by dates, customer services or loyalty? How do you decide which order to ship if there are multiple due the same day? Do you please the end customer or your satellite location, which in turn sells to the end customer? Dynamics 365 Supply Chain has a new feature named "Priority driven MRP support for Planning Optimization". The new feature allows a planner to prioritize supply to meet urgent demand and help prevent stockout replenishment. This new option became available earlier this year when using the Planning Optimization service.
There are a few steps, as outlined below, to setup the Priority Driven MRP. The first step, like many D365 features, requires an administrator to go into the Feature management workspace, in the module, Master planning, and turn on, Priority driven MRP support for Planning Optimization. Now, it is possible to create planning priority models.
In the Master Planning module, there will be a new menu option for Planning Priority Models. The new calculation method will be selected, along with how to create the planned orders, then a Boolean parameter to consider demand priority will be turned on or not. Priority defaults for Sales Orders, Purchase Orders, Transfer Orders and Demand Forecast can also be set. Planning priority models apply organization-wide and across all legal entities.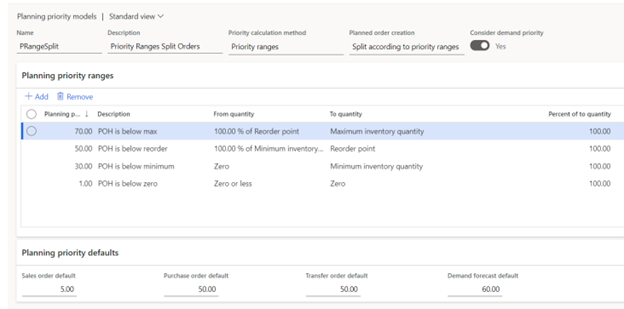 Priority Planning in Dynamics 365: The next steps
Create one or more new Coverage Groups. The planning priority model selection will be available to coverage groups with a coverage type of "Priority." Multiple coverage groups can be created based on various planning priority model creations and other standard coverage settings like time fences, action messages and delays.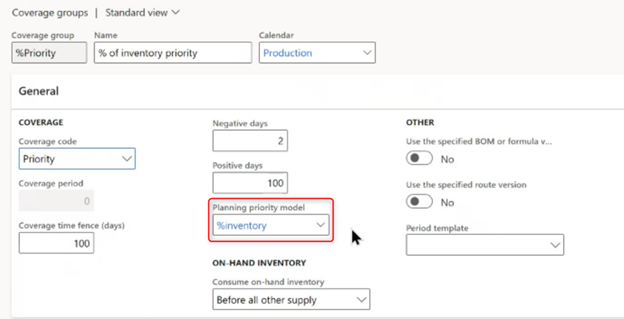 Finally, setup Item Coverage for items with the newly created Coverage Groups as needed to drive the minimum/maximum values and new reorder point value to trigger the planned order during the Master Plan run. The reorder point creates an opportunity to use the minimum value as a true safety stock value to ensure less opportunity for stock out in future business.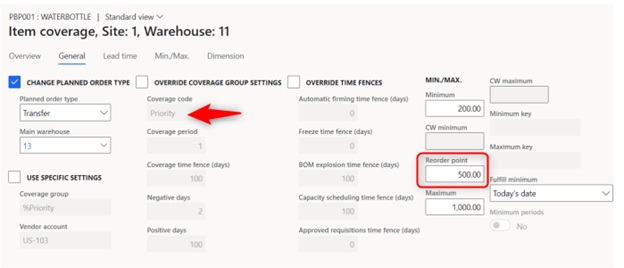 When sales orders, transfers, purchase orders and demand forecasts are created, the planning priority field will generate automatically per the defaults set in the planning priority model. These default values can be overridden within the order line details. Master planning will generate new planned purchase orders, demand forecast and transfer order suggestions when the projected on-hand value falls below the reorder point. The value and number of planned orders will be determined by the planning priority model and item coverage of the released product. Per standard D365 operation, net requirements will update once master planning has been run again. Within net requirements, the planner can see a new column with the calculated planning priority. The planning priority value provides the planner with an additional data point when allocating current inventory, existing or future supply to demand orders.
Some key takeaways for the Planning Priority feature: Demand priority is driven by order type and stored at the line detail only. The priority is populated from the default value but can be overridden if necessary. The planning priority feature is not grouped by customer or item type for example. Microsoft is examining the benefits of richer default setup. Production orders are not currently included. Microsoft states in the TechTalk previewing this feature, that production orders are currently on the roadmap to be introduced in a future version of planning priority. The planning priority feature is only compatible with planning optimization. If a released product is created with a coverage code of priority, and traditional master planning is run, the item will be treated as if the coverage code is set to requirement.
Please take a minute to read our blogs related to Planning Optimization: Part 1, Part 2 and Part 3.