Dynamics 365 for Finance & Operations – Exciting Updates For Supply Chain Management
It has been just over 3 months since Dynamics 365 for Finance and Operations v10.0 was released to the general public and there is a lot more to look forward to in the upcoming product updates for the year.
With a large set of feature enhancements, we thought it would be worthwhile to discuss some of the exciting additions coming to the Supply Chain Management space in D365FO.

Planning Optimization
Let's start with the Planning Optimization feature is set to re-imagine planning processes within the ERP application.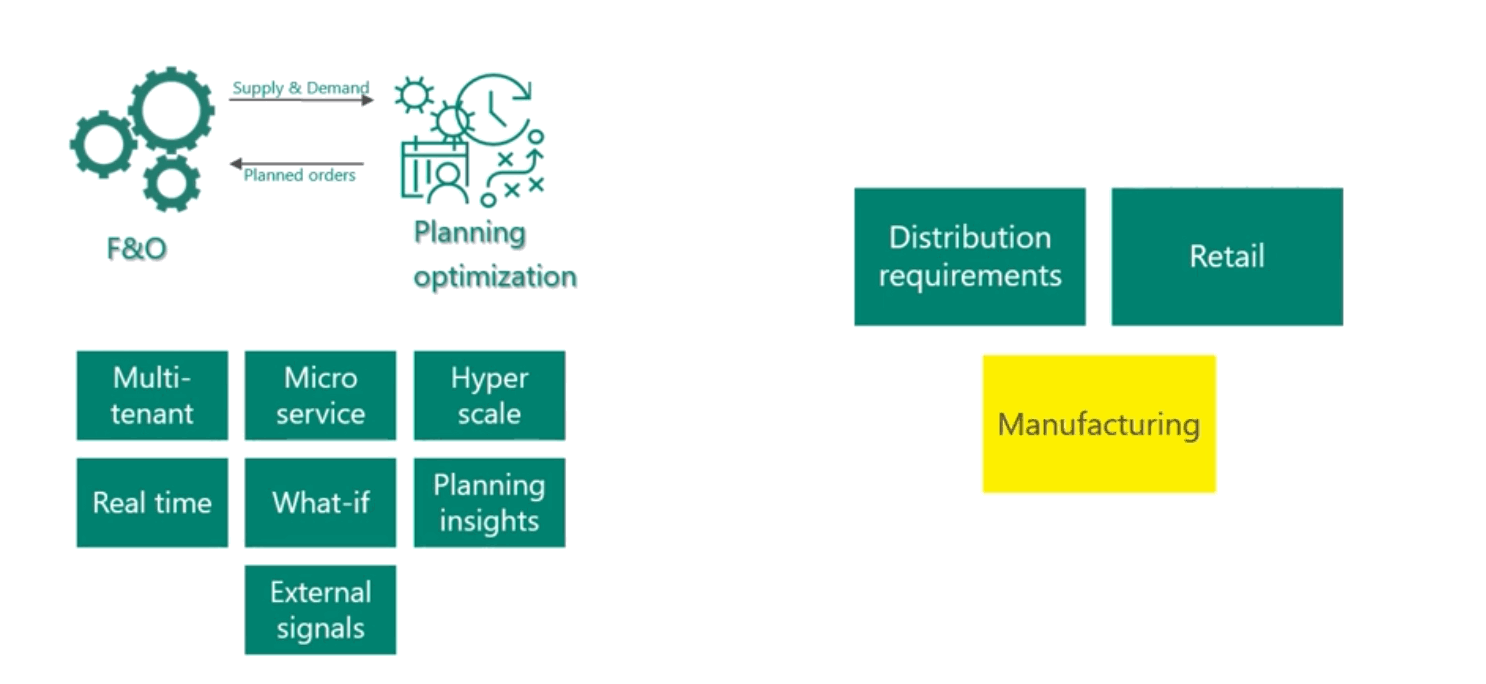 Microsoft's desire to move away from planning execution within D365FO as a batch service to an in-memory component external to the typical production environment setup resulting in near real-time processing looks to be a game changer for distribution, manufacturing and retail customers going forward. This dedicated service is currently available as a public preview to all distributors and retail customers right now and slated to be available to all D365FO manufacturing customers in October 2019.
Asset Management
With Microsoft's recent acquisition and introduction of a standard asset management feature set, they have been busy planning extensive enhancements based on customer feedback and requirements in this space to cater to a wide variety of needs.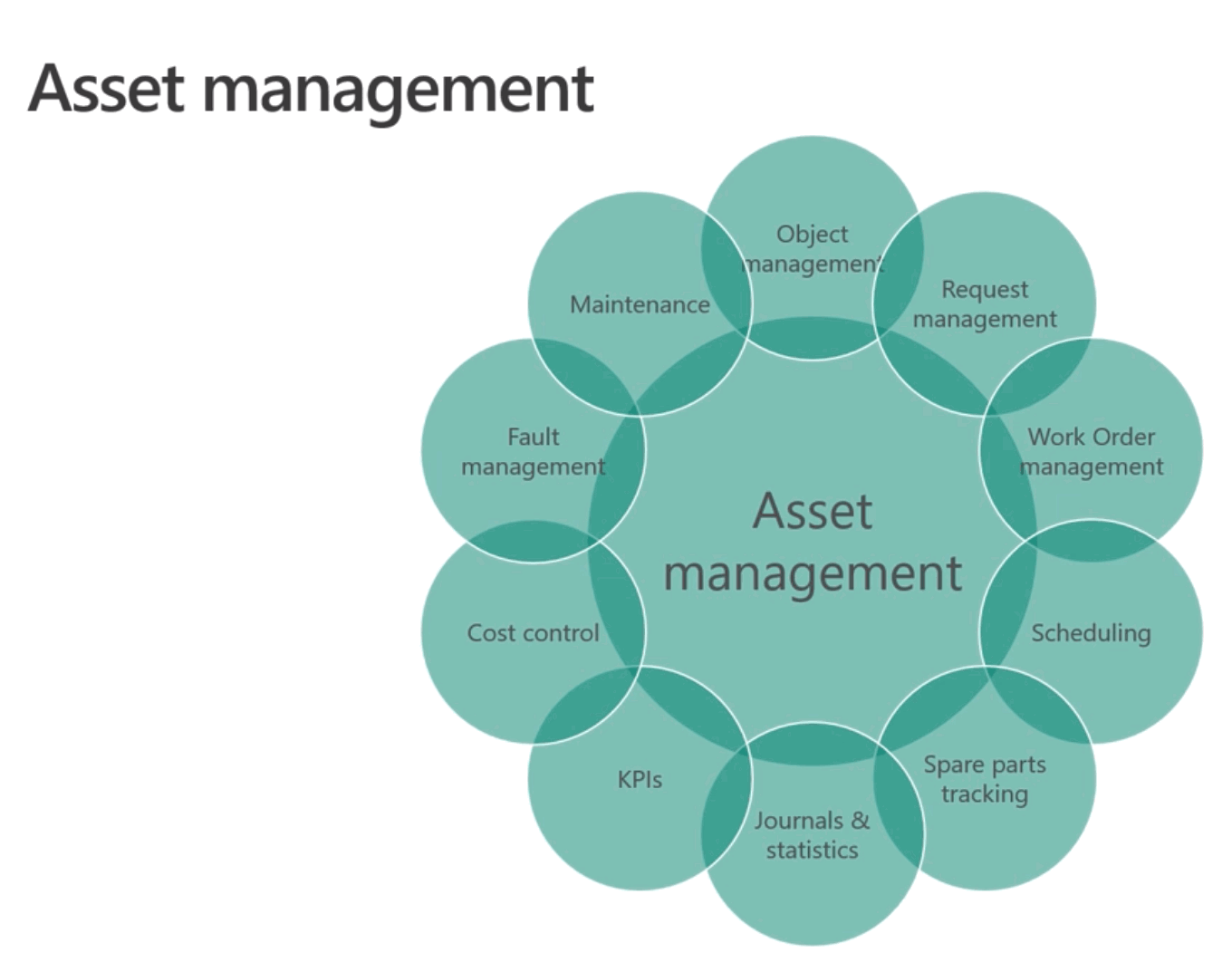 Asset Management is used to provide enhanced asset definitions and their hierarchy within an organization. In addition, physical aspects of such assets, spare parts and its maintenance plans are also managed using these new tools.
In the past the focus has been predominantly placed on a reactive maintenance approach.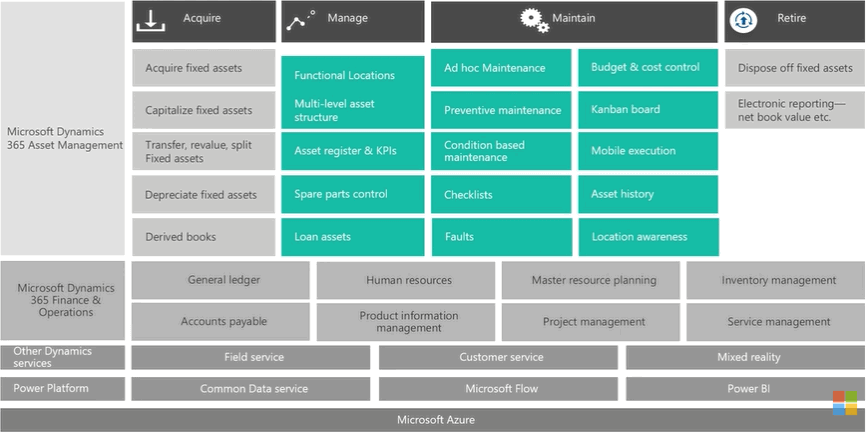 Now Microsoft has been adding in some IOT infusions coming with new features that will help organization shift to a preventive model of maintenance. This will allow the system to understand usage of machines in real time out of the box and can lead to more robust predictive and preventive maintenance processes.
The addition of asset management also positively impacts some other areas of business processes such as production planning which will be further enhanced with more accurate resource availability by factoring in maintenance activities into planning processes.
Introduction of some Mixed Reality aspects into asset management has also added some new features such as a visual maintenance checklist, association of guides with related tasks and fault detection as well as problem solving enhancements, etc.
Asset Management will also further Integrate these features with D365 for Field Service and Customer Engagement products.
IOT Intelligence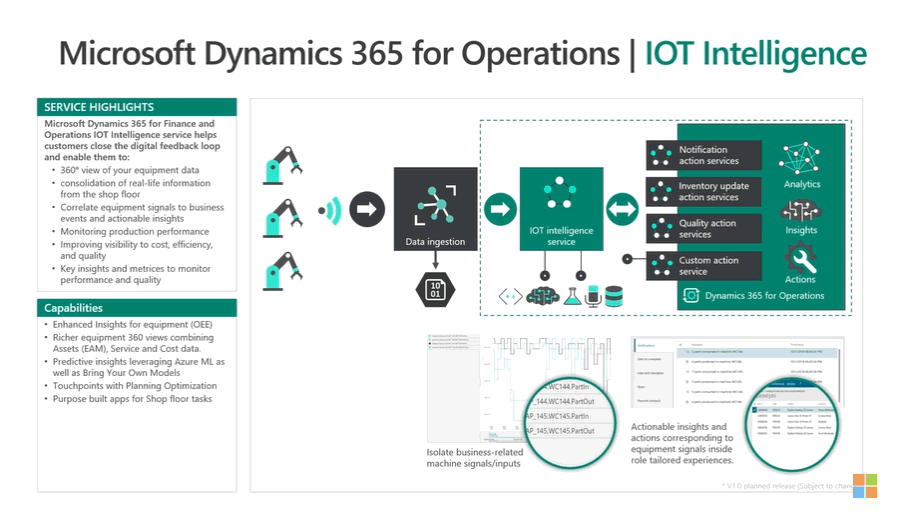 Introduction of IOT intelligence through key areas in D365FO paired with dedicated azure resources is set to change Manufacturing Analytics and will even span to Inventory and the abovementioned Asset management.
The expected flow will include IOT intelligence services analyzing data coming in through the IOT sensors and mashing it with the native ERP information. This solution will create a full set of data that can be analyzed and actioned upon through alerts and insights within ERP workspaces. The methodologies have been setup using the OEE Standards and are being ramped up to provide further vision into everyday manufacturing processes.
Advanced Warehouse & Transportation Management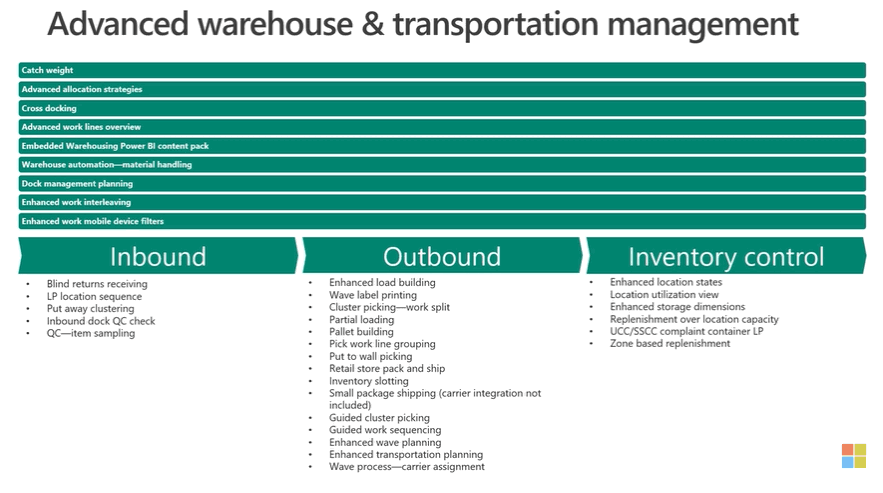 A various set of features related to Advanced Warehouse and Transportation Management are slated to be rolled out throughout the year until October as seen above. These include further inclusion of catch weights within D365FO and specific enhancements to inbound, outbound and inventory management processes.
Other Areas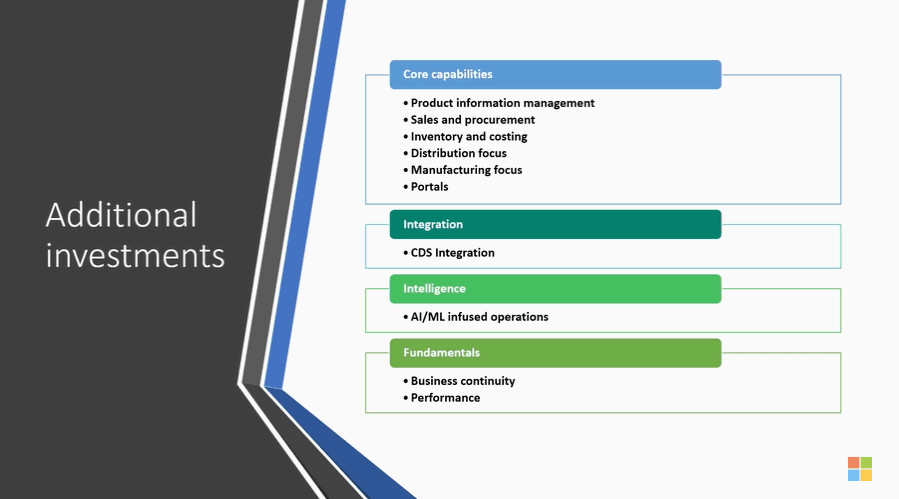 In addition to other features, Dynamics 365 for Finance and Operations updates will further extend Product record sharing with new Hazardous material handling capabilities within the system. Bid management is to be further enhanced and added to the procurement module along with enhanced vendor portal features.
The upcoming introduction of Inventory as a service with access to Real time inventory across multiple channels as well as a cross-organizational inventory view. This will be a powerful tool for organizations that leverage Dynamics 365 for Finance and Operations for managing their inventory on-hand who might also have other external systems that could benefit from the on-hand inventory information. These could be external sales or mobile solutions but could also include the possibility of sharing inventory on-hand information with trading partners. Microsoft envisions simplified integration work and faster performance for Dynamics 365 for Finance and Operations and external systems if this information is available via a service.
Inventory cost evaluation is going to allow for more than 1 inventory costing method. The inventory-valuation capabilities will be expanded to support scenarios where multiple valuation methods and multiple currencies are required—for example, in cases of different managerial reporting and statutory reporting requirements.
PowerApps portals are going to be used as the foundation for customer and vendor portal going forward and will be available as a standalone website outside of the F&O Instance.

As a part of this feature, PowerApps and Dynamics 365 can create a new type of an app called Portal to create a website that can be extended to users outside your organization and can sign in with a wide variety of identities, or even browse the content anonymously. This feature will provide full capabilities of Dynamics 365 for Customer Engagement Portal, previously offered only as an add-on to Dynamics 365 for Customer Engagement applications. It also features a revamped end-to-end experience for makers to quickly create a website, customize it with pages, layout, and content, reuse page design through templates, add forms, views, and other key data from Common Data Service, and publish to users. With these new capabilities, makers can deliver rich web-based experiences to users far beyond their fellow employees, unlocking a host of business scenarios for employees, business to business (B2B) partners, and end customers.
Stay tuned for more news …