Microsoft Dynamics 365 for Finance and Operations version 8.0 (April 2018)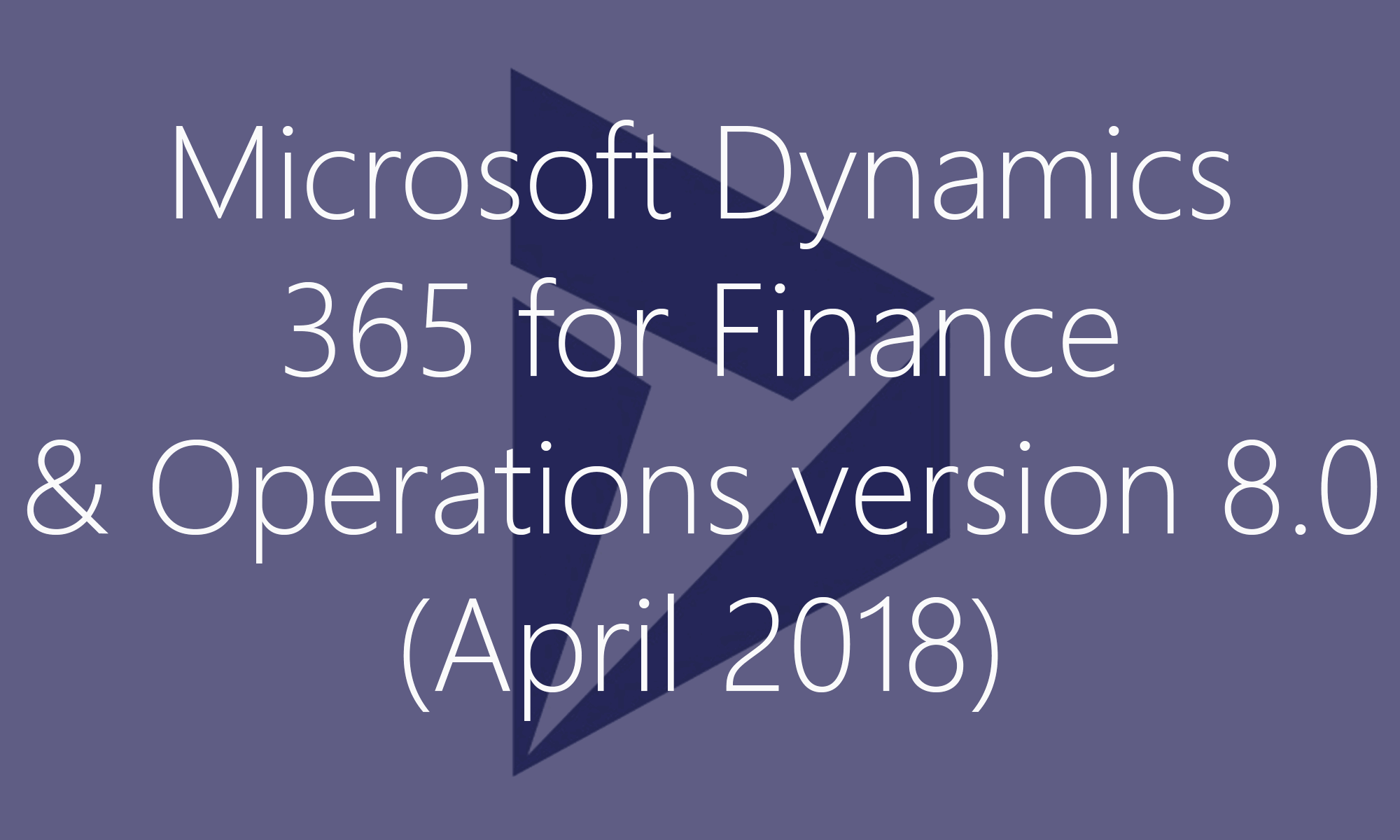 Microsoft's Digital Transformation movement continues with a new version of Microsoft Dynamics 365 for Finance and Operations (build number of 8.0.30).
A new version calls for a new product name!
Luckily, the change isn't so drastic this time around. The updated product will now be simply known as "Microsoft Dynamics 365 for Finance and Operations". Microsoft is no longer offering separate "Business" and "Enterprise" editions.
Release details
The 2018 Spring release delivers significant investments designed to help customers transform their businesses. Areas impacted by the update include:
Business productivity
Alerts
Optimization advisor
Project timesheet mobile
Edit default project fulfillment hours
Reserve project resources past the task end date
Person search report
Data sharing for customer and vendor tables
One voucher deprecation
Extensibility and customization
Customizations through extensions only
Extensibility requests
Extensible project work breakdown structure
Embedding PowerApps in workspaces and forms
Custom fields
Integration
Integration with Common Data Service (CDS)
Integration with Dynamics 365 for Field Service
Integration with Dynamics 365 for Project Service Automation
Improved support experiences
Telemetry-based KB recommendation
KB recommendations when entering a support case
Report production outage
Supply chain management
Vendor collaboration – RFQ process
Partial shipment of a load (split load)
Immediate replenishment of locations
Reason codes added to warehouse counting and adjustment
Batch balancing enabled for advanced warehousing processes
Analytical workspaces with embedded Power BI for Cost management
Globalization
India localization – project and upgrade
Enhanced configurability
Servicing, performance, and deployment
Improved delivery of platform and financial reporting updates
Upgrade automation
Service hardening
Lifecycle Services sandbox self-service automation and RDP lockdown
Compliance
General Data Protection Regulation (GDPR)
Accessibility enhancements
Additional Resources
Craving more information? Check out the links below!