Dynamics 365 for Finance and Operations, Enterprise Edition 7.3 Available Now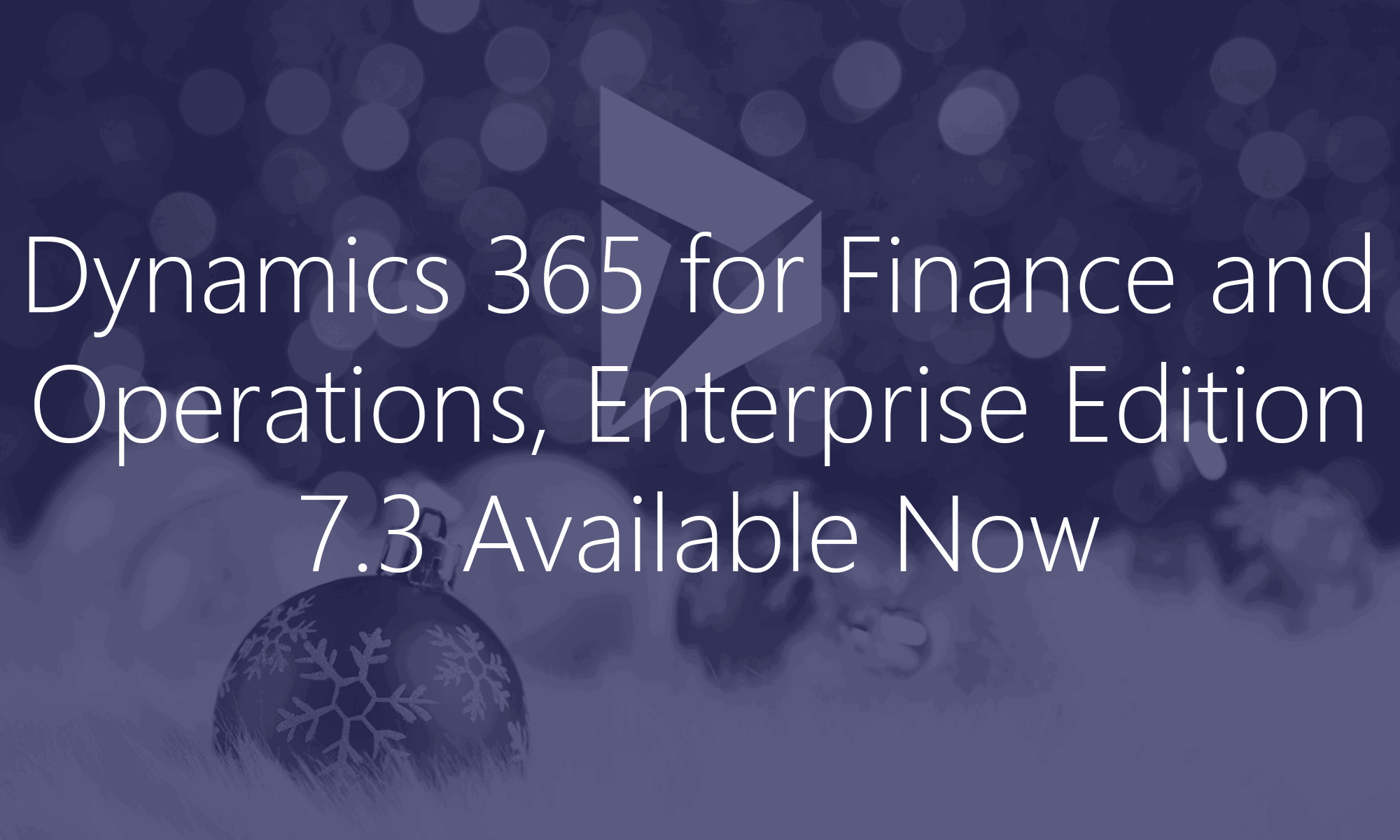 In the spirit of the holidays, Microsoft released the newest version of Dynamics 365 for Finance and Operations (7.3) along with a bevy of new features this December. Having been available in private preview since December 1st, it is now formally available publicly.
Here's a quick rundown of what's new (see details for each here):
Demand forecast entries data entity enabled for Data management framework
Demo data in data packages
Dynamics 365 for Project Service Automation to Dynamics 365 for Finance and Operations integration – Phase 1 (private preview)
Enhanced integration of Prospect to cash between Dynamics 365 for Sales and Dynamics 365 for Finance and Operations
Expense management mobile workspace enhancements
Financial reporting using Power BI
Fixed asset roll forward report
Global coverage – Configurable Electronic Reporting
Inventory transactions logging (InventSumLogTTS) optimization
Master and reference data entities for warehouse and transportation management
Notifications in Point of Sale
Optimization advisor
Partial release of materials and release materials per production operation
Product lifecycle state
Product configuration enhancements
Safety stock replenishment enhancements
Tax Engine (GTE) – India GST only
Vendor collaboration
Warehouse – Fulfillment policy added to full or partial batch release of transfer orders
Warehouse – Tare weight used in containerization is included in the load's gross weight
Keep up with new releases and added features by bookmarking the Dynamics 365 Roadmap or follow us on Twitter.
Have questions about any of the new features for 7.3 listed above or anything else Dynamics 365 related? We are hosting another Dynamics 365 Town Hall Webinar next month and have already received some great topic suggestions regarding the new release!