Dynamics 365 for Finance and Operations: April 2019 Release Notes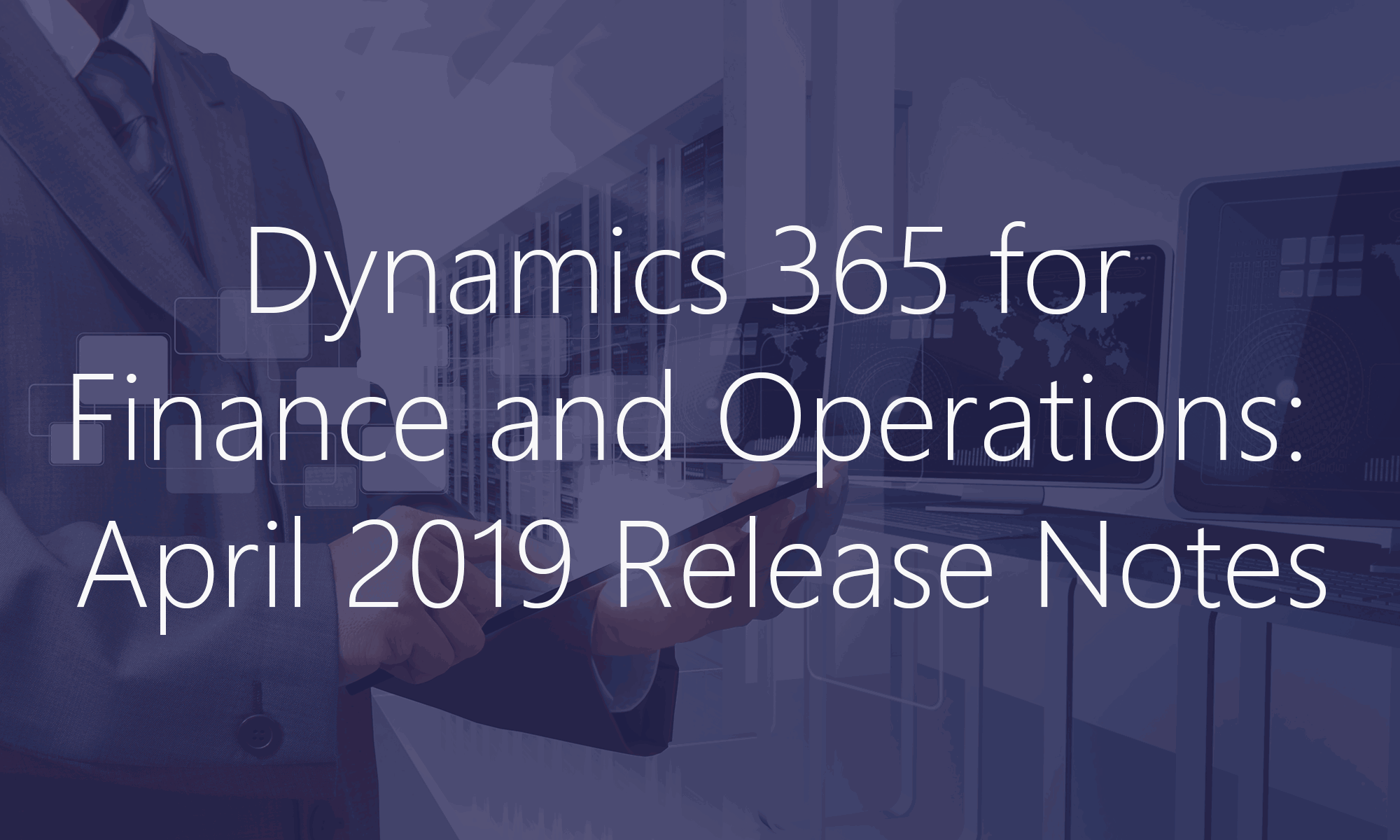 From the onset of ERP in the Cloud, the market as a whole has been shifting from large, cumbersome and expensive implementations toward smaller, faster and more frequent "updates". No company has committed to this endeavor more than Microsoft and Dynamics 365 for Finance and Operations. As we have touched on in recent blog posts, features/functionality like the Regression Suite Automation Tool and the move to Extensions (as opposed to 'Overlayering' code) are consistently bringing "Evergreen ERP" within reach.

With this "One Version" concept in mind, there will still be major updates and additions to functionality at times. The April 2019 Release Notes describe functionality that will be introduced publicly from April through September, some of which will be available for preview as early as February.
Here is a rundown of what's new or changed for Dynamics 365 for Finance and Operations in the April Release:
Dynamics 365 for Finance and Operations
Financial Management
Automatic ledger settlements
Reverse journal posting
Revenue recognition
Bank foreign currency revaluation
Expense client usability
Billing schedules
Product Information Management and Inventory
Inventory performance optimizations
Unit of measure conversions for product variants
Warehouse Management
Catch weight product processing with warehouse management
Sales and Procurement
Simplified view – templates
Manufacturing
Master planning stability and recovery improvements
Improved removal of obsolete planning data
Planning service
Globalization
Additional configurable invoice layouts
Configurable e-invoices for Brazil (NF-e and NFS-e)
Configurable Mexican e-invoice (CFDI)
Additional Russian localization features
Expanded regional coverage for Regulatory Configuration Service (RCS) deployments
Electronic reporting – Performance optimization of customer-built configurations
Electronic reporting – Setting up parameters by legal entity
Electronic reporting – Post-processing of generated files
Electronic reporting – Post-processing of imported files
Electronic reporting – Generate documents in PDF format by filling in PDF templates
Global Tax Engine – Improving tax configuration usability with reduced number of lookups
Global Tax Engine – Simplifying tax setup maintenance with Excel integration
Global Tax Engine – Enabling tax configuration with tax currency and sales tax codes
Platform
Analytics
Entity store support for on-premises deployments
Web edit tooling for analytical workspaces
Personalization options for analytical workspaces
System management of network printers
Client
Enhanced grid experiences
Saved views
Client productivity and usability improvements
Updated navigation bar that aligns with the Office header
Development
Developer tools and application lifecycle management
Integration
Event-driven architecture for integrations
Finance and Operations, entities in CDS for Apps
Entity store in your own Business Data Lake
Cloud Operations and Lifecycle Services
Data residency – China cloud
One Version experience
Diagnostic assistant
Self-service deployment
Looking for more information about specific features and when they will be available? Check out the full April '19 Release Notes document from Microsoft for details about release type (General Availability or Public Preview), release month, and if the feature is available for Cloud or On-Premises.