Dynamics 365 Field (Service) of Dreams
When Customer Service and Field Service meet to "PLAY BALL"!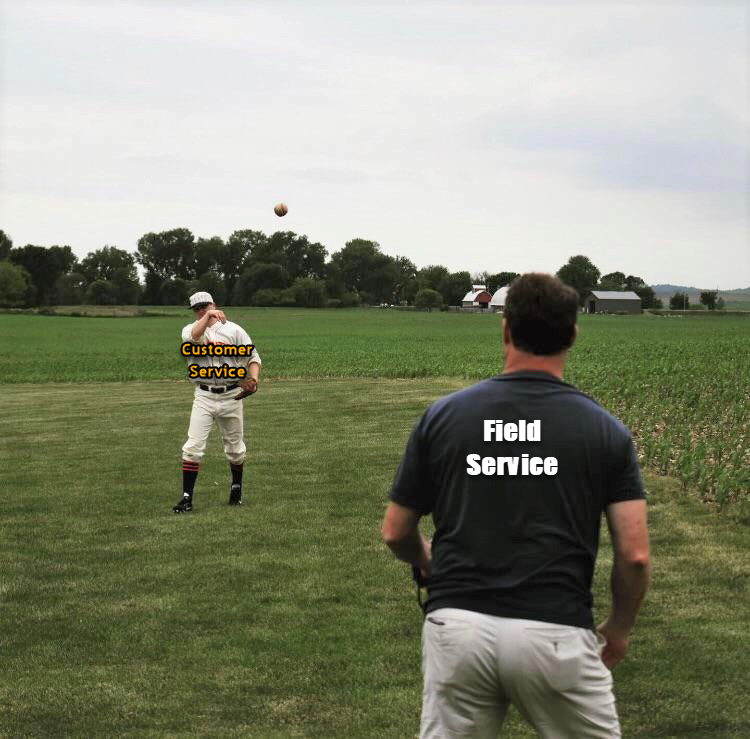 Earlier this year, I watched the MLB game between the New York Yankees and the Chicago White Sox on the "Field of Dreams" field in Iowa. This got me thinking about the perfect "pitch-catch" scenarios between Dynamics 365 Customer Service and Dynamics 365 Field Service…what brought this thinking on I'm not sure. Maybe, it was a "build it and they will come" moment for me.
When it comes to servicing customer's needs through customer service and field service there are multiple scenarios where the two will meet or even hand-off to one another. Customer service is most often remote and will take the initial inquiries or service calls, so they are usually the first point of contact. This inquiry will often come through a call, email or chat queue to customer service representative.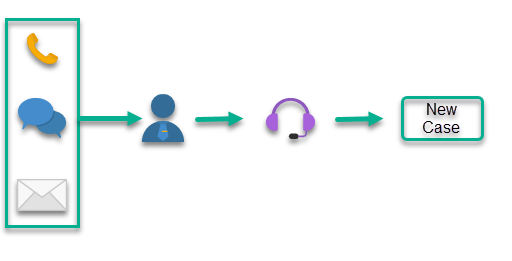 The CSR will capture the customer's issue in a new case and start the troubleshooting process remotely with the customer to drive to a case resolution.  Many times the CSR will be able to resolve the case remotely using existing tools like knowledge base articles, internet searches, previous case resolutions for the same issue or other third party services.  Some cases may not be able to be resolved remotely say for instance if a new part installation is required or the equipment is malfunctioning and needs repaired.  These are the cases in which a CSR must forward on to a field service technician to go "onsite".  This is generally done by converting the case to a work order in Field Service.

When you are converting a case to a work order for field service, you must provide an incident type in the field service tab.

So, you may be asking "What is an incident type?".  An incident type in field service is like a template for work orders where you can define the default work order type, a list of products, services, service tasks and other characteristics you want to define for that incident type.  When you use the incident type on a work order in D365 field service, then Dynamics will autofill the work order with those items upon creation of the work order or the addition of another incident type on the work order.

By setting this incident type on the case before you convert to work order, this will allow the system to setup the work order with pre-defined items for the field technician which makes the hand-off to field service even more successful.
Another scenario you may choose to implement is allowing your customers to self-service through the customer service portal.  Often a customer can create their own cases for service issues, however, I can imagine a scenario where you may allow customers to request a service technician onsite service call through the customer service portal as well.

You might be asking why do we need to create a customer service case record first?  Why not just allow the customer to create the work order directly from the portal by choosing a time and date for service?  You may still allow the customer to request a time and date for their service call, however, allowing the CSR to handle this first by calling back to confirm the time and date with a case gives the CSR an opportunity to possibly troubleshoot the issue remotely to solve the problem as well.  This would reduce unnecessary work orders customers may be creating when they don't really need a service technician onsite.  We all know customers would never request service they don't really need…wink…wink.  This also gives the CSR a chance to more thoroughly document the issue in the case before passing it on to a work order for a field service technician.
The above situation sounds like the perfect scenario for the use of virtual agents to me.  The customer could be directed to a virtual agent on your portal and the virtual agent could ask probing questions to see if the customer needs a case logged for a CSR callback or a work order logged for an onsite visit from a service technician.

Of course there are many, many more scenarios on how to handle incoming customer inquiries through email queues, automatic record creation, case routing, etc.  The goal of any organization is to have a seamless hand-off between their service channels just like playing pitch-n-catch with your dad on the "Field of Dreams".