Dynamics 365 Customer Service 101 – Cases, Etc.
Microsoft Dynamics 365 Customer Service provides users with the ability to track and manage customer requests and complaints through the creation of Cases. The use of this functionality is widespread from Professional Services to Retailers to Health Providers to Consumer Goods companies. It is a critical component of how we here are Ellipse Solutions deliver our Help Desk service to our customers for many years.  The cases can then be assigned to Queues and routed to the right channel. The cases can then be tracked based on the Service Level Agreements and then decremented from Entitlements. This blog provides a quick walk through of these steps.
Cases
Case also referred to as tickets or incidents provides incident-based tracking for issues that may arise from your customers, whether they are external or internal.  It is designed to track the process from the initial intake to tracking the details to the research process, and through final resolution.
Queues
Queues are used to manage the routing of cases to ensure that they are handled in a timely manner. There are three different types of queues are available:
Personal: These queues are associated with a specific user or team. They're created by the system. Personal queues are automatically created by the system when a user or team is added to the system. They can't be created manually. Membership in the queue can't be edited manually. By adding and removing team members, you adjust membership for queues that are associated with a team.
Public: All users can see and access these queues, depending on their security role. Users pick items from the queue. The items that a user picks are then moved to that user's personal queue.
Private: Access to these queues is assigned to specific users. Members are defined on the queue record. Users pick items from the queue. The items that a user picks are then moved to that user's personal queue.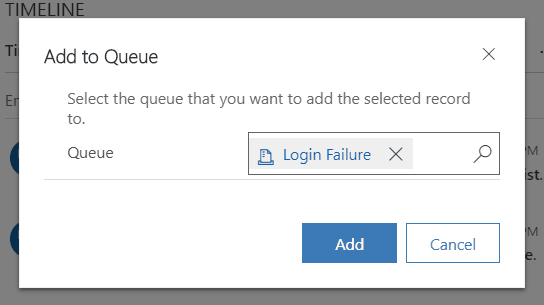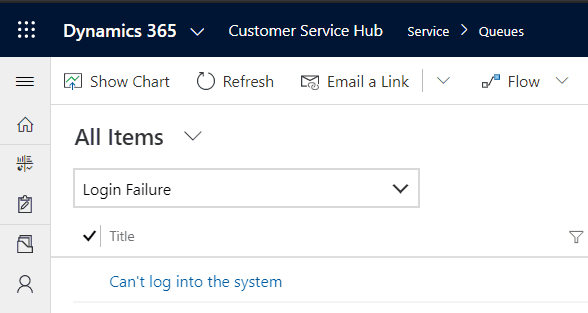 SLAs
Service Level Agreements offer an easy way to track the time it takes to solve support requests. The service reps see them as timers on record forms where they indicate remaining time until (or time passed since) prescribed time it takes to solve a support request.

Service Level Agreements allow users to pause the timer depending on the status reason of the support request. So if a service rep is waiting on the customer, the status reason "Waiting on Customer" will pause the timer until the status reason changes.
There are two types of SLAs: Standard and Enhanced. Standard SLAs can only be created for the Case entity. It is recommended to use enhanced SLAs for the following reasons.
Create SLAs for entities other than Case.
Pause an SLA when the case is on hold, so that the time the case is on hold isn't considered in SLA calculations.
Add success actions to an SLA. For example, you may want to send communications internally or outside your organization when the SLA has succeeded. Success actions are initiated only when the success condition is met on time, not when it is breached.
Track SLA statuses and times right on the case form by default. These details are tracked through the SLA KPI Instance record type.
In previous Dynamics versions SLAs only worked with cases. Users can now create enhanced SLAs for the following entities:
Account
Contact
Order
Invoice
Quote
Opportunity
Lead
All activity entities like email, phone, and appointment except recurring appointment and its instances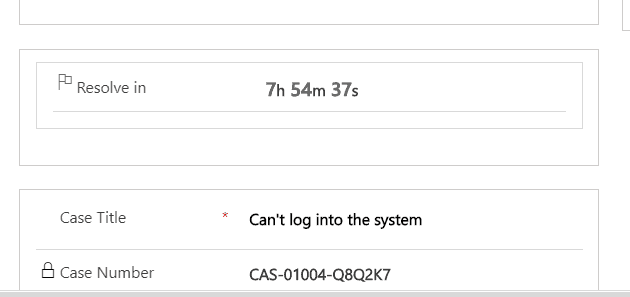 Knowledge Base
The Knowledge Base is designed to help answer questions and resolve cases. It is a collection of articles commonly used by the customer service team but is visible system wide.
Knowledge base search control in Customer Service is now powered by Relevance search to deliver results with improved performance and accuracy. With this feature, agents can search and choose the most relevant articles quickly with the help of highlighted search term matches in the results list.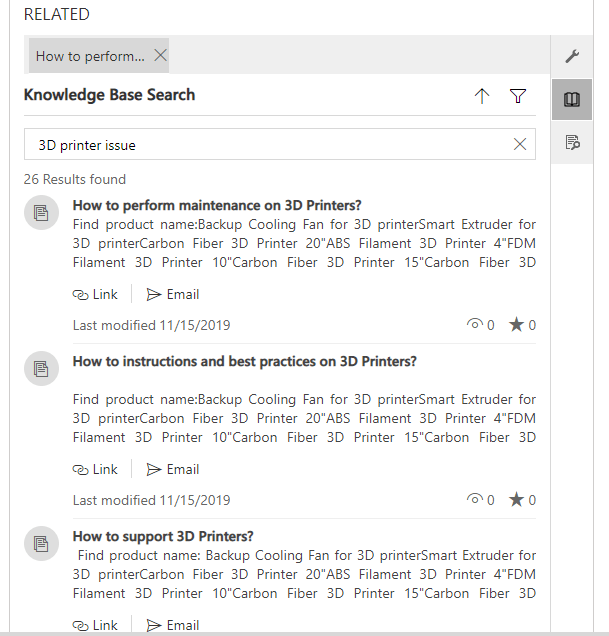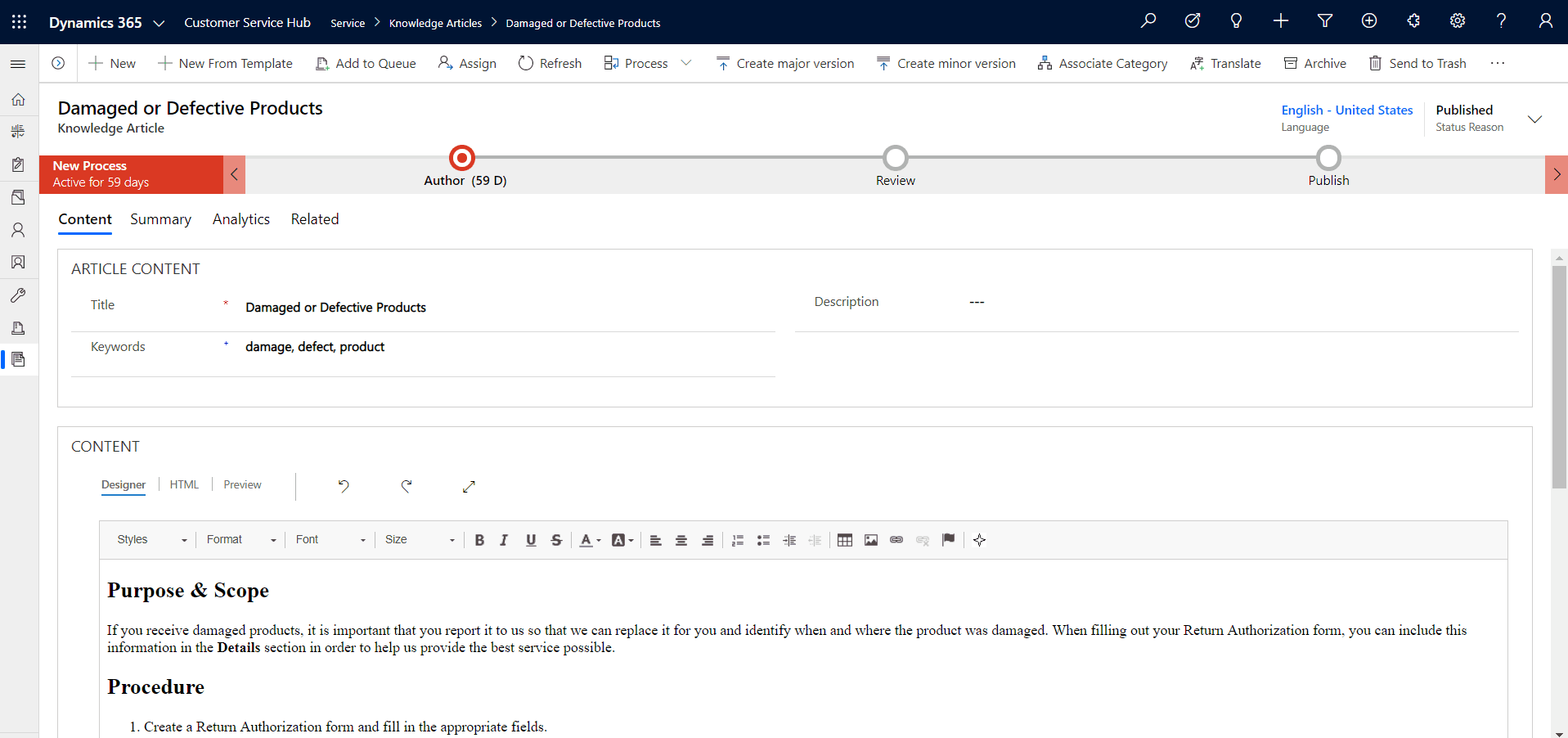 Entitlements
Entitlements are used to define the support customers are entitled to. Entitlements verify the type of support customers are eligible for and create cases for them based on the terms.
A customer's support level can vary based on the product or service the customer has purchased. Customers who have purchased different products can be entitled to different support levels. They can be defined with terms based on the number of cases or number of service hours that the customer is eligible for.
For more information, check out our Dynamics 365 page or contact us.
Published Microsoft Dynamics 365 Customer Service case studies can be found here: https://customers.microsoft.com/en-us/search?sq=%22Dynamics%20365%20for%20Customer%20Service%22&ff=&p=2&so=story_publish_date%20desc
Thanks for reading! You may also be interested in…