Dynamics 365: Benefits of Re-Implementing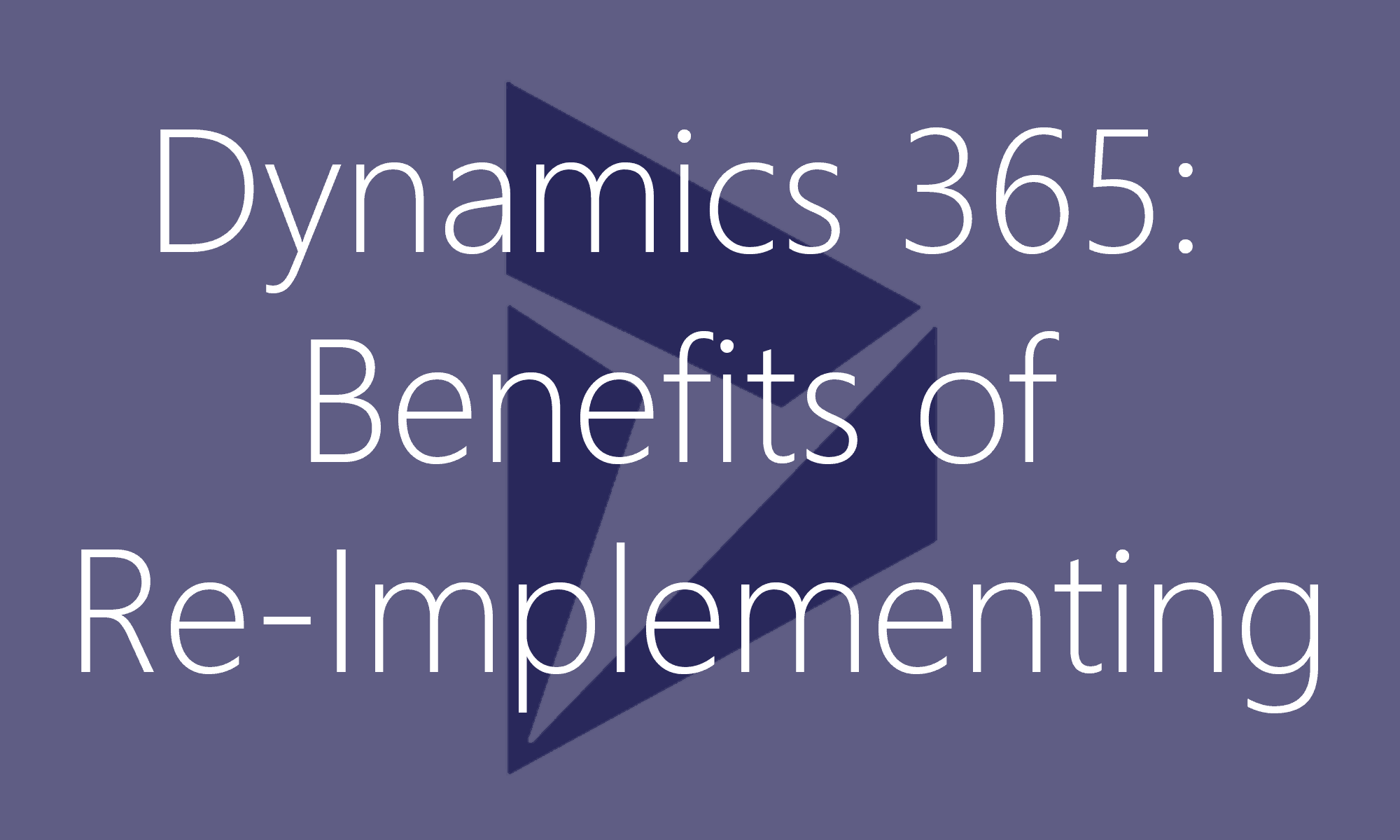 Migrating to Dynamics 365 for Finance and Operations seems to be the hottest topic in the Dynamics world. Nearly every one of our customers here at Ellipse Solutions (if not already on D365) are in the process of planning for their move to Dynamics 365 for Finance and Operations – via Upgrade or Re-Implementation.
While Upgrading to Dynamics 365 is sufficient for some customers, others will be turning to a full Re-Implementation.
Initially, "Re-Implementing" can sound… intimidating. ..
You have likely spent large sums of money implementing AX 2009 or AX 2012, and trying to justify a re-implementation may not be easy. However, Re-Implementing is more than just a move to a Dynamics 365. – It is an opportunity to advance the use of the system, discover new features, and achieve a true ROI.
Let's check out some of the benefits in detail:
An Opportunity for a System Cleanse/Detox
I'm sure you have heard of a body cleanse (maybe even tried some), but have you considered cleansing your ERP? Most Dynamics AX customers have been using their solutions for multiple years (some even decades!), and there are a lot of archaic business processes and code that are not necessary with the newer functionality available today.
Upgrading to Dynamics 365 for Finance and Operations from a solution that is heavily customized would be a nightmare. The amount of time, money, and resources would certainly deplete your ROI. On the other hand, Re-Implementing would grant you the opportunity to purge your system of unnecessary customizations, resulting in a clean implementation.
Taking Advantage of Standard Functionality
Imagine you have just purchased a new vehicle – fully loaded with Bluetooth, Heated Seats, GPS Navigation etc. Your old car was a base model and didn't have any of these exciting features.
Now – would you continue to use an auxiliary cord to connect your phone? How about forgoing the heated seats in the winter? Would you continue to pull out your old GPS system that plugs into the cigarette lighter?
OF COURSE NOT!
Let's apply this logic when considering the move to Dynamics 365 for Finance and Operations…
Dynamics 365 offers a plethora of new standard functionality that a lot of businesses created customizations for (either in-house or acquired through an ISV) in prior versions of Dynamics AX. In these situations, keeping the customizations wouldn't make sense.
By taking advantage of these new features, most organizations will be able launch Dynamics 365 with a limited number of customizations. This will make for a more streamlined implementation process and simple future upgrades (due to less customizations).
Investing in the Future with Best Practices.
Think back to when you first implemented Dynamics AX. Chances are, a lot has changed since that first version – whether it be a business process or a customization.
With these types of changes, following best practices and compiling proper documentation is very important. When these two components are poorly defined, reliance on tribal knowledge is excessive.
Re-Implementing Dynamics 365 for Finance and Operations is an opportunity to invest in your future – the future of your ERP and the future of your organization. Utilizing best practices to Re-Implement Dynamics 365 and following each component with in-depth documentation ensures that your organization is set up for future success and easier upgrades.
How do you begin?
In order to begin your Re-Implementation, it is best to start with discovering your wants and needs in order to formulate your plans.
This can be done through some type of discovery or fit/gap analysis. Check out Ellipse Solution's 2-Day Dynamics 365 Implementation Discovery Workshop or join us for an Upgrade vs. Re-Implementation webinar on August 23rd before beginning your move to Dynamics 365.
Feel free to contact us if you have any questions regarding your move to Dynamics 365 for Finance and Operations – we're here to help!