Dynamics 365 Asset Management 101
When implementing an ERP (Enterprise Resource Planning) software, most companies overlook the cost center that is their maintenance department. Maintenance departments will often use older, disparate systems that are clunky, difficult to use, and do not provide a clear, real-time picture of their actual expenditures.
Microsoft Dynamics 365 for Supply Chain Management recently added a maintenance management module called Asset management within their product, and it is included with every instance of Dynamics 365 for Supply Chain Management out of the box. Asset management is sleek, modern, and integrates with the Dynamics 365 for Finance platform, meaning that users get real-time access to their maintenance costs without having to collect data from disparate systems on an irregular basis, analyze that data, and then make decisions based on old, often incorrect, data.

The basis of Asset Management is that it offers a fully integrated maintenance management tool for your organization, but in reality, it provides so much more. Asset management is intuitive, robust, and highly capable of organizing the most difficult to manage maintenance scenarios.
Over the next several weeks, Ellipse Solutions will be posting a blog series that provides a deep dive into the world of Asset management. We will take you on a tour of this new module, showcasing such topics as Asset Management Analytics and KPIs, Reactive Maintenance, Preventative Maintenance, Managing Spare Parts, Using Maintenance Checklists, Lifecycle of an Asset, and Handling Work Orders on a Mobile Workspace.
What makes Asset management in Dynamics 365 for Supply Chain Management so special? Here is a quick overview of some of the top features provided in Asset management:
Built-in Asset management
The importance of having a built-in maintenance management solution in your ERP cannot be understated. Having real-time data on your assets provides business decision-makers with the tools needed to determine equipment obsolescence, manage downtime more effectively, and record actual hours spent on servicing and maintaining equipment. In addition to having access to real-time data on your assets, Asset management provides tools to report on costs, downtime, specific functional areas, and resource productivity.
Intuitive User Interface
Having an intuitive user interface is critical to ensuring high-quality and trustworthy data for analytics. If users find the interface to be clunky or painful to use, then user adoption will wane, and capturing good data will be difficult, if not impossible, to obtain. Asset management in Dynamics 365 for Supply Chain Management is easy to use and also offers a mobile workspace out of the box for the front-line workers, which means your workers will spend less time on administrative tasks and more time providing value to your organization.
Hierarchical structures
Asset management allows for hierarchical views of assets and locations, assisting users with the ability to drill down into the correct information. Functional locations can be labeled by building, by line, by room, or any specific way a company would like to see their locations.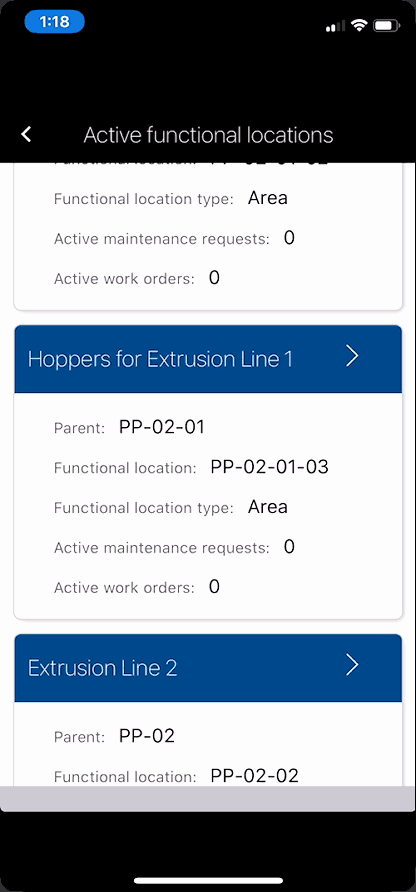 Additionally, large assets with smaller serviceable parts can have all assets tied to the main asset in a parent-child hierarchical structure as well, meaning your users will not have to search for a long time to get to the information they need. All they have to do is drill down into the asset on which they are providing service.
Recurring work
Recurring work, often referred to as preventative maintenance, can be scheduled based on a specified amount of time, or by an integrated counter that will automatically schedule work based on pre-defined milestones. Utilizing IoT, maintenance managers can easily retrieve counters from their assets and define work schedules based on the values captured from their equipment counters and monitors.
Maintenance schedules
Maintenance schedules can be set using predetermined preventative maintenance tasks that recur on a regular basis, or work can be assigned as needed. Workers can access their schedule and plan work accordingly for the day, meaning higher productivity and less administrative work in maintaining a schedule for the management team.
Mobile app
As mentioned earlier, one of the benefits of Asset management in Dynamics 365 for Supply Chain Management is that there is a mobile workspace that can be published and utilized by the front line workers. Once published in Dynamics 365, this workspace can be accessed via a mobile device using the Finance and operations app, which is available on Android and Apple devices.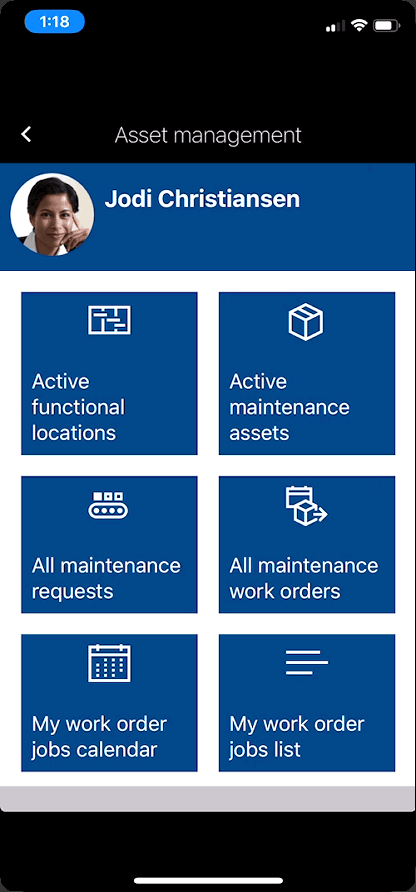 Several advantages to using the mobile app include:
Ability to create work orders
Ability to request work orders
View work orders assigned to me
View work already performed on an asset
Real-time communication and updating when online
Ability to utilize offline
Integration with ERP
As mentioned previously, the integration with the Dynamics 365 for Finance and Dynamics 365 for Supply Chain Management applications provides endless opportunities to drill down into your maintenance data and understand what is driving your costs, leading to a more effectively managed, highly efficient maintenance program.

The main areas where Asset management integrates to provide value are as follows:
Project management and accounting – the backbone of Asset management, where all work orders and maintenance get applied to specific projects, allowing an overall holistic view into the costs associated with work on specific objects, by area, by a worker, etc.
Human resources – provides the capability to assign workers to specific work requests. Integration with Human resources also allows the ability to track worker skills and applicable training, aiding in assigning the appropriate resources to work as it arises. Costs associated with a worker through Human resources and Payroll will also apply to work that has been done, allowing for a more clear vision into the true cost of maintaining a company's assets.
Fixed assets – the ability to tie assets in Asset management to depreciable fixed assets in the Fixed asset module, allowing greater visibility into the cost of maintaining an asset.
Inventory management – is used for maintaining spare parts inventory.
Master planning – ties to the Inventory management module to provide planned purchase orders based on criteria set up in the system, ensuring the maintenance department never runs out of parts.
Procurement and sourcing – planned purchase orders generated by Master planning allow maintenance departments clear visibility into their orders and expenditures.
Accounts payable – having inventory and purchase orders within the system allows vendors to be paid on time and allows the accounting department greater visibility into maintenance expenses.
General ledger – ultimately, where all maintenance expenses, labor, depreciation of assets, and downtime costs get assigned, granting visibility into the maintenance process from an accounting perspective.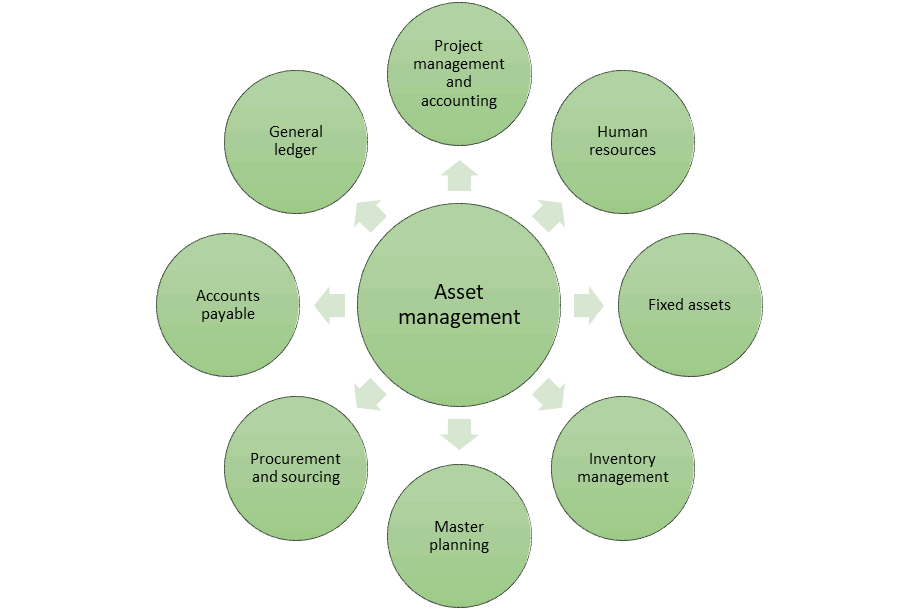 Conclusion
Asset management is a truly comprehensive module in Dynamics 365 for Supply Chain Management that allows for greater visibility, more flexibility, and high user adoption for maintenance departments. Continue on your Asset management journey with Ellipse Solutions as we continue to post blogs that provide a deeper dive into this module over the next several weeks.
Thanks for reading! You may also be interested in…