Dynamics 365, Assemble! (If D365 Apps Were Superheroes)
It's the age of the superhero and, while business software solutions may not immediately spring to mind in that sense, there have been some pretty "super" technological advances in this arena. Microsoft and the slew of Dynamics 365 Business Applications are a shining example of these advances built on one of the very best cloud platforms available. Just like a good super team, each application of Dynamics 365 is powerful in its own way, and they all complement each other when together.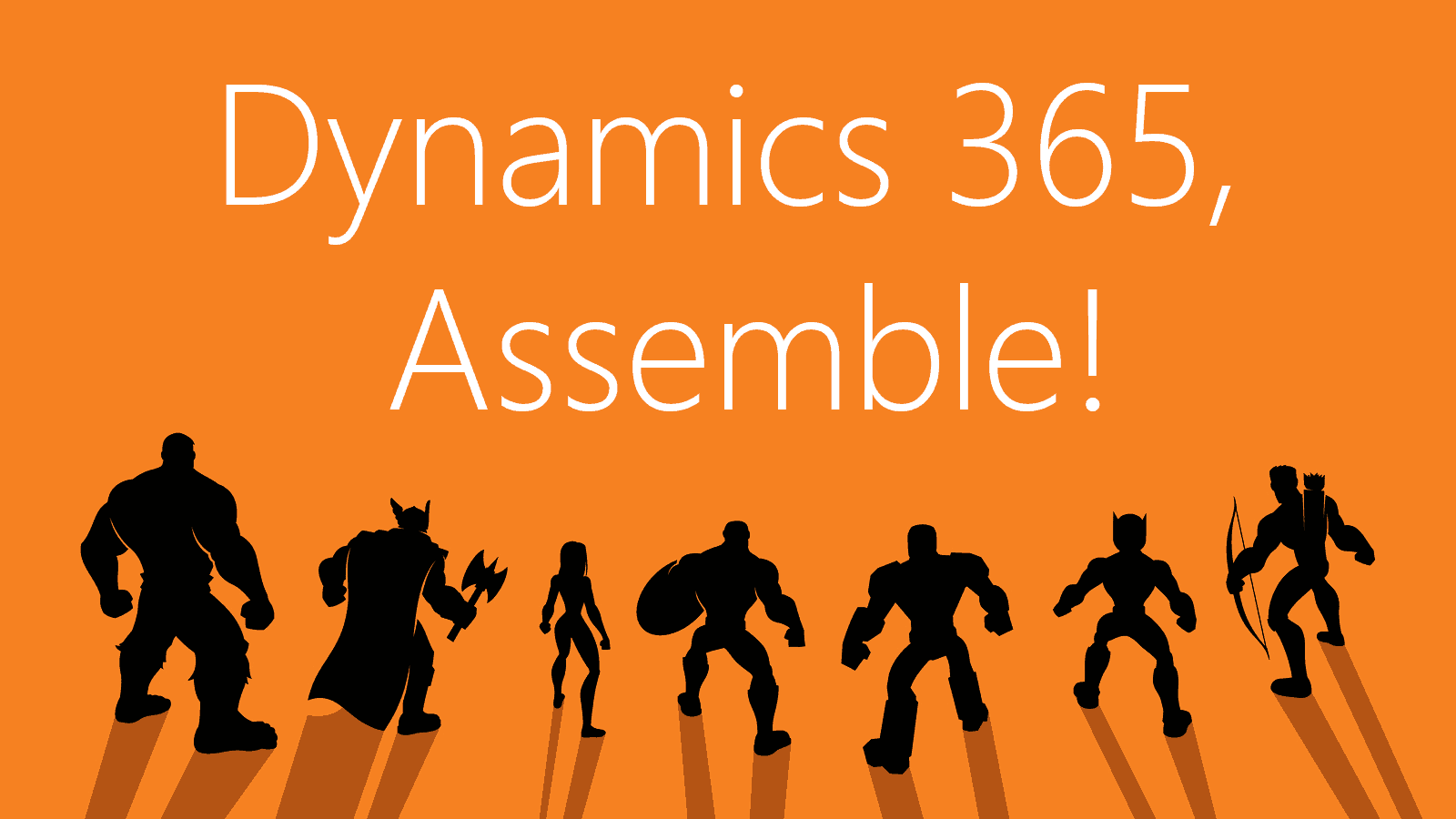 Without further ado, let's see which superhero and application go together in a quick rundown:
Finance & Operations, Captain Axapta (America)
Microsoft's purchase of Axapta (by way of Navision A/S) way back in 2002 paved the way for their entrance into the ERP space. Like Captain America, Dynamics AX (now D365 for Finance and Operations) is a bit older than the other applications of Dynamics 365. Also like Cap', F&O isn't showing age by slowing down or losing out to competition. Instead, Dynamics 365 for Finance and Operations is flourishing in the world of cloud-based ERP.
With the introduction of "One Version", the flagship enterprise business application from Microsoft has changed the game for the industry. Monthly updates with minor functionality and feature tweaks, plus major updates twice a year, means your organization's ERP is always up to date and in style just like the Stars & Stripes on Captain America. Need some help navigating how your continuous updates will run smoothly and efficiently? We've got just the thing.
Talent, Thor
Thor and Dynamics 365 for Talent both made quite an entrance into this world. While one dropped down from the sky with a mighty hammer through flashes of lightning to defend the Earth, the other packs a similar punch where businesses often need it most: Human Resources. The Core HR module is powerful enough to stand alone, but Talent is best when used with Finance and Operations.
*Mild Avengers: Infinity War/Endgame Spoiler Alert*
******************************************************
Ok, you were adequately warned.
You know how Thor ends up with both Mjöllnir AND Stormbreaker (hammer & axe)? Dynamics 365 for Talent ALSO has two great modular apps in addition to Core HR: Attract and Onboard. Through the unified power of the Microsoft Cloud, Office 365, and LinkedIn; your organization is empowered to attract, hire, onboard, and retain the most talented people. We're actually pretty sure Nick Fury uses it to recruit the rest of the Avengers, but don't quote us on that because we're really not trying to be sued by Marvel/Disney.
Field Service, Iron Man
Picture this: you have a seemingly endless amount of service calls to get through today and you need to be sure every technician is prepared for the situation they're called to. How do you do it? Of course, having all the tech that Tony Stark has literally available at his fingertips would help, but the real world requires real solutions. Just like Tony's Iron Man suit, Dynamics 365 for Field Service is built to enable field service businesses with connectivity, engagement and operational efficiency while on the go.
The rest of the team
In an effort to keep this fun post short, we'll just list the rest and you tell us what superhero lines up best with them! (or feel free to make an argument for our choices above!)
Sales – Bruce Banner
Marketing – The Incredible Hulk (Disclosure: A Marketer is writing this so we get the cool guy that smashes stuff…)
Customer Service
Retail
Project Service Automation
Artificial Intelligence
Mixed Reality
Bonus:
Common Data Service – Shield/Nick Fury