Diving into Time & Attendance in Dynamics AX 2012 – Advanced Delimitations in Pay Agreements
Recently, a client presented a time and attendance use case of an overtime calculation for production workers with the following rules:
An 11-hour shift 4 days a week (Mon – Thu), the normal workweek of 44 hours
All working hours are recorded at the regular pay
Overtime is paid for over 40 hours a week
Overtime is paid at 50% of the regular pay
Only absences for holidays and vacation are included in 40 hours, other absences are not.
Examples:
A machine operator worked the regular shift of 44 hours

44 hours of regular pay
4 hours of overtime pay at 50%

Monday is a holiday. The operator worked the rest of the week (Tue – Thu) as scheduled

11 hours of holiday
33 hours of regular pay
4 hours of overtime pay at 50%

Regular week, but the operator took 5 hours of vacation on Tue

38 regular hours
6 hours of vacation
4 hours of overtime pay at 50%

Regular week, but the operator was on Jury duty on Wed

33 regular hours
11 hours paid for Jury duty
No overtime
Because the overtime hours are paid at 50%, we suggest using Premiums. First, the Calculation parameters (Human resources > Setup > Time and attendance) have to be adjusted to include premiums for Legal absences: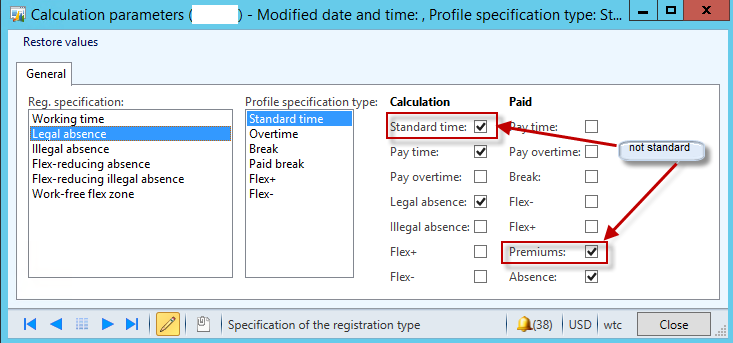 A Time profile is set for shifts with 11 hours Mon – Thu. If it is a night shift, it might be such as: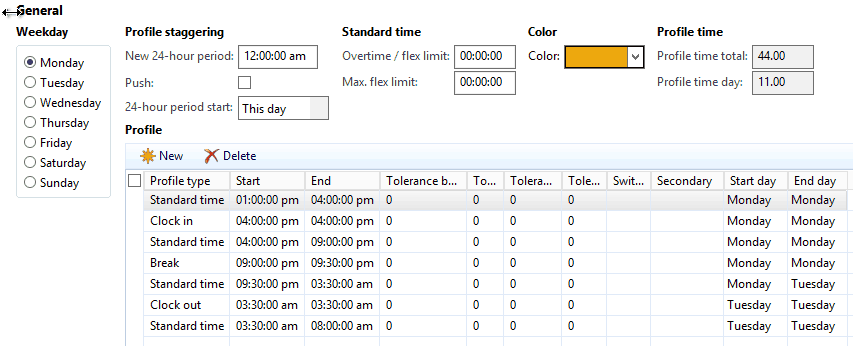 A Count unit with minimum = 40 will be created for a Pay agreement:

The Pay agreement has a very simple line for Wage type = Standard time with reference for the regular pay type. However, we will use Wage type = Premiums instead of Overtime to calculate the overtime when the weekly standard time counts to 40: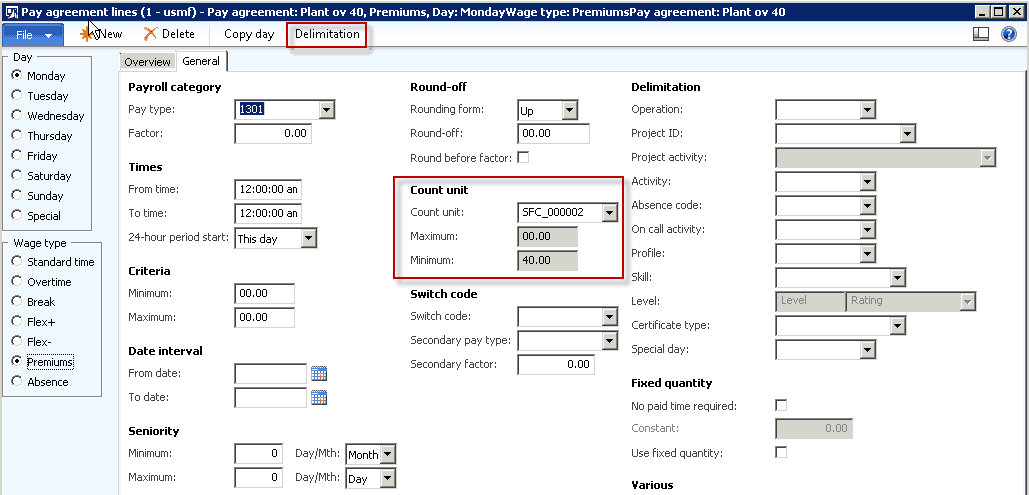 Absences are presented by absence codes: Holiday, Vacation, Family leave, Jury, Funeral. The only absences to be considered towards overtime are Holiday and Vacation. That is where the delimitation functionality is utilized.
Delimitation
The delimitation form is open from the Pay agreement lines (see above).The form has two panes. The upper pane allows selecting the pay rule to delimit the chosen pay agreement line, the lower pane is for setting up the condition that specifies when to use the delimitation.
To specify that the Premium be paid only for some absences (Holiday and Vacation), we select the Pay rule for the Absence codes:

and the conditions as shown:
Unfortunately, at the moment it looks like this functionality is disabled in Dynamics 365. The button exists on the form but it is disabled: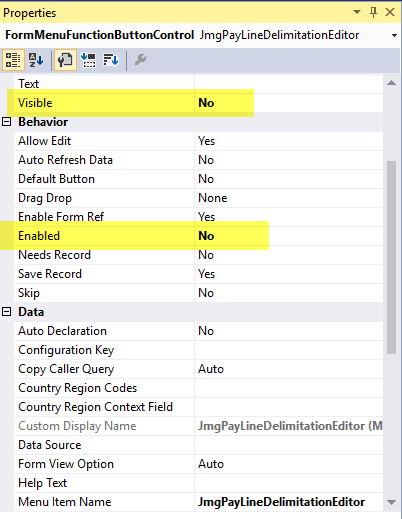 Have other Microsoft Dynamics AX Inquires or needs? Visit our Help Desk for AX page to see how our experts can help!
For more information please contact Ellipse Solutions at info@ellipsesolutions.com or by calling our corporate office at (937) 312-1547.