D365FO One Version Cadence – More FAQs As The Community Wonders
Wow – this topic is hot. After our initial blog post last week we have seen a lot of Microsoft Dynamics 365 for Finance and Operations community interest in One Version cadence and other related topics. A number of additional questions came up from customers and prospects, and we felt compelled to share some of this additional information with our D365FO peers. Here we go – feel free to throw more questions our way…

Frequently Asked Questions Part 2
Q:
With the initial One Version cadence announcements, Microsoft was focusing on 2 major updates (Spring and Fall) in line with "smaller" updates every month. Since the newest cadence (the first FAQ in Part 1 of last week's post) allows users to pause the process and apply at minimum 2 updates per year, are we similarly expecting two major updates every year?
A:
At least officially, it is NOT the case. Microsoft has confirmed that in theory all updates are equivalent in volume and status, and currently has no specific plans for scheduled "major" updates during particular, pre-defined months of the year.
---
Q:
How can users deal with deleted objects during the automated updates when the time for testing is so limited?
A:
This "policy" has been around for many, many years and has not really changed. Microsoft always attempts to mark objects (whether we are dealing with tables, fields, methods, etc) as deprecated well in advance before actually deleting it. Typically, the users can expect a year or so before a specific object is deleted. Thus, everyone must have a plan in place to gradually work these changes in their deployments without rushing it during the automated updates. For up-to-date information, please go to https://docs.microsoft.com/en-us/dynamics365/unified-operations/dev-itpro/migration-upgrade/deprecated-features
---
Q:
There were rumors that Microsoft is implementing an option to update with no downtime – how does it work?
A:
It is indeed Microsoft's goal to implement a solution of allowing updates in the Production environment to approach the downtime of zero minutes. Our current experience is such that downtime for a typical update is about 30 to 60 minutes. However, Microsoft is asking customers to reserve 3 hours to allow time for troubleshooting should any issues occur. It is important to note the more times one elects to pause the update, the longer they should expect the update to take once it is finally applied.
---
Q:
Do we have to live on Microsoft's schedule with regards to applying D365FO updates?
A:
Nope – in fact, Microsoft is encouraging everyone to apply updates "manually" on your own schedule and not necessarily wait for automated updates. Their scheduled automated updates are sort of the "last resort". If an organization desires more hands-on approach and an ability to control their testing schedule better, the updates can be downloaded in advance and applied. The preview release is available approximately 2 months before the automated update is scheduled, but the window may vary.
---
Q:
When do automated updates happen during the month?
A:
Microsoft currently schedules automated updates for 1st, 2nd and 3rd week of the month (during those 8 months of the year when the automated updates are applied). If Saturday is not a fitting day of the week for your update schedule, manual updates should be considered.
---
Q:
What are the options for testing solutions integrated (but not residing) within D365FO?
A:
In all honesty, the tools Microsoft is recommending (such RSAT or ATL) are "Dynamics based" options and therefore not able to test anything outside of Dynamics. There are plenty of third party tools for testing including screen scraping utilities (no doubt it represents a new investment for most customers), however Microsoft does not specifically line up with a particular recommendation.
---
Q:
Are there ways to focus only on particular changes pertinent to my installation of D365FO during the monthly update?
A:
Microsoft released an Impact Analysis Tool, which is supposed to highlight specific areas where a individual updates can significantly influence your deployment based on which features/functions are being utilized. While conceptually it is a wonderful idea, we have not been able thus far to utilize this tool with great success yet with our customers. It just seems the tool is in the early stages and some improvements are still needed. It is designed to assist in assessing risks and help customers to focus testing activities on identifiable "updated" areas of the product. Once it is built out better, the Impact Analysis Tool can have a really positive impact (pun intended) on One Version cadence.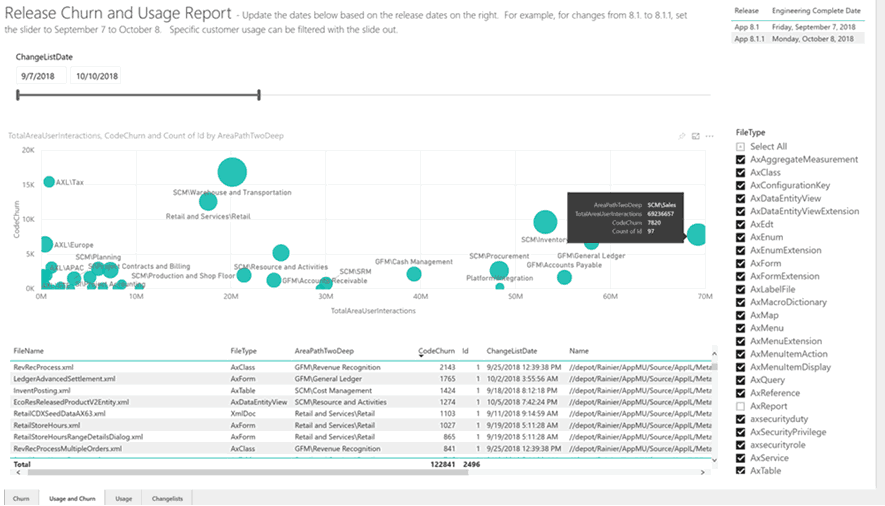 ---
Q:
Microsoft's announcement last week stated that the support will only be available for the current (n) and prior (n-1) version.  What does it mean in case of the update pauses?
A:
What Microsoft says is should an issue is found for the version prior to (n-1), when a solution (read, hotfix) is found, to apply such a resolution the customer will be required to first update to the latest version.  Thus, it is not like Microsoft will not support prior versions in case of a pause, but rather applying a hotfix will require being on the newest version (which is somewhat different than what Dynamics AX users are used to from the past). In technical terms, Microsoft only maintains two code branches for (n) and (n-1), and that's why getting on the latest version is a requirement.
---
Q:
What happens when during the week of the automated update testing, the Dynamics tests are all successful, but some of the ISV scripts fail?  Will Microsoft allow additional delays?
A:
While it is not advertised, there is a "committee" approach on the Microsoft side to review all such exceptions and potentially pause the update further beyond the allowed window. In our experience, we had a case of a failed test which Microsoft did not consider significant enough and their automated update went forward. We also had a case of a customer on a version 7.x who could not update timely to version 10.x this Spring for various internal and Microsoft reasons – while their update was delayed, Microsoft has "formally" withdrew support for a prior version until the update is completed.
For those intrigued to find more information, additional FAQs published by Microsoft can be found here.  It is slightly outdated now but most of the information is still valid.