D365 Supply Chain Insights – Mitigate Risk & Minimize Disruption
The coronavirus pandemic has negatively impacted the supply chain on a global scale – many factories were shut down leaving shipping companies waiting around patiently for products all while the demand for household goods increased as people were stuck at home. To add fuel to the fire, In March, 2021 the Suez Canal was blocked by a container ship for 6 days, and the supply chain fallout prolonged for months.
Prior to the global pandemic, companies were already searching for solutions to help them gain a competitive supply chain edge while harnessing the ability predict the unpredictable – this need has been put under an even brighter spotlight with today's on-going challenges. Welcome, D365 Supply Chain Insights. Microsoft recently announced a preview into D365 Supply Chain Insights, and customers will soon have access to begin applying this new, highly sought after solution to their own environments.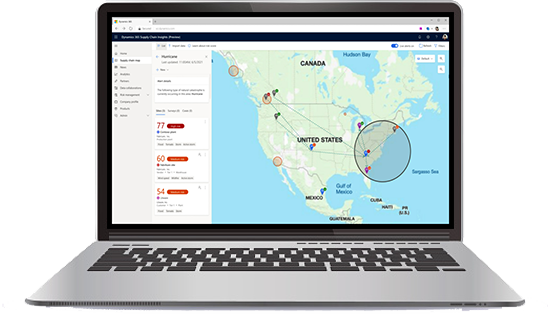 Where D365 Supply Chain Insights Comes In…
With the announcement of D365 Supply Chain Insights, Dynamics users will soon be able stay ahead of the competition and ensure that their demand is met. D365 Supply Chain Insights can help assure that customers have access to their products, complete and on time. 
Leveraging Microsoft's AI and advanced analytical tools, new predictive methods can be utilized to minimize downtime and maximize efficiency. Organizations are given the ability to collaborate with suppliers, distributors, and all parties up and down stream – thus being able to meet customers demands in this ever changing environment and with real time production and distribution planning. 
For more information on D365 Supply Chain Insights, check out the preview from Microsoft.