AX 2012 > Dynamics 365 Data Upgrade Analyzer Report Undocumented Challenge
A quick note for the brave souls getting ready to concur the Dynamics AX 2012 -> Dynamics 365 for Finance and Operations Data Upgrade tools on this sunny Wednesday. The utility includes the Upgrade Analyzer Report, which is a Power BI set of visuals in Dynamics Lifecycle Services (LCS). It is a checklist of tasks required to be completed in AX 2012 in preparation for the upgrade. This report can be accessed by going to the following link:
https://diag.lcs.dynamics.com/UpgradeAnalysisReport/Report/ (plus the project ID, which can be found in the URL of your LCS project).
Unfortunately, at the moment the report can only be displayed using Internet Explorer (!!), and not any other browsers. Microsoft is aware and working on a resolution.

This is an example of the report in IE: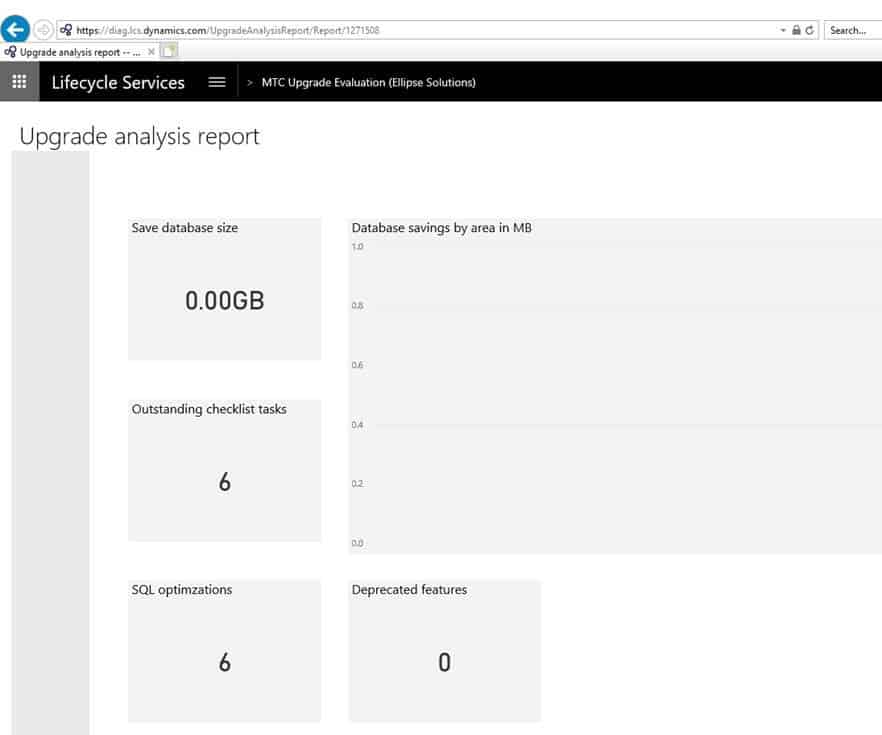 One more valuable note for the data upgrade efforts to avoid future frustrations:
AX 2012 RTM users -> the data upgrade utility is not available
AX 2012 R2 users -> apply hotfix KB 4048614 first
AX 2012 R3 users -> apply hotfix KB 4035163 first
Happy Upgrading!
Have other Microsoft Dynamics AX/365 inquiries or needs? Visit our Help Desk Support page to see how our experts can help!
For more information please contact Ellipse Solutions at info@ellipsesolutions.com or by calling our corporate office at (937) 312-1547.