5 Benefits Of Buying Through A Direct CSP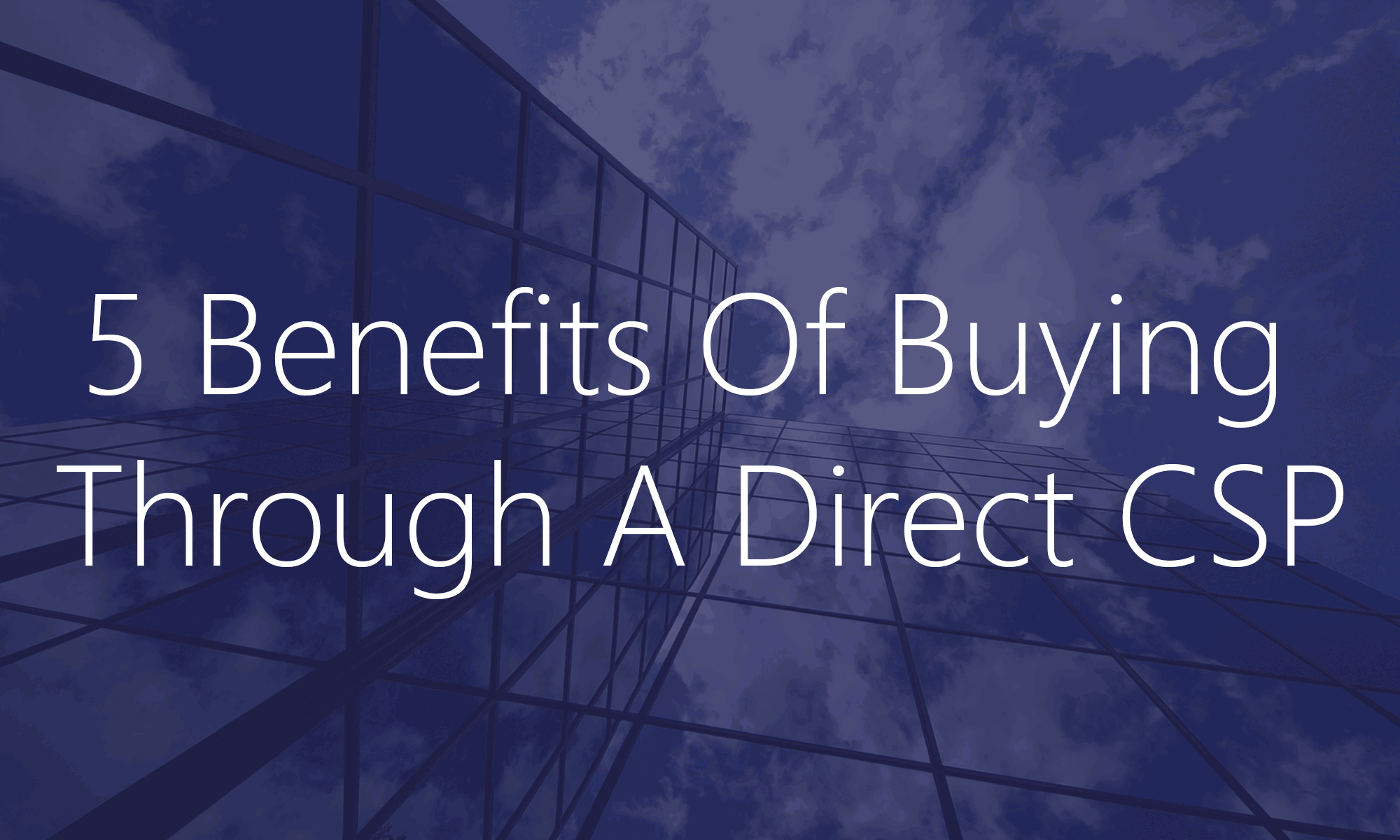 Businesses are moving more and more of their IT to the cloud. It's a trend that makes sense with the pace of new technology development and the attractiveness of staying on the cutting edge without purchasing/replacing hardware constantly. With the growing interest in cloud services however, comes an increasing need for support, from purchase and deployment to billing and administration. Whether it's virtual machines for development and testing of your Dynamics 365 implementation, source code management services like Visual Studio Team Services for your programming efforts, or Office 365 for the day to day tasks. When it comes to handling all of that and more, establishing a relationship with a Microsoft Direct Cloud Solution Provider (CSP) is a one-way ticket to the promised land.
Without further ado, 5 benefits of buying through a Direct CSP:
1. Don't break the bank
A Direct CSP is able to offer Microsoft list prices for all cloud services without a mark-up. While other partners may be able to sell you cloud services, they have to go through a Direct CSP to do it, which means a higher price. In terms of generally comparing cloud services to their on-premise counterparts, take into account the cost of the original purchase, maintenance, upgrades, security, etc… you might be surprised!
2. Billing is a breeze
You are billed monthly by your CSP and that's it. It's simple and flexible, including all of the services you use on one convenient bill. Some services even offer per-minute billing, meaning you truly are only paying for what you use.
3. Support without the runaround
Microsoft support is knowledgeable and highly capable, but sometimes it can be exhausting running through the maze to find the right person that can actually help. We get it, trust us, we get it. With a Direct CSP, you are getting the support from a team that knows your situation and has the skills to help quickly and effectively.
4. Scale up or down, turn it on or off
Worried about long-term commitments? The ability to add and remove services each month gives you the freedom to grow your business on your own terms. Things like temporary projects may require some bulked up services for a while, but not permanently. Working with a Direct CSP allows you to pay for what you need, when you need it, and then turn it off when you're done.
5. Reliable and secure
There is security in "the cloud" and then there is security in the Azure Cloud. Microsoft guarantees security, performance and 24/7/365 availability.
Interested in learning more about cloud services from a Direct CSP? Contact us today to get started!